Hey there guys! We hope life is treating you all well and our blogs & mock-up PSDs are helping you produce the designs and art works you have always wanted to create. In this blog today, we will talk about mugs (in general), how to create the most beautiful designs on a mug and sell them to your clients without having to put in a lot of effort. So, grab your mug of coffee / tea and let's get started!
Since graphic designing is a job that requires more than 24 hours in a day and not everyone is able to manage their work schedules, with our blog and PSD files we try our best to simplify things for you. And that's why we have created this realistic mug mock-up PSD. All the files & layers in this PSD are organized and you will enjoy working on it.
Before we get to the main point, let's discuss what makes a mug a great mug?! Is it just the design which you think attracts a customer or the finish also has an influence on the shopping behavior? For example, we know that we are choosy about our stuff – that means we spend a good amount of time whenever we are out for shopping.
Anyways, when it comes to mugs we know that we have to get the prettiest designs. But what we have noticed is that they just don't have THAT kind of mugs. One of the main reasons of the unavailability of attractive mugs is that brands / companies do not consider the demands of their own audience and that ignorance isn't going to help your businesses grow (AT ALL).
Now a days every brand in the market wants to create items for all sorts of audiences so that there is no fear of being left out among shoppers. Brands which manufacture crockery items do not feel to be doing a lot in the context of attracting millennials. And that's probably the main reason why people opt for purchasing customized mugs, plates, bowls etc. Since this is a gap many online stores or even brands can tap in quite easily – we knew we were supposed to so something for you guys.
With the help of our carefully designed & highly editable mockup PSD file, Photoshop and your imagination, you will be able to create designs that are not only likeable but will get sold in a matter of minutes. And as far as the design tips and tricks are concerned, continue reading the blog to know more:
A design / art work is created to meet a certain business objective. It could be anything like spreading awareness, becoming a top-of-the-mind brand, increasing sales or signing up for newsletters. Whenever you are assigned to design something, the best technique to make it a successful idea is to get to know your audience. By doing so, you will be able to target them through your campaigns.
But if you don't know your TG's needs and still want them to purchase something created / manufactured by your brand then you need to work (really) hard on your business approach.
In short, you need to sit with your brand team and go through your audience data to know some details. That data will help you understand modern trends which are also in demand. You can even know which colors are "in" these days and this will help you in putting your efforts on nothing but only the right things.
Keep in mind the "relatability" factor whenever you design something. If a Netflix season is trending these days among the audience you're creating designs for then you must never miss that chance. Create something out of that season, may be a 'viral' statement from the main character and just roll out that idea in the form of a mock-up on your personal website or blog or on any of your social media account. We can guarantee that you will start receiving order instantly.
Choose happy colors for your mugs. Normally people purchase mugs because they want to drink something out of them so make their experience a relaxing one through your aesthetic sense.
Pay special attention to the fonts & smart objects as they enhance the beauty of a design. Also, ensure that your vendor doesn't compromise on the finish because that's one of the factors which will convince a shopper to buy the mugs.
Bonus Tip: There is always a theme you can work on and if you can't seem to think of one, create one. How about creating designs for the people who are never on time or people who get acne even when they are spending thousands on their skin care products? You can also design mugs for people who love shopping or people who are always broke. Trust us when we say this, designs which have high relatability factor gets sold like hot cakes.
Your final step should be to have the designs approved by your client(s) through an impactful mock-up presentation so that all the teams are on the same page. So, what are you waiting for? Download our mug in female hand mock-up PSD right away and start creating brilliant designs!
Free Mug in Female Hand Mockup PSD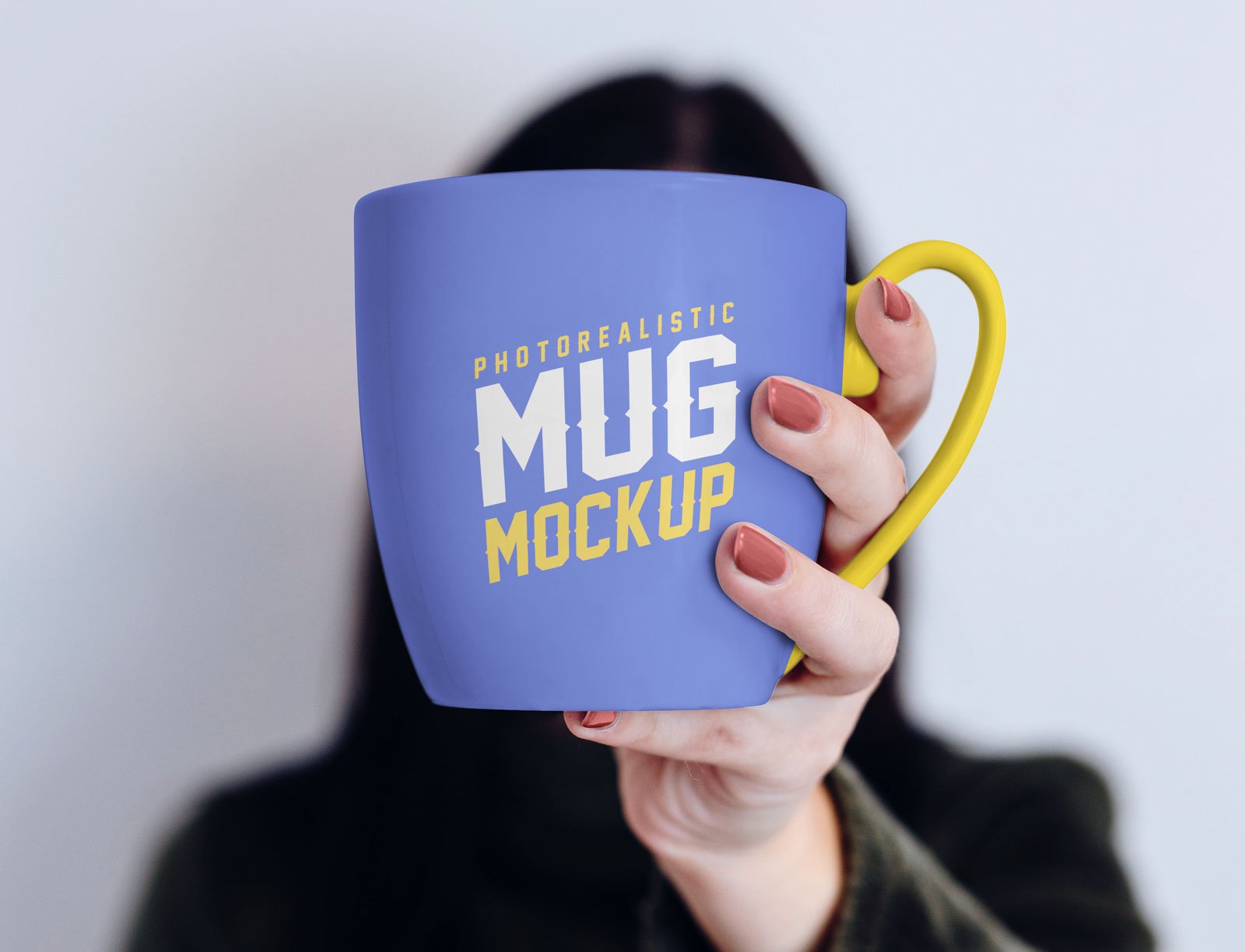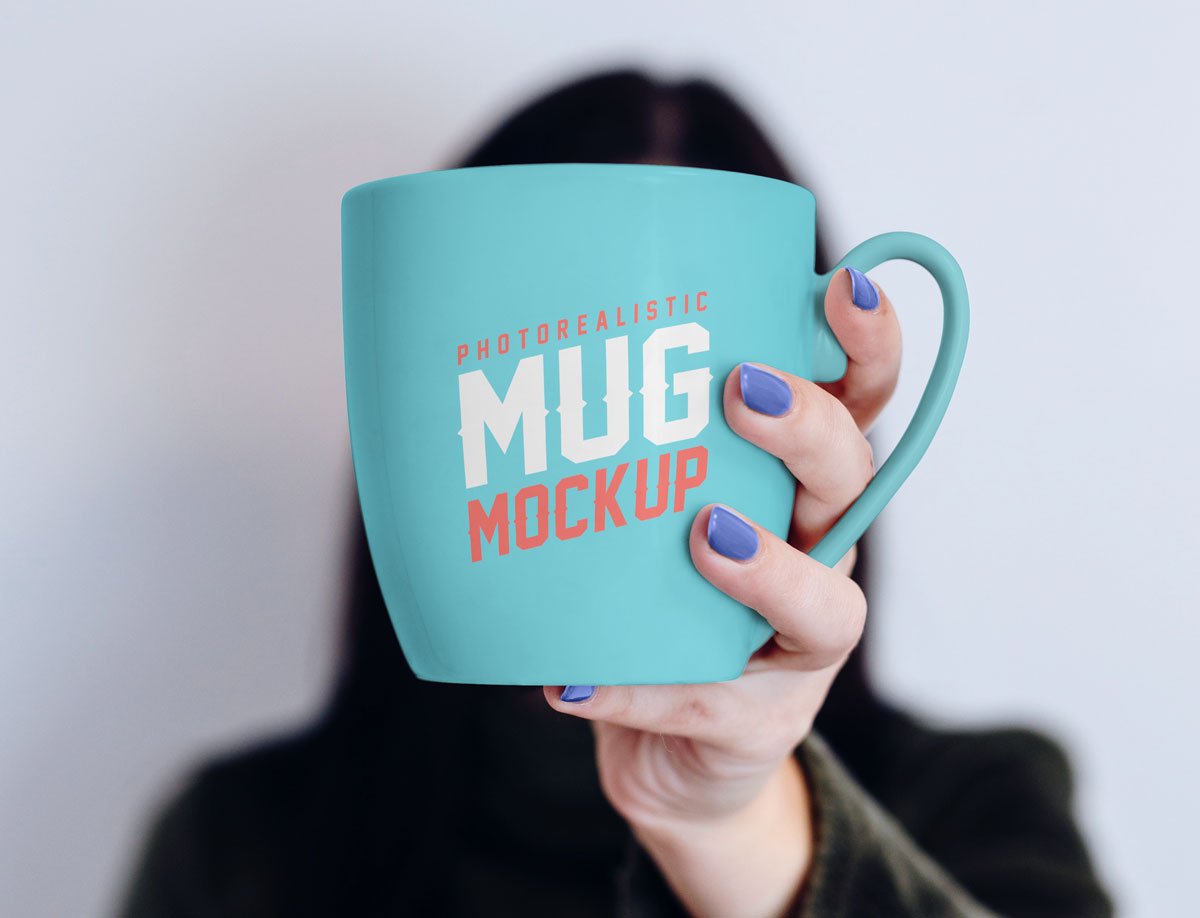 Available Format: Photoshop PSD
License: Free for personal and commercial usage
File Format: WinRAR
Mockup Resolution: 3400 x 2400 px
Note:
1. Free Mug Mockup is allowed to share online (A Must Linkback to this page)
2. Say thanks if you like or share/tweet with your friends. That means a lot to me.
3. And don't forget to follow or subscribe to receive more high quality premium freebies & awesome articles only.
Download Mug Mockup
More High Quality Free Mug Mockup PSD Files