Hello there friends! Before we start talking about our today's mockup PSD and how you can use it to create designs of your own, we would love to thank each one of you for sharing your overwhelming response with us in the comments section. Keep it coming as your feedback and suggestions always motivate us to keep creating interesting content & designs.
Today we are going to be talking about tote bags and we feel that a little history might help you in understanding the purpose of creating & using a tote bag. Continue reading to know more!
So, a tote bag is called a tote bag mainly because the word tote refers to two actions: to carry or to bear and tote bags have always been in fashion because of their efficiency and sturdiness. Although, these bags are created by using a number of different fabrics, "tough" and sturdy fabric like denim, canvas, twill etc. is preferred to be used as it can bear the weight of everything that you would want to carry in your tote bag.
Apart from being sturdy, tote bags happen to have a lot of space too. You can use them for groceries, to carry your shoes and clothes, you can also use a tote bag to carry your college books and important files as well. Depending upon the many different styles, tote bags also come with small hidden pockets too for you to carry your business cards, pencils, and pens and so much more.
Recommended: 50+ High Quality Shopping Bag Mockups
Another great thing about tote bags is that they are reusable. You can wash them with water and liquid washing soap and the bags will be as good as new. The quality of a tote bag being reusable is another reason why most people love using them as it also helps us in doing well for our environment.
And of course, you must have seen many online shops and physical stores that sell or deal in tote bags. From customized to branded tote bags, there is a huge variety of designs that can be made instantly available if you have the right mock-up PSD for that and that is why we are here with our hand holding tote bag mock-up PSD for you guys. It is free but it is highly editable, and you are going to love working on it.
We have a few effective and easy to follow design tips to share with you guys and after following them, you will be able to create brilliant designs of tote bags for your own online stationery store or for your super market and you can even use tote bags to carry your PR packages as well which you can send to social media influencers. Oh, and we are sure that you would know that tote bags are also considered one of the coolest gift items too. So, let us get started with the tips & ideas!
Design Tips & Tricks:
To create tote bags that are attractive to look at and everyone would love to carry them, you need to make them in sizes that are not only "user friendly" but the designs must also add to  the person's personality when they carry the bag from one place to another.
Do not create anything that is cluttered or has colors that are not eye friendly. Keep in mind that you are creating designs for something that is going to grab attention and the best way to do so is to keep them attractive in such a way that your designed tote bags look like art – if nothing else!
For designs that are strictly made for brands, you must make sure that the tote bags also have relevant information on them too like contact information, social media addresses along with nicely designed and placed logos and tag lines, of course so, if anyone happens to grab a tote bag of a brand they would love to reach out to, they have enough information for that.
You can also go for patterns and design elements that represent a certain brand or organization. You can see if you need logo(s), tag line with that design concept or you can keep the design free of any words.
Design Ideas:
It is important to keep up with the latest trends when it comes to creating designs that can cater to a larger audience – especially if you are in the business of making customized items. You have a variety of styles and options to cover when it comes to customized designs like using quotes said by a customer's favorite star and creatively fitting them in one place.
You can also go for portraits of celebrities etc. as well or may be go for astrology related designs like (interesting) qualities of a zodiac sign as this design idea can also serve the purpose of a great birthday present too.
That's a wrap for today! We hope that you will like reading our blog and will also make the most of our free hand holding tote bag mock-up PSD and while you are at it, don't forget to share your thoughts with us in the comments section down below.
Free Hand Holding Tote Shopping Bag Mockup PSD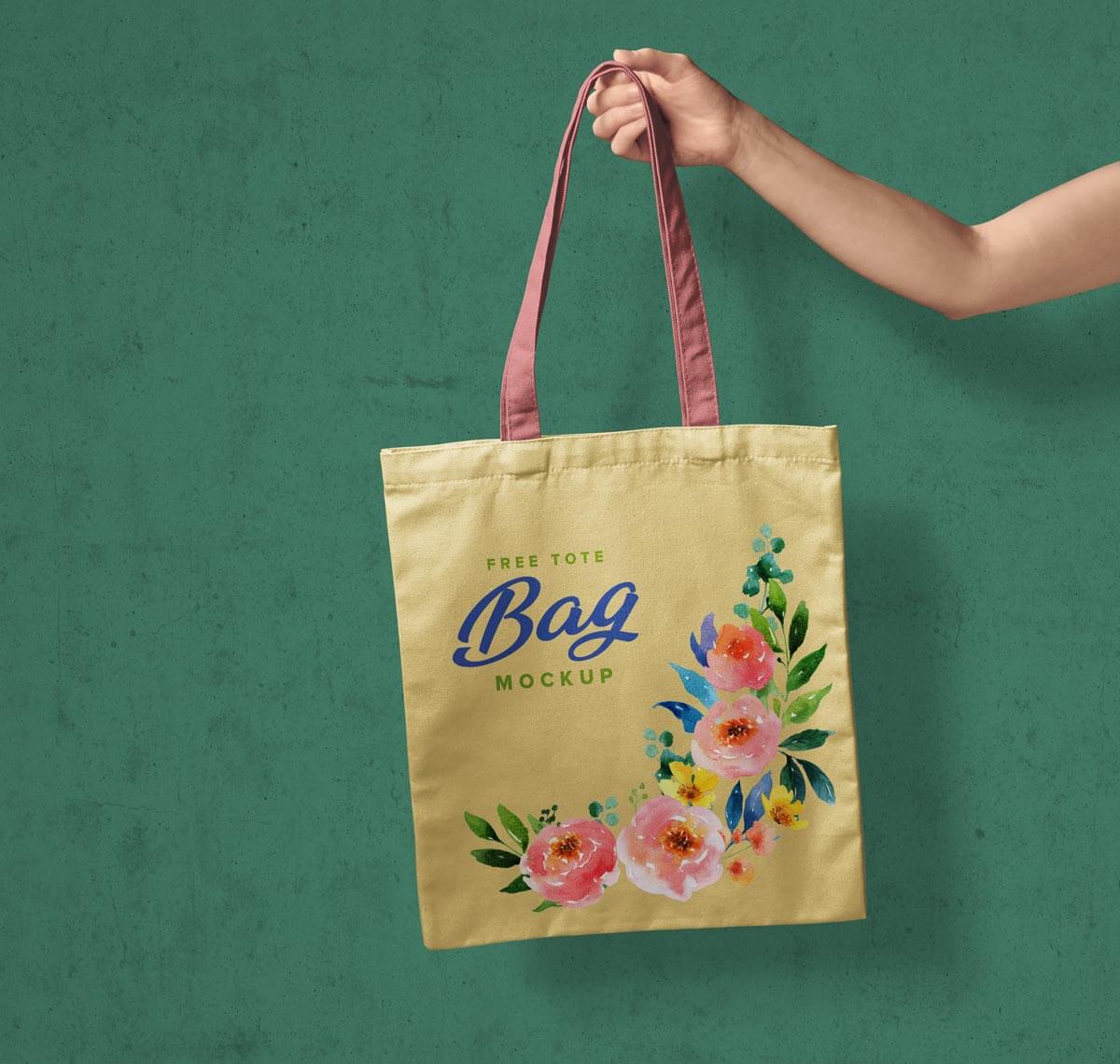 Available Format: Layered PSD with smart object insertion
License: Free for personal and commercial usage
WinRAR File Includes: Free Shopping Bag Mockup PSD
Mock-up Resolution: 3060 x 2906 px 

Note:
1. Free Tote Shopping Mockup PSD is allowed to share online (A Must Linkback to designbolts.com)
2. Say thanks if you like or share/tweet with your friends. That means a lot to me.
3. And don't forget to subscribe to receive for more high quality premium freebies & awesome articles only.
Download Shopping Bag Mockup
More Free Shopping Bag Mockup PSD Files: