Hi there everyone! We are back with yet another amazing blog of ours along with a free yet highly editable mock-up PSD file that we can bet you all are going to love reading as much as we did when we were working on it. But before doing that, we would like to take a moment to thank you guys for the love and support that you all send our way and for making sure that you are making the most of our blogs too for your personal and commercial projects, etc. and we really hope to see more of that happening in the future as well.
Regardless of how social you are when it comes to attending events, we thought that it would be a good idea if we designed a free event ticket mock-up PSD file for you guys that you can get your hands on and start creating your own designs as per your needs, etc. Also, we feel since the temperature is going to go down in a couple of weeks, many of you guys are going to be arranging parties and events, etc. for your loved ones and for the public as well so this is going to be a good show when there will be beautifully designed tickets that can be sold for various purposes. So, allow us to share how you guys can design your own event tickets by using our mock-up PSD file.
Okay so, first things first; any event that is taking place has a reason or an objective behind it, right? And that means that you have to work around the theme and make sure that everything that goes out in that context not only reflects similarity and a relation between them but you also need to ensure that there is harmony among all the materials which are going to be used for communicating a thing or two. Now, the question is how to achieve that goal flawlessly.
Well, in order to stay on the right track where you are about to announce an event of yours which might be (very) close to your heart, you first need to work on finding out the purpose for arranging that event. For example; your event could be an event through which you are going to raise some charity for a cause. Or that your event is basically a fair that you have arranged for the kids and their families so that they can sit around with each other, enjoy yummy street food options, play games, win prizes and make beautiful memories. Or maybe your event is the screening of a classic movie that you know many, many people in the neighborhood are going to watch.
So, once you have figured out what is going to happen and how, you will be required to work on the communication material. You can make a list of items that you will require to display, share and send out to the people you are expecting to attend the event. This list will cover all your fronts for the communication such as your digital and social media platforms, your out of home (OOH) communication, and then anything and everything that will be printed and handed over in person to your audiences, etc. which also includes the event tickets.
As you will be able to see that the event tickets that we have designed are not only playful to look at but they are engaging enough to attract more and more people as well so what you can do to make your event even more successful is that you also announce referral discounts while you are at it. By doing so, you won't only be able to sell the actual event tickets, but by making the word spread in an effective manner, you can sell more tickets to a wider audience too. Oh, and did we tell you an exciting thing? Well, how about you also incorporate our free event ticket mock-up PSD file into making digital tickets too? Yes, that can be done too and we are sure that you all are going to do great – not just with the designs but the events too.
That being said, we would like to encourage you guys to not only follow our tips and tricks to start working on the event tickets for yourself or for your clients but also take out some time to share your feedback with us in the comments section. Also, do not forget to share the blog with your graphic designer friends, favorite colleagues and students, etc. as well so that they can also make the most of our free event ticket mock-up PSD file. We will see you guys next time with something more fun and exciting to read and work on, until then keep making magical designs.
Free Event Ticket Mockup PSD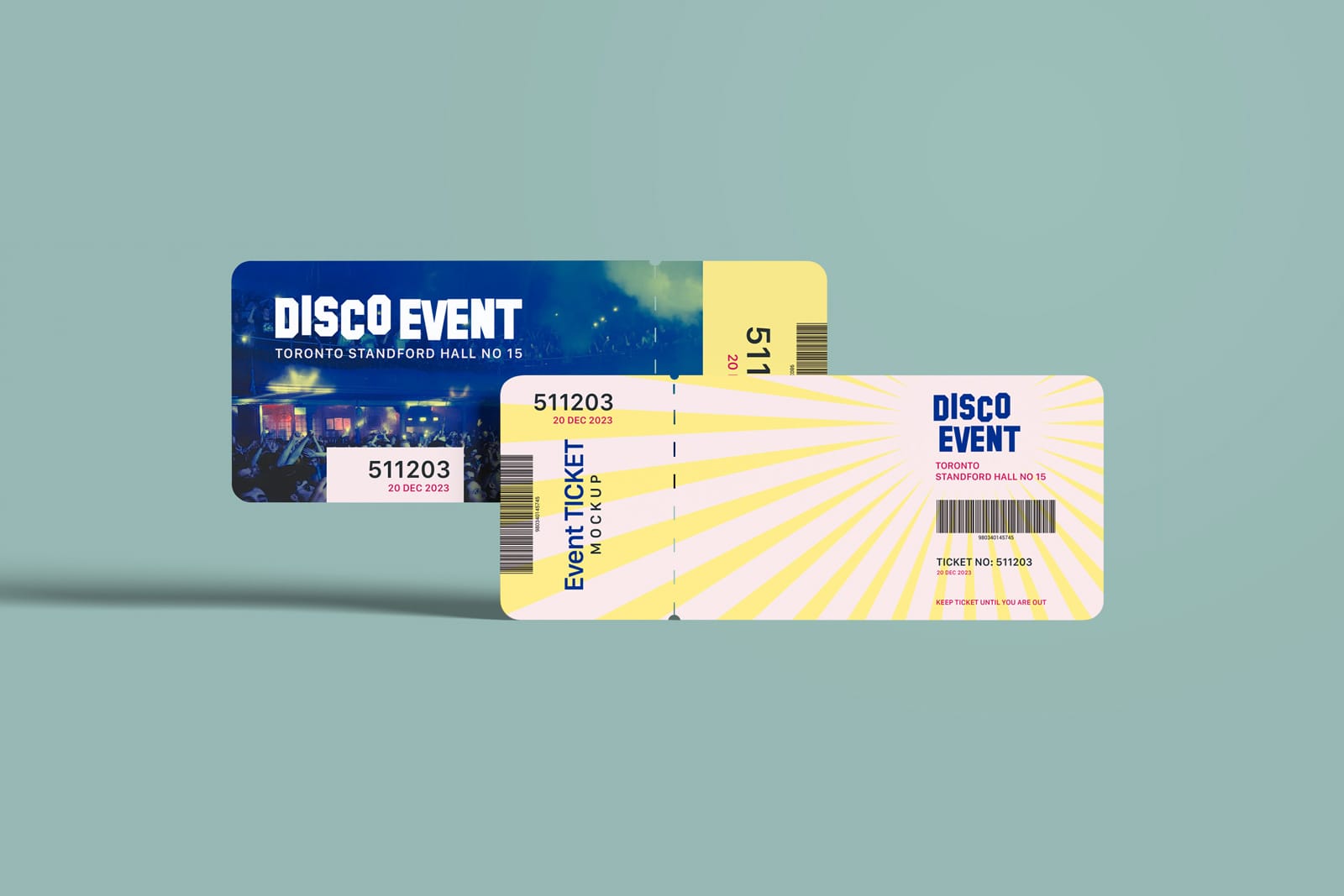 Available Format: Photoshop PSD
License: Free for personal and commercial usage
File Format: WinRAR
Mock-up Resolution: 3000 x 2000 px
Note:
1. Free Event Ticket mockup is allowed to share online (A Must Linkback to this page)
2. Say thanks if you like or share/tweet with your friends. That means a lot to us.
3. And don't forget to follow or subscribe to receive more high-quality premium freebies & awesome articles only.
Download Event Ticket Mockup
Recommended: