When it comes to designing a website or theme social media icons are the foremost part of it whether they are placed on header, side bar or website footer.
Social Media Icons have to be eye catching and aesthetically designed according to your website themes. They have to be beautiful enough to grab visitor's attention so they go and like your social media pages & become your permanent visitors every time you share with them.
Today I am giving away beautiful ribbon free social media icons pack that will perfectly suit in any theme having white or light background. The free version is only available in 72 px but the premium pack of social media icons are available in almost all sizes also included vector .ai file. So grab this amazing social media icon set and make your web attractive, interactive and beautiful.
Social Media Free Icons Set Include:
Facebook Icon | New Twitter Icon | Pinterest Icon | RSS  Icon | Deviantart Icon | LinkedIn Icon | Behance Network Icon | Digg Icon | YouTube Icon | Tumblr Icon | Blogger Icon | StumbleUpon Icon | New Myspace Icon | Vimeo Icon | Orkut Icon | Flickr Icon | Google + Icon | Dribble Icon | Forrst Icon | Delicious Icon
Do subscribe us for more free icons and free Vectors coming your way in future.
Beautiful  Ribbon Social Media Icons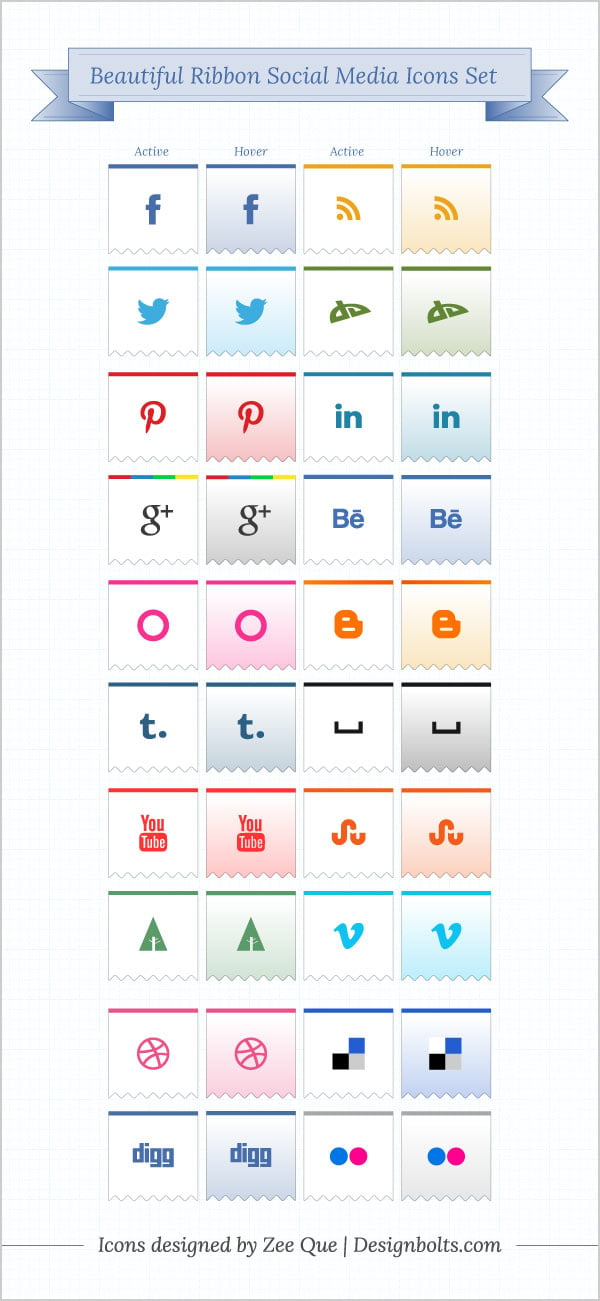 Free Version:
Available Size: 72 px only
License: CC Attribution-Noncommercial-No Derivate 3.0
Free Ribbon Social Icons 
—————————————————————————————————-
Premium Version for only $ 2.00
Available Sizes: (128, 96, 72, 64, 56, 48, 32, 24) px
Vector (.ai) file is also included
License: Creative Commons Attribution 3.0 Unported License
[paiddownloads id="5″ return_url="https://www.designbolts.com/thank-you/"]
—————————————————————————————————-
More Free Icons Download & Vectors: