Social media icons are always attention grabbing. They are meaningful and significant as if a soul in a body. Social media icons always have a concrete role and prominence in a website or blog. Either you can place them on the header, footer or the side bar of your website. Their place in the blog/website actually does not matter at all when it comes to the outlook of the social media icons. They are a best way to make a visitor start-struck.
I have designed 20 handmade Free social media icons set specially for children & school websites. They will easily sink in the website theme and will become a part and parcel of the website's background. Let's get better with these social media icons pack and make our websites interactive. Way to go!
Icons Set Includes: Facebook Icon, Twitter Icon, RSS Icon, LinkedIn Icon, Behance Network Icon, Deviantart Icon, Digg Icon, MySpace Icon, Pinterest Icon, YouTube Icon, Tumblr Icon, Blogger Icon, Stumble Upon Icon, Vimeo Icon, Orkut Icon, Flickr Icon, Google + Icon, Dribble Icon, Yahoo Icon & Instagram Icon.
Do subscribe us for more free icons, free Vectors and other fresh graphic goodies.
20 Free Handmade Social Media Icons 2013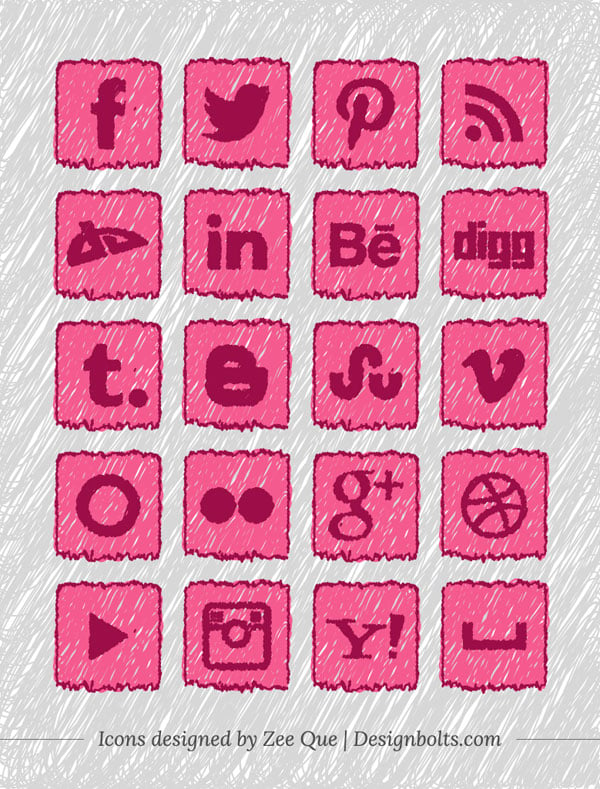 Free Version:
Available Size: 32, 48, 56, 72, 96, 128, 256 px
License: CC Attribution-Noncommercial-No Derivate 3.0
Free Handmade Icons 
—————————————————————————————————-
Premium Version for only $ 3.00
Available Format:  Vector (.ai) file (very easy to apply different colors)
License: Creative Commons Attribution 3.0 Unported License
[paiddownloads id="22″ return_url="https://www.designbolts.com/thank-you/"]
—————————————————————————————————-
More Free Icons Download & Vectors: