Developers keep on manipulating their skill on different applications and software. That's their job, and hence new and creative features are launched every now and then. In this geek world where technology is going overboard, new applications are hitting the earth to gratify the users. People keep a check on them and keep on gazing in and out of "play store" or "app store" to know about latest applications and popular ones used by common friends.
When an application launches, it circulates like a plague within the masses and if it is hit by maximum number of the users; the download of the app accelerates and the application becomes popular and super rated.
With the launch of "Foursquare" took place it became a real fun and interesting part to slog through the nearby places where one can go and enjoy the travel. Foursquare is a stunning application to make its users know what places, destinations, restaurants, and hangout locations are lying around.
It is by far one of the most apt applications to let you go to the places you love. Whether its cinemas, burger houses, food and meals outlets, shopping malls, outdoor parks or scenic lookouts, through Foursquare you can easily 'check in' all the nearby locations. Likewise you may also share your current location with your friends too, it is simply amazing.
It provides interaction and direct collaboration with the "all around" environment and setting. It uses your GPS service to work effectively. In my today's post you can see free new Vector Foursquare icon set of 2014 which you can use for personal prospects on your blog/website.
Do let us know about your experience with Foursquare. Keep coming back for more such freebies and leave us with feedback, it makes us more determined and motivates us to work with more conviction.
Free New Vector Foursquare Icon Set 2014 | 256 px PNG & Vector Ai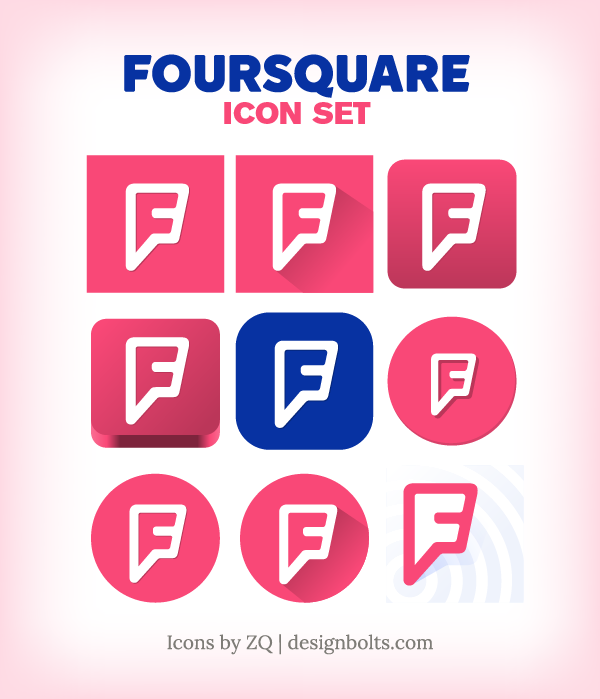 Format: Illustrator Ai & PNG Icons
License: Only for personal usage
Available Sizes: 256 px
New Foursquare Logo is all right reserved © foursquare.com
Free Foursquare Icons 
Make a donation if you like my Freebies

Looking for more Free High Quality Vectors: