Every one of us wants a desirable house, where there are all the latest luxuries, a comfortable living, lavish ambiance, beautiful setting and peaceful aura to enjoy life. All our lives we struggle hard enough to meet up to the standards of the modern life. Having a car, a good lawn to walk in, a fancy ceiling to stare at, a pool to swim, a track to jog and pretty walls to grace the house. So when our relatives, guests and friends pop in, they will get startled.
For all these and more, we earn__ we earn to make the lifestyle worthwhile. We earn for our kids and to raise our families. If you are looking up to renovate your house or your personal room, then having the best décor ideas will be your priority. Here I am all decked up to present you with a nice and creative idea to give a new and ravishing look to your walls of the room.
Wall decals are so much in demand, as wall paints/emulsions on the walls get withered away by the time, they get decayed and evaporated, & they ooze out after rains or dampness. So you cannot rely on these transitory paints. Wall decals are easy to put on the walls, they are refreshing. Markets and malls have a variety of them. From superheroes to the floral patterns, from graffiti to the nature, science, birds, landscapes and other images are included in the decals' range.
So you have plethora of them to choose from. And the plus point is that, you can always change them as per your choice or when you get bored of the same look. Paste a stunning wall decal/wallpaper on the wall and revitalize the soul of your room. This free wall decal / sticker mockup is carefully crafted for the designers who want to insert in their own design elements into this mockup. It is a way to showcase to the client how his design will look on the actual wall.
Mockups are very important to give the total image in front of the client to gratify his requirements.
Stick around for more art & design posts in future as well. Subscribe us and don't miss out on any post on our blog. Here we go!
Free Wall Decal / Sticker Mockup PSD File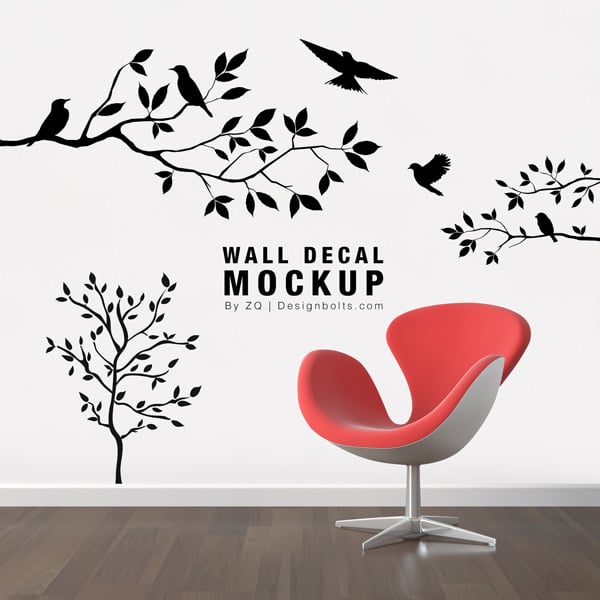 Available Format: Layered PSD with smart object insertion
License: Free for personal presentational use only
Zip File Includes: Wall Sticker Mockup PSD File
Note:
1. PSD Mockup is allowed for sharing online (A Must Linkback to this page)
2. Layers are hidden to decrease the size of file kindly unhide
3. Say thanks if you like or share/tweet with your friends
Wall Decal Mockup PSD 
More High Quality Free Mockup PSD Files