Out-of-home advertising has been a beneficial medium for companies to convey the message directly to customers outside of their home. There are a great range of outdoor advertising displays including billboard, street furnitures, transit outdoor advertising, streamers, pole banners, kiosks, column advertising, roadside display stands, facia shop and several pole and wall mounted signages available in all cities around the globe.
Recently, there was a survey held at Outdoor Advertising Association of America and they shared that consumers spend 70 percent of their time outside in holiday season and shopping events. They read most of the display advertising come in along the way. People prefer walking down the streets to buy goods and spend a lot of time in shopping centers. This is where outdoor advertising gets handy for the new as well as established companies. Conveying message through larger display is more easier as they are available every corner of the city. Creative messages and ad campaigns receive more applaud. At times, campaigns go viral through social networks.
We are sharing today an outdoor roadside display stand mockup that can be useful in presentation for ad campaigns. Moreover, use this display stand for the branding of company by placing logo design on the top and ad design on the bottom part of the stand. In outdoor media less is more so use subtle colors and make it attractive with simplicity.
For more high quality mockups you can explore our mockup psd category, we have a great range of mockup files free to download for web designers as well as graphic designers. Do not forget to subscribe and receive free email updates on your email regularly.  Send us your feedback if you like our freebies.
Free Outdoor Roadside Display Stand Mockup PSD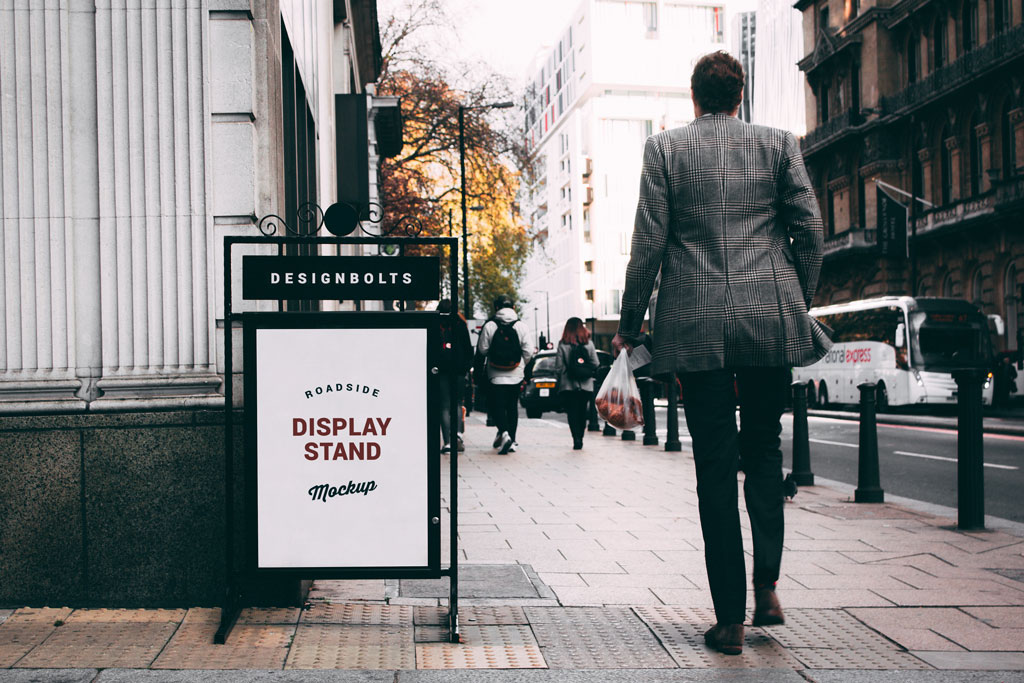 Available Format: Photoshop PSD
License: Free for personal and commercial usage
File Format: WinRAR
Mockup Resolution: 36000 x 2400 px
Note:
1. Free Display Stand Mockup is allowed to share online (A Must Linkback to this page)
2. Say thanks if you like or share/tweet with your friends. That means a lot to me.
3. And don't forget to follow or subscribe to receive more high quality premium freebies & awesome articles only.
Free Display Stand Mockup PSD
More Latest Free High Quality Mockups: