Hello there friends! We hope that your new work routine is treating you fine and that you guys are making sure to work on our free mock-up PSD files and design templates to make your projects awesome than ever. And we would also like to thank you guys for sharing your positive feedback with us as it motivates us to keep creating designs for all of you!
For our today's blog, we thought of creating an iPad Pro mockup PSD as this gadget has become the new cool for everyone who loves Apple products as well as for the ones who like to upgrade their gadgets after every two or three years and are looking for something worth the money and hype. So, let us get started!
If you go to Apple's website and search for the iPad Pro, the first thing that you will read about this gadget is that "Your next computer is not a computer." And we are going to tell you why that is. Okay so, this magical piece of glass is so fast that most advanced computer systems and laptops lack that speed. The cameras are oh so good that you will have a hard time believing that those are not photographs that you just captured. Oh, and another great thing about the new iPad Pro is that you can use it with touch, pencil, keyboard as well as with trackpad.
iPad Pro comes in two sizes; 11 inch and 12.9 inch and both sizes come in two different stunningly attractive colors; Silver and Space Gray. The capacity is 128GB, 256GB, 512GB and 1TB. It also has four stereo speakers, five microphones, and a new USB-C connector around the sides.
Recommended: 20+ Free Awesome Mockup Websites
Allow us to share the amazing specs about the display of iPad Pro now! It has the Liquid Retina display and is also LED-backlit. The display is also multi-touch with IPS technology. The resolution of the 11 inch iPad Pro is 2388-by-1668-pixel resolution at 264 pixels per inch (ppi) whereas; 12.9 inch iPad Pro is 2732-by-2048-pixel resolution at 264 pixels per inch (ppi). Both the iPad Pro are powered by ProMotion technology with wide color display (P3) and True Tone display. Its screen is fully laminated with antireflective coating and the reflectivity rate is 1.8 percent.
As we have mentioned earlier as well, iPad Pro's cameras are super awesome as Apple has introduced a new rear camera system for the iPad that include a 12MP wide-angle camera and a 10MP ultra wide-angle camera that can zoom out two times for a wider view. We would also like to mention that there is a feature of exposure control as well as a noise reduction feature for better photography & videography. Two image formats ae supported which are HEIF and JPEG.
We are very excited to also share that the iPad Pro supports the following models for cellular and wireless for fast connectivity:
11ax Wi-Fi 6 – simultaneous dual band (2.4GHz and 5GHz); HT80 with MIMO
Bluetooth 5.0 technology
And as far as the Power & Battery are concerned, in iPad Pro 11 inch, you get a Built-in 28.65-watt-hour rechargeable lithium-polymer battery and in iPad Pro 12.9 inch Built-in 36.71-watt-hour rechargeable lithium-polymer battery and you get up to 10 hours of surfing the web while being connected to the Wi-Fi on both models.
Now, it is interesting to know what a user can do with their gadgets. From video calling their friends and family members to playing games and even making assignments and presentations, the possibilities have no limit – at all. Then there are hundreds of mobile applications and sites that can help a person edit their photos, videos and connect with their friends by playing games and even by sending photos and we know that even though there are many platforms that are already in use, you can try your ideas and bring them to life by launching them for the new iPad Pro.
Then there are backgrounds, wall papers (both static and animated) which you can create to fit the screens of the iPad Pro and we would love to see what you guys are going to design to cater to the needs of the audience who is planning to purchase this new gadget for themselves.
With our blog, you will also get your hands on the free iPad Pro mock-up that will help you in creating your own mock-ups so, that you can share your ideas in a better way with your team lead(s) or with the ones who are all ready to have a look at your pitch presentation. As you know that we mostly say goodbye after our favorite suggestion that you all need to create multiple design mock-ups to have a fruitful conversation with your business partners.
And that is all for today, you guys! Once you are done reading the blog, do not forget to share it with your favorite colleagues as well and we will see you next time around with another great blog of ours.
Free Shadow Overlay iPad Pro 11 2020 Mockup PSD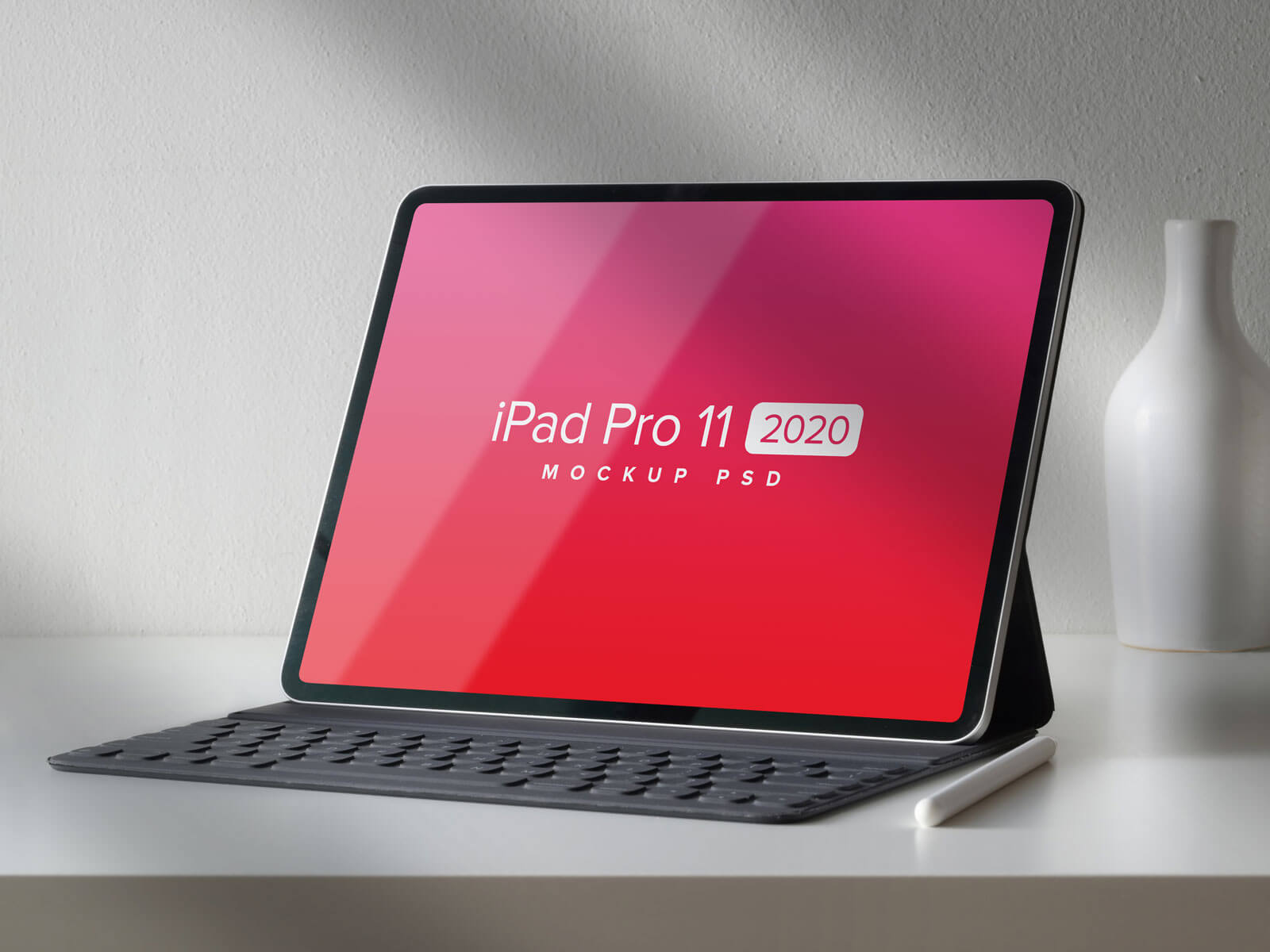 Available Format: Layered PSD with smart object insertion
License: Free for personal presentational use only
WinRAR File Includes: iPad Pro Mockup PSD
Note:
1. PSD iPad Pro 2020 Mock-Up is allowed for sharing online (A Must Linkback to this page)
2. Say thanks if you like or share/tweet with your friends.
Download iPad Pro Mockup PSD
Recommended: