Hi there friends! We hope that you guys are doing great at work and in general too. It is always a pleasure to go through our comments section and read your positive feedback and super interesting suggestions that you share with us. So earlier this week, when we were reading the comments etc., we happened to receive a few requests for TV screen mock-up PSD files and here we are with our free LG flat screen mock-up. Let us get started!
You must have noticed that now almost everyone has got at least one flat TV screen for their house – and the size gets bigger and bigger with some added features of course. But do you know why brands have successfully changed the idea of how we would watch anything on that TV screen? Flat screen TVs are like the best for more than one reason and we are going to share them with you down below. Continue reading to know more:
Flat TV screens are pretty & attractive, but they are also equipped with interesting modern specs. and features that make the whole TV watching experience so much better. They have unmatched superb picture quality; they add more to the aesthetics of a place – be it a house or an office. Flat TV screens practically save space for you and you can literally use that space to maybe decorate that spot a little more with some other stuff.
We can bet that all of us (now) love the wide viewing angle and the comfort that is provided by the flat TV screens is also amazing. You do not have to sit on one sofa to be in front of the screen for your favorite TV programs. Also, flat screens also accommodate people who are sitting at oblique angles – both horizontally and vertically.
Oh, and did we tell you about the audio quality that these screens provide? Okay so, if we were to talk about the audio system that the flat TV screens provide, then we would be happy to mention that more such type of screens are being manufactured and are preferred by the customers only because there are multiple speakers installed in them. Another interesting fact about the flat TV screens is that they are long lasting – like literally your flat TV screen will live longer than your conventional TV.
Now, that we know that a flat screen TV is able to provide an amazing experience to the customers, we know that you and the business you are associated with would also want to keep creating reliable products as well and that's literally the deal, right? Since we have worked on an LG flat screen mock-up PSD file, we will talk about this very screen only to help you guys work on your own design projects.
There are multiple things that you can do with your TV screens in addition to watching dramas, or updating yourself through news etc. Since the smart televisions are brilliantly designed and come with a powerful package of technology and innovation, you can even work on your TV screen too. Playing games is another fun thing when it comes to a bigger screen and you can have a gaming party for your friends & family just like that. So, being a designer and a developer (website, games and everything else), what comes to your mind to double the fun? Content that is specially designed for the TV screens and more? Also, there are integrated voice assistants too that make life so much easier and since everything is pretty unique in its own way, you can work on ideas to support the features that are already being offered in an LG flat screen. Feel free to be super creative when it comes to showcasing your ideas and plans on a big screen and our idea of creating the mock-up in a natural setting will help you present more realistic design approaches.
Also, if you are one of our regular readers, then you would know about the importance of creating mock-up presentations and how much we love encouraging the very idea. But if you have recently started reading our blogs, then we would love to share our secret and an effective tip with you guys. Always work on a detailed mock-up presentation with rationales that can explain your creative thought processes well.
We know that most designers do not get the time to even get done with their day to day tasks, but a mock-up presentation is something that can save you and your clients a lot of time, efforts and money too. Having said that, we will conclude our blog so, you can start working on your upcoming project using our free LG flat screen mock-up PSD file.
And don't forget to share the blog with your designer friends as well!
Free LG Flat Screen Monitor Mockup PSD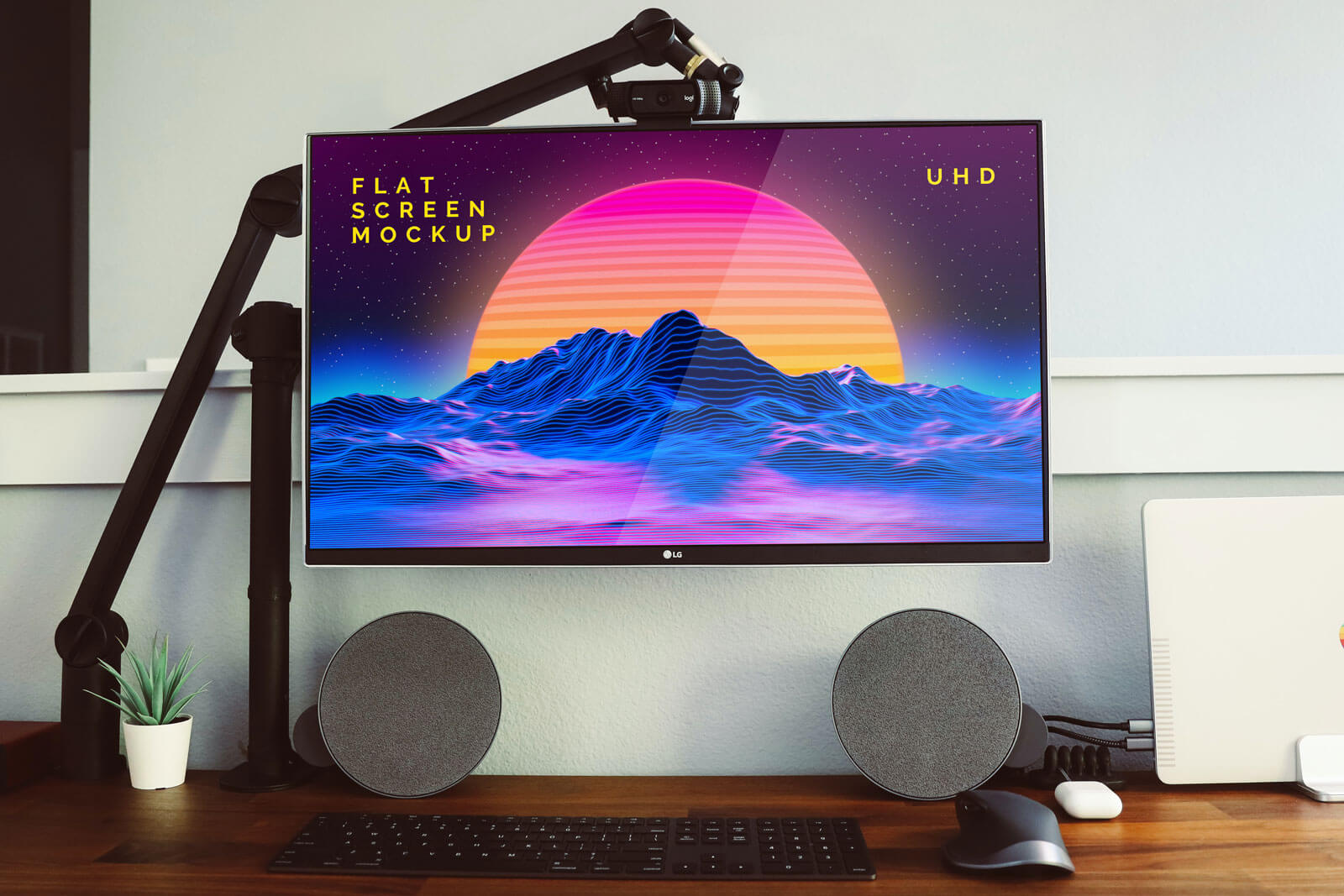 License: Free for personal presentational use only
WinRAR File Includes: Flat Screen Monitor Mockup PSD
Note:
1. Free Flat Monitor Mockup is allowed for sharing online (A Must Linkback to this page)
2. Say thanks if you like or share/tweet with your friends.
Download Flat Screen Mockup
More Awesome Latest Free Mockups: