Hi there everyone! We are back with yet another super useful blog of ours and we can bet that you all are going to love reading it too. We cannot wait to share everything that you guys need to know about our free and realistic cushion mock-up PSD file but before we do that, we would like to take a brief moment to thank you all for the love and support that you send our way and for always making sure that your friends, family and favorite colleagues are also reading our blogs and making the most of them as well. And we really hope to see more of that happening in the future too.
Okay so, as you guys know cushions, also commonly referred to as pillows or throw pillows, are soft, often decorative, padded items that provide comfort and support for seating, lounging or sleeping. They are typically made from a variety of materials and come in various shapes, sizes as well as designs. But there is more to this comfortable item piece that you all should know about so make sure that you guys read the blog till the end in order to know more and better. Alright?
TYPES OF CUSHIONS:
There are several types of cushions such as:
Throw Pillows:
These are decorative cushions typically placed on sofas, chairs, beds and other furniture to add color, texture and style to a space.
Seat Cushions:
Designed for comfort, seat cushions are used to soften the surface of chairs or benches and provide support for the lower back and buttocks.
Back Cushions:
These cushions provide support to the back while sitting or lounging. They can be used on chairs, sofas and other seating areas.
Floor Cushions:
Larger and flatter cushions are designed to be placed on the floor for extra seating or lounging space.
Outdoor Cushions:
Made from durable and weather-resistant materials, these cushions are designed for outdoor furniture and spaces.
Bolster Pillows:
Long, cylindrical cushions are often used for decorative purposes or to provide support under the neck or lower back.
MATERIALS:
Cushions can be made from a wide range of materials including:
Fabric: Common cushion covers are made from materials like cotton, linen, polyester, silk or blends. The choice of fabric affects the look, feel and durability of the cushion.
Fillers: The inner filling material can include polyester fiberfill, foam, memory foam, feathers, down or a combination of these materials. The choice of filler impacts the cushion's firmness and support.
DESIGN AND AESTHETICS:
Cushions come in countless designs, patterns, colors and textures. They can be tailored to match or complement the overall décor of a room, adding a touch of personal style and enhancing the visual appeal of the space.
FUNCTIONALITY:
Comfort: Cushions provide additional comfort and support for various seating arrangements. They can help relieve pressure points and promote better posture.
Decoration: Cushions serve as decorative elements that can instantly transform the look and feel of a room. They allow for easy seasonal or thematic updates.
Versatility: Cushions can be easily moved and rearranged, offering flexibility in seating and design arrangements.
MAINTENANCE:
Regular maintenance includes fluffing and rotating cushions to prevent uneven wear. Many cushion covers are removable and washable, making it easier to clean and maintain them. And with proper cleaning techniques, you can ensure that the life of your cushions does not get affected.
HEALTH BENEFITS:
Properly designed cushions can promote better posture and provide lumbar support which can help alleviate back pain. Cushions can also add comfort and support for people with specific health concerns or mobility issues.
Keep in mind that cushions play a versatile role in interior design, providing both functional comfort and aesthetic appeal. And when it comes to designing them which will lead the process to the production of the cushions, it is very important for you guys to know and understand that there is more to just the cushion being a pretty one – it has to be comfortable during usage, it should also be easy to clean and maintain and in addition to that, it must also come for a price that does not cause a dent in a person's budget as well.
Having said that, we are sure that once you guys are done reading the blog, you will get your hands on our free yet highly editable realistic cushion mock-up PSD file and start creating designs for your own brand or for the businesses that you are working with. We would also like you all to take into consideration the needs & demands of your target audience in order to know what you are working on before you keep that in the market to sell it.
That's all for today! We will see you guys next time with something more fun and exciting to read and work on until then keep creating magical designs.
Free Realistic Square Cushion Mockup PSD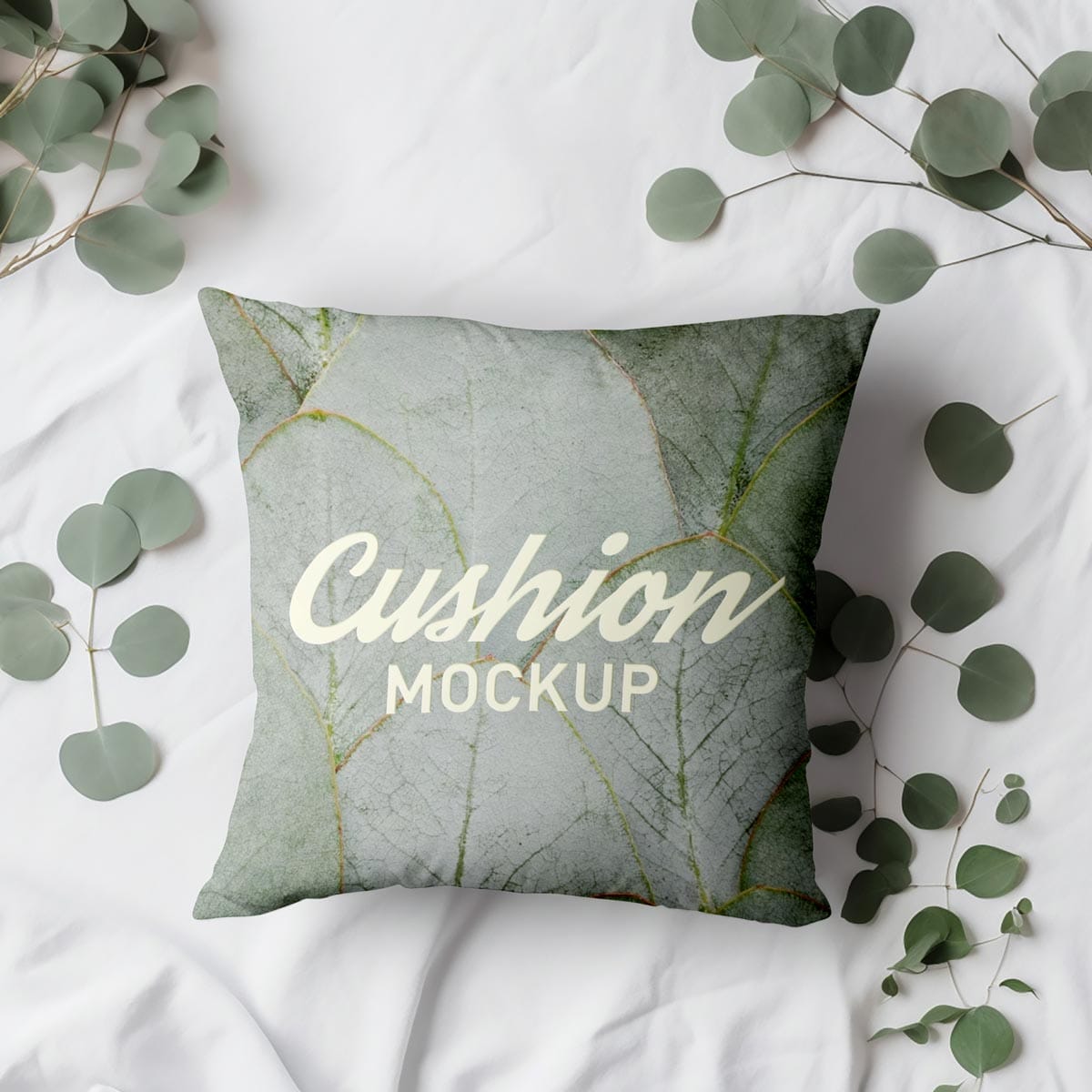 Available Format: Photoshop PSD
License: Free for personal and commercial usage
File Format: WinRAR
Mock-up Resolution: 2500 x 2500 px
Artwork Size: 1500 x 1500 px
Note:
1. Free Sofa Cushion mockup is allowed to share online (A Must Linkback to this page)
2. Say thanks if you like or share/tweet with your friends. That means a lot to me.
3. And don't forget to follow or subscribe to receive more high quality premium freebies & awesome articles only.
Download Cushion Mockup
More Free PSD Files: