Hello there friends! We hope that you all are keeping safe and that our blogs and free mock-up PSD files are making your personal and commercial design projects fun and exciting to work on. Our today's blog is going to be all about being comfortable and we just cannot wait to talk more on cushions and why you must get your hands on our free cushion mockup PSD file today, so let us get started without any further delays.
God bless the person who came up with the idea of pillows and cushions that literally take all our neck and back pains away and help us relax for as long as we want – unless we have to get up to go to work or do other important stuff, you know. We can bet that most of you are reading this blog while resting against your favorite cushions on your work chair or on the couch somewhere in your room, and if you are, this blog is your chance to create a bunch of fully personalized cushion designs for yourself as well as for your loved ones.
If you are running a business of selling cute adorable stuff then you would know that every shop has to have a variety of items to offer and it becomes fun when shopkeepers go creative and choose things from multiple categories to sell so it can be a gift shop that sells stationery items but it also sells décor items including cushions. Then there are home décor shops that produce mattresses, bed sheets and covers, pillows and cushions as well as other items that can be bought to accessorize the rooms, houses and offices etc. – meaning that personal to professional settings require such items to be used by the inhabitants as well as by the guests.
Cushions also go to hotels and rest rooms in a huge number mainly because the organizations have promised to provide comfort to their customers but we also feel that even if you do not have a lot of things to offer in a room; you can totally accessorize them with soft pillows and cushions to provide your customers and guests with a comfy and warm environment. Like everything else in the world, cushions too come in different sizes and shapes and that is your opportunity to be as creative as you can be in order to make sure that the stuff that you are putting on the table is the stuff that is required by the audiences.
Now, understand that every market and business have their own demands when it comes to creating stuff such as cushions. Hotels would require super fancy cushions to place inside the rooms as well as around the hotel to present a home like vibe whereas; for houses, the cushions that are required are normally designed to please the ones who would be staying there especially in the rooms so a mother would have her requirements while her husband would have his and similarly; their children would want to complement their rooms as per their needs and demands and to cater to that, you need to make sure that your business is open to all types of cushions including different shapes and sizes as well as stuff and designs.
A cushion needs to be super comfortable when it comes to the stuff and we would like to share it here that there are either covers that you can design by customizing them (for which the person will have to fill it in with readily available foam, fillings) or there are cushions that can be designed – both models depends on budget of the businesses so you can choose whatever works best for you. We are a fan of cushions and how they fill up the spaces which means that designing them is like accepting the fact that sky is the limit. You will realize that there are hundreds of options to choose from while creating a cushion design and in order to not get overwhelmed there is only thing that you can do to stay on the right track and that is to create a list of ideas that you would like to incorporate into the designs.
Different people require different things in their safe spaces; the liking and disliking mostly depend on what they watch on the TV, how their professional settings are, what they believe in and of course their age groups as well. A kid would be attracted to colorful things while young adults would like something subtle, something in one color tone whereas adults would be into patterns so pick the design elements, themes and ideas accordingly and you will see how great your cushion designs will look like.
That is all for today! We hope that you had a great time reading our blog and that our free cushion mock-up PSD file will let you experiment multiple ideas before you finalize your designs.
Free Sofa Cushion Mockup PSD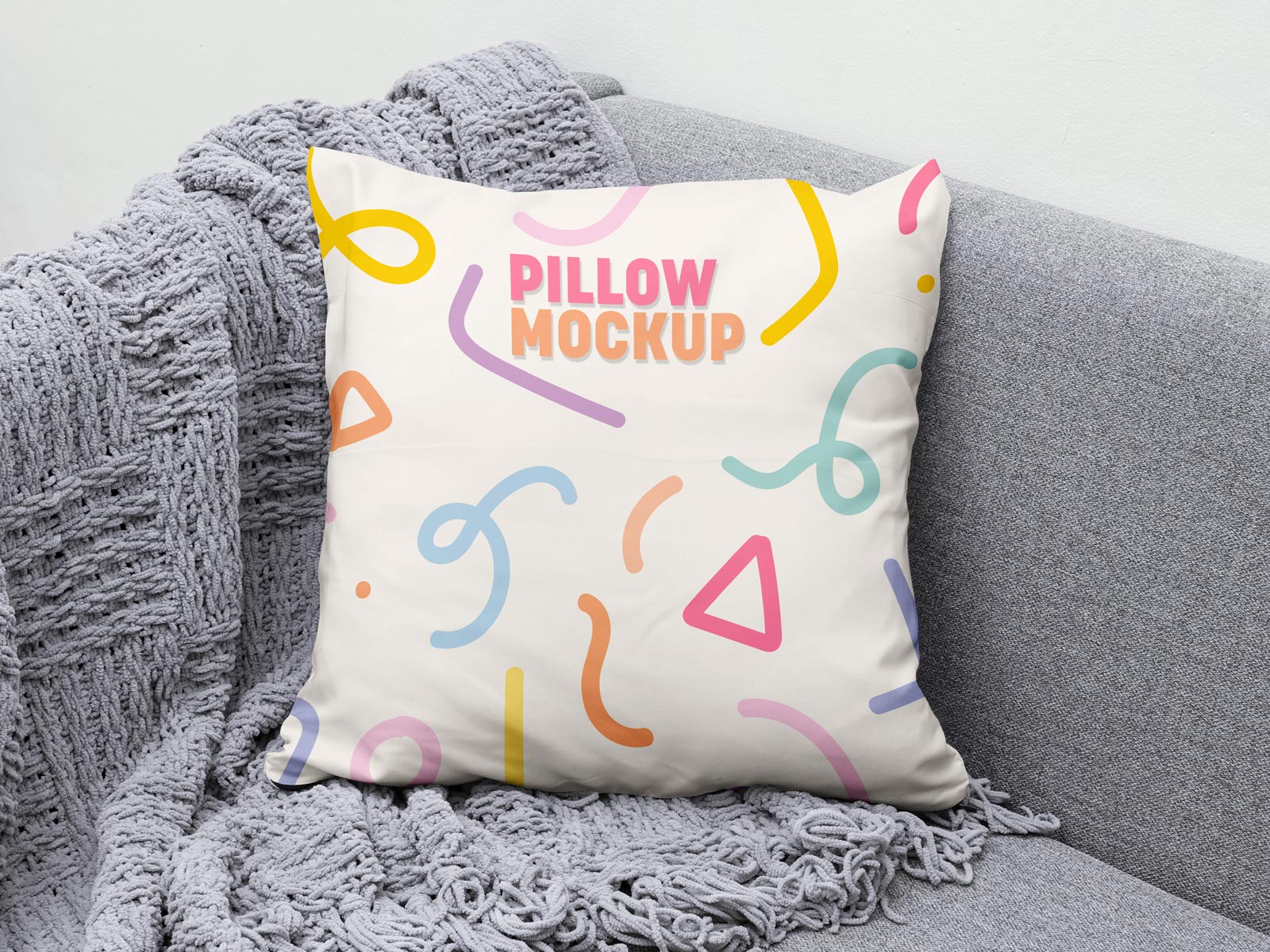 Available Format: Photoshop PSD
License: Free for personal and commercial usage
File Format: WinRAR
Mock-up Resolution: 4000 x 3000 px
Artwork Size: 2328 x 2328 px
Note:
1. Free Sofa Cushion mockup is allowed to share online (A Must Linkback to this page)
2. Say thanks if you like or share/tweet with your friends. That means a lot to me.
3. And don't forget to follow or subscribe to receive more high quality premium freebies & awesome articles only.
Download Cushion Mockup
More Free PSD Files: