Hi there everyone! We hope that your work life and life, in general, are treating you well and that you are also having a great time reading our blogs too. For our today's blog, we decided to share everything that we know that you can expect from the upcoming lineup of Apple iPhone 15 and we know you guys can't wait no more but allow us to take a moment to thank you all for the love and support that you send our way and for also sharing our blogs with the people you love and care for. And we hope to see more of that happening in the future too.
Okay so, the new lineup of Apple iPhone 15 is, most likely going to be launched in the first week of September and like every enthusiast of Apple products, we know that you guys would also want to know more about the new products so that you can either get one of the phones for yourself or you can start working on creative ideas that can be incorporated into making beautiful wallpapers for the phones or hard cases and covers for that matter as well. In addition, you can also work on unique app designs that can be pitched to the relevant departments so that they can get rolled out for bigger audiences to use on their iPhone 15.
In this part of our blog, we will be sharing the stunning new or already existing features that you can expect from the to-be-launched lineup. Make sure that you read the blog till the end so that when you guys sit with your friends, colleagues and acquaintances, you can have meaningful conversations covering the new Apple iPhone lineup.
As per the rumors and other conversations that are taking place, Apple is going to be launching iPhone 15, iPhone 15 Plus, iPhone 15 Pro as well as a new device which is going to the iPhone 15 Pro Max. It's not only one of the most anticipated devices but given that it's Apple, we can bet that it is going to be more than just awesome. It is being heard that the iPhone 15 Pro Max is also going to be an expensive device (which makes sense, right?) but there is something more that you guys would want to know. And it is that the iPhone 15 Pro Max is also going to be the largest iPhone as well. Now, let's see how true these claims are once the devices are launched in the market.
We are sure that you guys would know that the iPhone 14 Pro Max did not offer the newest features, etc. but keeping in mind the rumors that are making the rounds, it is safe to say that the iPhone 15 Pro Max will be loaded with novel features and then some more and if we are being honest (and also blunt), we would like to say that it would be a wise move by Apple to actually offer newer stuff to their buyers so that they can actually own something that is new and is not a regular iPhone in a slightly bigger size, you know!?
Alright, guys now it is time for us to share what we have been hearing so far when it comes to the most anticipated iPhone 15 Pro Max. Keep in mind that these are not just random things and if they are actually going to be offered by Apple, then we are going to be seeing a huge increase in the sale of the iPhone 15 Pro Max too.
First things first; you can expect thinner and curved bezels making it a new, refreshed design. In addition, it is being said that the iPhone 15 Pro Max is expected to offer a bigger battery which means that you will get to enjoy even more time with your to-be-bought device. Sounds fun, right? But, but, but, there is more. They are saying that the classic mute button will be replaced by a customizable Action Button – the one that you might have seen on the Apple Watch Ultra. And, of course, there are chances that the iPhone 15 Pro Max will be getting a new USB Type C port instead of Lightning.
That is all for today, you guys! We hope that you not only had a really nice time reading the blog but that you will also share it with your friends, family members and colleagues, etc. as well, especially with those who are passionate about Apple products or would want to make the most of our free iPhone 15 Pro Max mock-up PSD file for their personal and commercial design and development projects. We will see you guys next time around with something more fun and exciting to read and work on until then keep creating magical designs.
Free iPhone 15 Pro Max Mockup PSD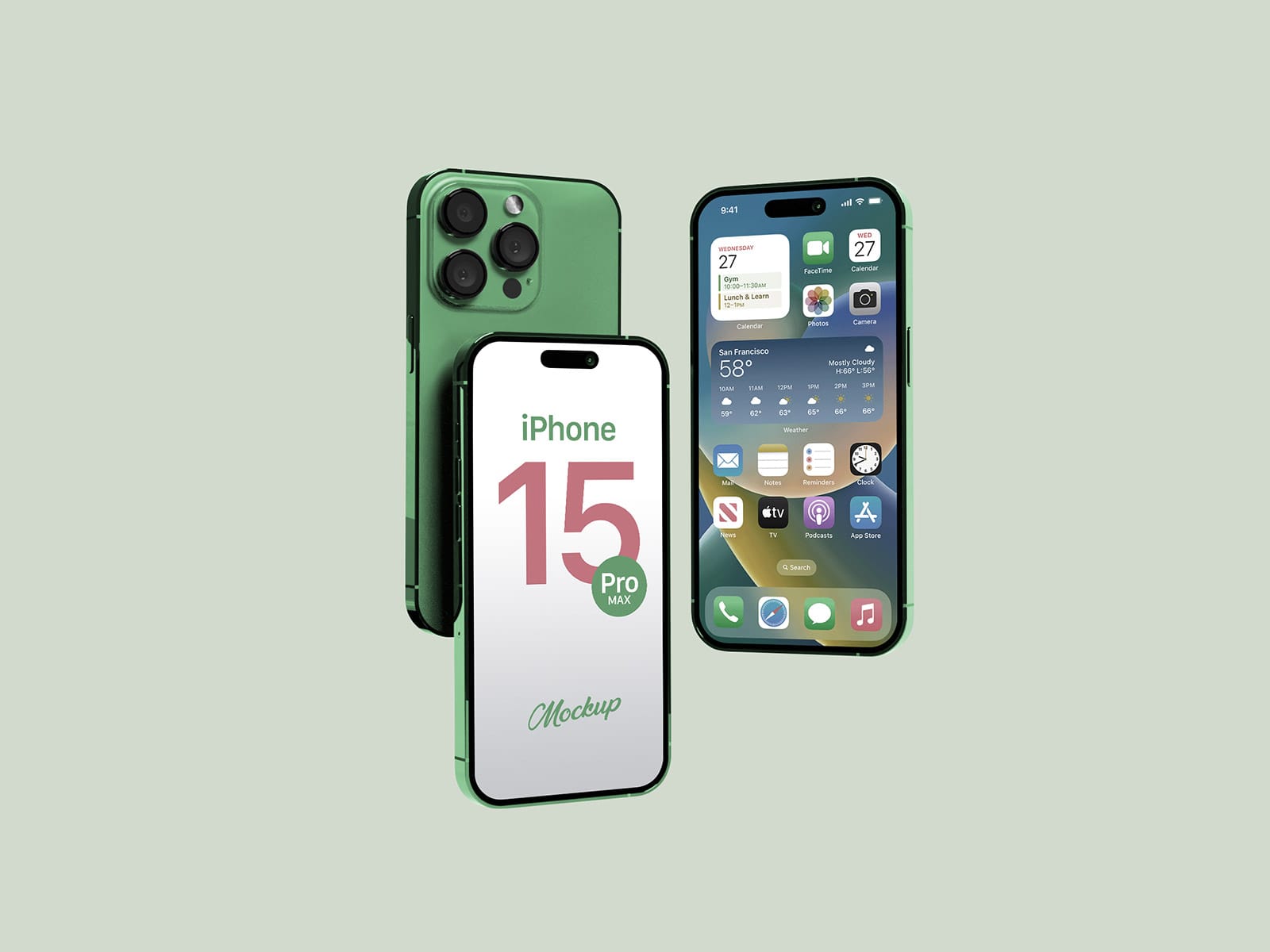 Available Format: Layered PSD with smart object insertion
License: Free for personal & commercial use
RAR File Includes: Free Apple iPhone 15 Pro Max
Mockup PSD Resolution: 3000 x 2250 px
Note:
1. Free iPhone 15 Pro Mockup PSD set is allowed for sharing online (A Must Linkback to this page)
2. Designbolts signature is placed as first layer kindly hide and use the mockup
3. Say thanks if you like or share/tweet with your friends
Download iPhone 15 Pro max Mockup
Recommended: