Hi everyone! We're back with yet another super useful and interesting blog of ours and we know that you all are going to have a really nice time reading it as much as we did when we were working on it. And we can't wait to share everything that you guys need to know about the MacBook Air so that you can make the most of our free yet highly editable tilted MacBook Air mock-up PSD file but before that, we would like to take a moment to thank you all for your love and support that you always send our way and for encouraging us to keep creating the content that we love to create. We really hope to see more of that happening in the future too.
This goes without saying that whatever Apple makes, is not only something worth spending your money on but it happens to deliver more than one could imagine. MacBook Air is one of those advanced gadgets that are going to revolutionize the way you work or play for that matter. Despite being super efficient and fast, MacBook Air happens to be the most affordable Mac laptop that you can get your hands on. MacBook Air 13" comes in two variations; one with M1 Chip (priced from $83.25/mo. for 12 mo. or $999) and the other one is supercharged by M2 Chip (priced from $91.58/mo. for 12 mo. or $1099) whereas; the MacBook Air 15" is supercharged by the M2 Chip (and can be purchased within the price range from $108.25/mo. for 12 mo. or $1299).
As we have mentioned above, the Macbook Air is extremely thin but super fast so you can literally do anything in everything that you are planning to do while you work play or watch your favorite shows on the internet but there is more to it. For example; the spacious Liquid Retina display is going to offer you the best of everything while the fanless design is all set to let you meet your deadlines without making you feel anxious because of the noise in the background.
In addition to that, you will get to enjoy more than 18 hours of battery life after charging your laptop once which means that you will not have to get distracted in any possible way. That sounds alright, yeah? Well, we would also like to talk about how you have the freedom to choose your favorite color and get things done on the go. Okay so, the Macbook Air comes in 3 attractive finishes which are mentioned down below:
Midnight
Starlight
Space Gray
Silver
Oh, and did we tell you guys that Apple has made sure that they do not harm the planet Earth while they make the most advanced laptops for their loyal customers? Well, that's true! Allow us to share more information on that!
So, the MacBook Air is manufactured by using a durable 100% recycled aluminum enclosure. And then, of course, there is an advanced camera system present in the Macbook Air as well which will allow you to look your best while you arrange meetings with your colleagues or have a little to chat with your loved ones. The immersive sound system present in the Macbook Air will allow you to not only hear the best quality of audio / video content but in addition to that, you will also be able to enjoy playing your games or watching anything that you would like to watch when you won't be working.
We know that all the awesome things that we have mentioned regarding the Macbook Air are more than enough to convince you guys to get your hands on the model that you like the most and now it is time for us to encourage all of you to immediately download our free tilted MacBook Air mock-up PSD file and start working on your design and development projects right away. Not to forget, the sky is the limit so go super creative with your ideas!
That is all for today, everyone! We not only hope that you had a really great time reading this blog but that you will also share it with your friends, favorite colleagues, students, etc. as well so that they can also make the most of our free tilted MacBook Air mock-up PSD file for their upcoming projects and then some more. We'll see you guys next time with something more exciting and fun to read and work on.
Lastly, would also like to encourage you all to drop in your feedback along with your special requests so that we can start working on them and be back here with your requested content and more super soon.
Free Tilted MacBook Air Mockup PSD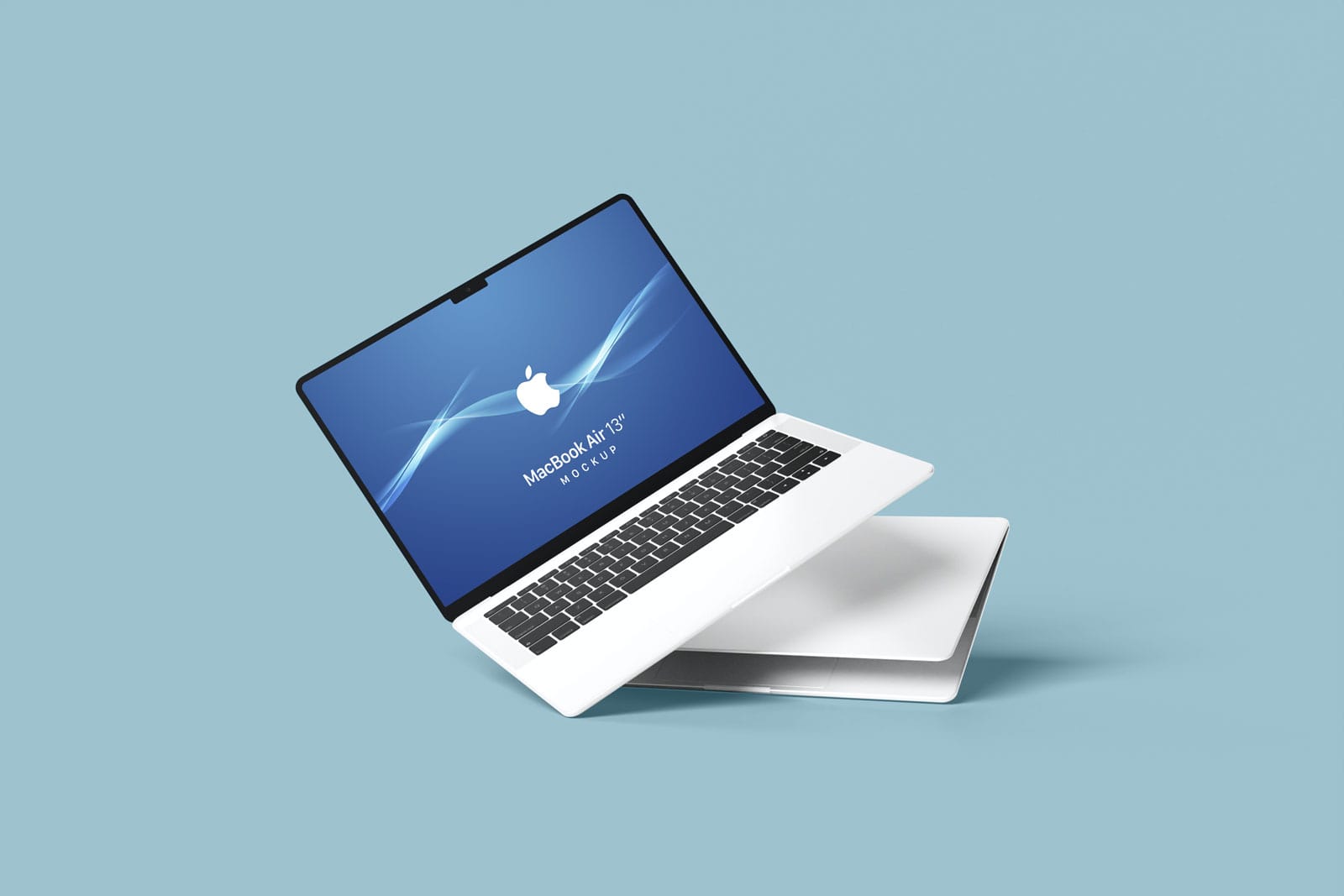 Available Format: Layered PSD with smart object insertion
License: Free for personal and commercial usage
RAR File Includes: Free MacBook Air Mockup
Resolution: 3000 x 2000 px
MacBook Pro: 2560 x 1660 px
Note:
1. Free Mockup PSD is allowed to share online (A Must Linkback to designbolts.com)
2. Say thanks if you like or share/tweet with your friends. That means a lot to me.
3. And don't forget to subscribe to receive for more high quality premium freebies & awesome articles only.
Download MacBook Air Mockup
More Awesome Free Mockups: