Religion is that particular aspect which we all share mutually. To be precisely all religions on this planet earth do signify some outstanding motifs. Every religion has its own beliefs, preaching and learning but what is more common in them all is compassion, peace, love and brotherhood. There are people who actually are atheists and skeptic but that are not what I am going to talk about. Unity, harmony and unanimity are the aspects which ascend from every single religion whether it's Islam, Christianity or so forth.
Today I am packed up with free religious symbols icons with names. You can use these symbols in religious and spiritual posts & any other way as per your requirement. Scroll down to get these Religious & Spiritual Icons.
Religion Symbols Set Contains:
ALLAH Icon, Ankh Icon, Arevakhach Icon, Ayyavazhi Icon, Baha i faith Icon, Buddhism wheel of dharma icon, Cao Dai Eye of providence icon, Christian Cross Icon, Christianity Peace Dove Icon, Christianity Praying hands Symbol Icon, Confucian Icon, Cross Fitchy Icon, Cross Pattee Icon, Dua Icon, Hinduism Om icon, Islamic Crescent Icon, Jainism Ahimsa Hand Icon, Judaism Star of David Icon, Paganism Triskelion Icon, Presbyterian Cross Icon, Presbyterian Cross Icon, Raelian Symbol Icon, Shinto Torrii Icon, Sikhism Khanda Icon, Swastika Icon, Taoism (Daoism) Yin and Yang Icon
Free Religious Symbols Icons With Names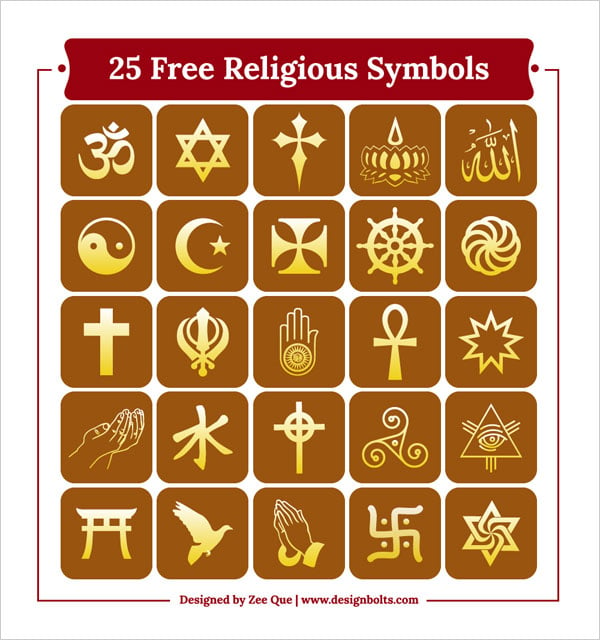 Free Version:
Available Color: Gold & Silver
Available Sizes: (56, 128, 256, 512) px
—————————————————————————————————-
Premium Version for only $ 3.00
Available Format:  Vector (.ai) file
Software Used: Illustrator CS5
Available Color: Gold & Silver
—————————————————————————————————-
More Free Icons & Vectors:
Receive interesting articles & freebies right in your inbox
About The Author
Zee Que: I'm a Graphic/Web designer having been in the field of Web Design and Print Media for the last 8 years, the very founder of DesignBolts.com. I have fervent interest in Graphic Design & Photography. You can follow me on Twitter.