Social media icons are the crux of a website or blog. We may set them either on the header/footer or at the side bar. Social media icons should be attractive and amplifying enough to cling a visitor's attention.
Recently I made an effort to create a new sort of social media icons pack. The thought, idea and to be more precisely, the inspiration behind this was Windows 8 icons. Nevertheless they add to the quality and interface of your website. Let's take the plunge into Windows 8 Metro style sleek social media icons.
Windows 8 Metro Style Sleek Social Media Icons Includes:
Facebook Icon Twitter Icon RSS Icon LinkedIn Icon Behance Network Icon Deviantart Icon Digg Icon MySpace Icon Pinterest Icon YouTube Icon Tumblr Icon Blogger Icon Stumble Upon Icon Vimeo Icon Orkut Icon Flickr Icon Google + Icon Dribble Icon Delicious Icon & Instagram Icon
Don't forget to subscribe us for more free logos, free Vectors & Free Icons in future.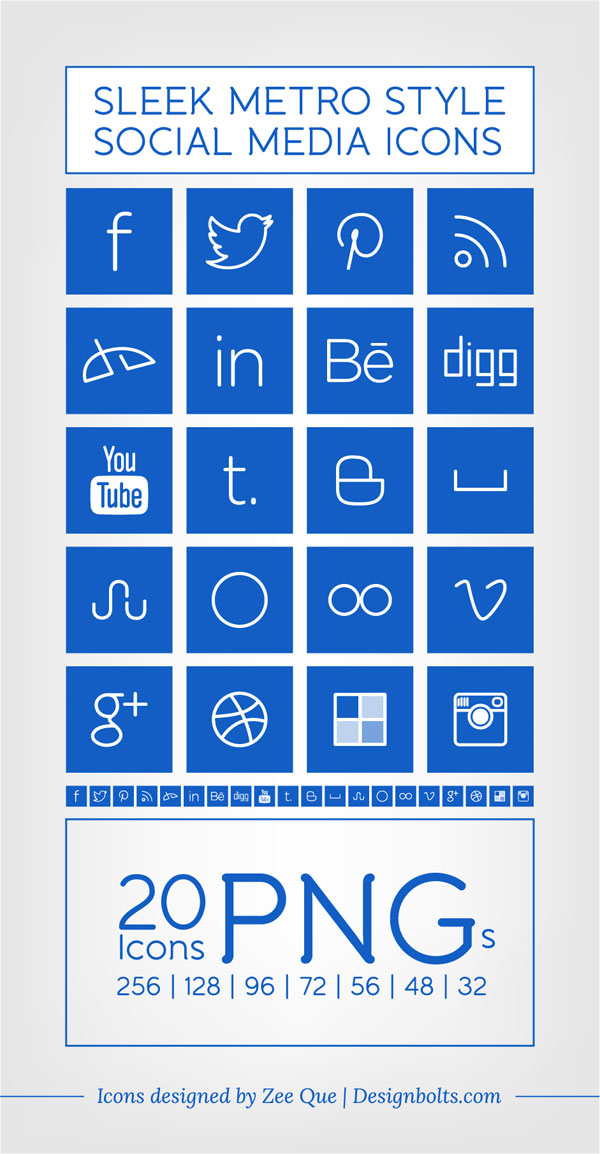 Free Version:
Available Size: 32, 48, 56, 72, 96, 128, 256 px
License: CC Attribution-Noncommercial-No Derivate 3.0
Sleek Metro Social Icons
—————————————————————————————————-
Premium Version for only $ 3.00
Available Format:  Vector (.ai) file
License: Creative Commons Attribution 3.0 Unported License
[paiddownloads id="11″ return_url="https://www.designbolts.com/thank-you/"]
—————————————————————————————————-
More Free Icons Download & Vectors: