We always wish our new year to be vigorous and exciting. People say, what one does the first day of the New Year, his whole year would determine the same routine onwards. So people try to be more gleeful, happy. They try to make this day more enjoyable so the rest of the year would be spent in the same way. Maybe it is just a myth or some superstitious belief, who knows? But I am not sure about it, might be a fact or not, but assuming something good for the future will for sure open up good panoramas in the impending years.
There is a world called 'Hope' and its hand should never get parted with you. Stick to it, have a grip on it and never let it go. Each day, build new hopes for a better tomorrow and see, your day will automatically be made good. Just be more virtuous and less sinful so the good karma will follow you everywhere.
Be on time where you are asked to go, keep an eye on the important days of the month, make to-do-list for helping yourself and have a mind map which day you're supposed to do which work. For this you need to have a calendar so today I am presenting before you free Vector printable calendar design 2014 in (Ai, EPS) format.
Bear in mind that this is free printable calendar so you can have it get printed in any size as per your own requirement and need.
I wish you all a very well celebrated New Year in which there would be no regrets, repentance, prejudice, deception but only truth, joys, happiness, glory and more success. Have euphoric New Year ahead guys!
Subscribe us for more Free Vectors and Free Icons in future.
Free Vector Printable Calendar 2014 (Ai, EPS)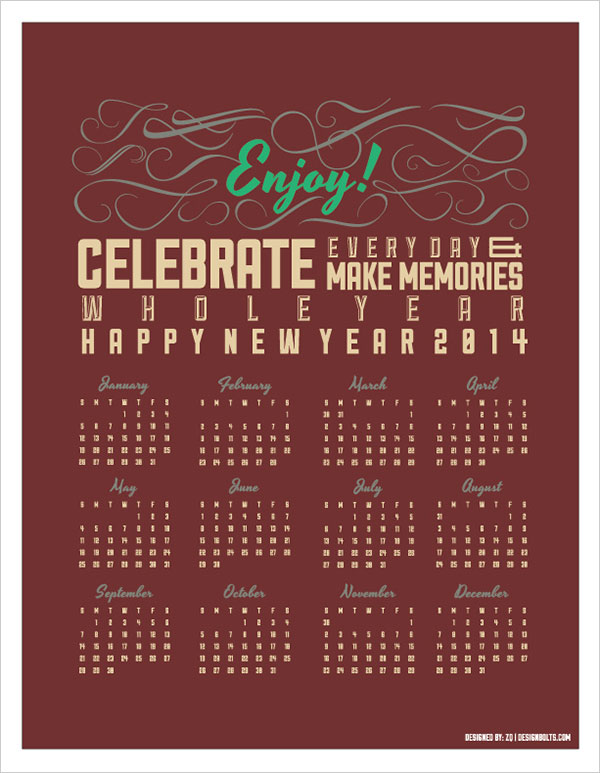 Free Calendar 2014 is available in 5 colors

Format: Illustrator Ai, EPS (Available in 5 Colors)
License: Free for Personal Use only
Printing Size: Letter (8.5 x 11 inches)
 Download Calendar Template 
Make a donation if you like my Freebies

Looking for more High Quality Vectors: