Your name is your identity, wherever you go, you get to introduce yourself with your good name, it makes up your individuality it makes you recognizable and it also helps people to remember your face by your name. Therefore we are named because of a reason. But when you walk into your corporate world it is the business card that introduces you to people and to your clients.
The very moment you show this card to them, they view it and build up an impression about you. Make sure whatever business card you choose for yourself should be handy, readable, attractive, to the point and direct. When they keep your business card with them, it is easier to contact you. A good business card has some salient features that should be kept in mind while designing it. A: It should be readable and communicative, B: It has to be focused and brief, C: It should not be ambiguous or hazy, D: It should work like your emblem and your representative. Anything lacking in a card from the above mentioned, would cause a failure of understanding. Unless your stance is clearly written, people won't know you by any case. Business card is made to remove confusions, to meet the desire end, to keep the clients hooked and to build a good standpoint into the minds of others. All pros and cons about one person should be clearly stated precisely over this little piece of business card.
So here I designed lately free rounded corner vertical business card mock-up PSD, it is rounded corner and the size of the business card is 3.5 x 2 inches. You can insert in your own design and show it to your client that how his business card is going to look in actual tangible form. This mockup can be used for the presentation purposes so avail this chance and do write to me what more I can present before you to entertain your needs regarding art and design in future.
Subscribe us for the daily design prompts and never miss out on anything we publish on day to day basis. Here we go!
Free Rounded Corner Vertical Business Card Mock-up PSD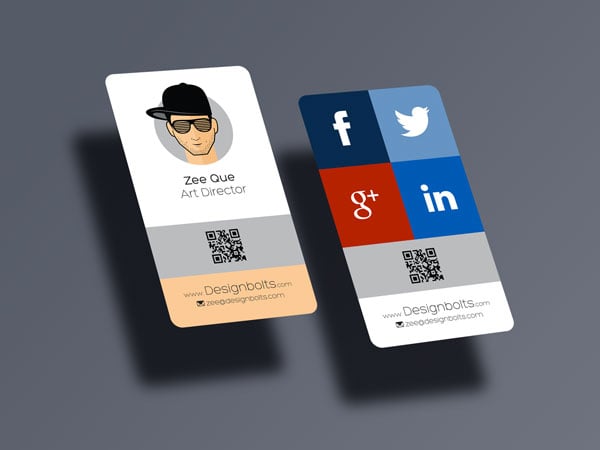 Available Format: Layered PSD with smart object insertion
License: Free for personal and commercial use
Zip File Includes: Business Card design Template Ai File & Mockup PSD
Note:
1. PSD Mockup is allowed for sharing online (Linkback to this page)
2. Layers are hidden to decrease the size of file kindly unhide, ungroup and place your design on red colored layers.
3. Say thanks if you like
Rounded Corner Business Card Design & Mockup 
More High Quality Free Mockup PSD Files