When we were kids, we so wanted to have two things with our names written on them – business cards and stamps. We did not know the actual purpose of visiting cards and stamps but we knew they were something cool to own. And since we didn't have access to getting things that could be used for our identity, we remember purchasing those cute funky stamps from the stationery shops and we are pretty sure some of them are still lying somewhere in our storage room. Just by the way, we loved those teachers who would appreciate us on our assignments & tests through 'Excellent' and 'Very Good' rubber stamps.
Fast forward to today – we not only understand the purpose of a stamp but can also create it using our skills, imagination and of course Photoshop. And that's why we are here today with yet another amazing stamp mockup PSD for you guys. We have done round stamp mock-up PSDs before and today we would like to share a free self inking Rectangular stamp mock-up PSD.
As you know stamps are used for different purposes for example;
For approving a document
For encouraging brand loyalty (handmade items)
For textile stamping
For protecting ID and other important documents
For 'signing' on cards without having to use a pen
For motivating students and employees to keep up the good work
For creating your own wrapping papers
For decorating scrapbooks & photo albums
If you don't have a lot of money to brand your stationery items then you can also use your rubber stamps on your envelopes, letter heads and file folders.
It might seem a time taking job but designing a stamp is a simple process as and it doesn't require a lot of time or efforts. Because there are just two things which require your attention; the stamp itself and the handle. So, let's have a look at the design tips now:
Now that you know the shape of 'space' on which you are going to work, you will have to designate the areas for text and design elements which could be anything from borders to starts to symbols or maybe even logos.
Choose readable fonts to serve the purpose and pay special attention to their sizes as well.
Leave nice space in between the letters as well as the words so that the text can be read even after getting inked on a piece of paper (or anything else for that matter).
Then comes the actual task – the rubber plate. Your budget will decide if the plate is going to have an engraving or will it be molded. We would suggest you to recommend different options to your client so that the possibilities can be explored.
Okay so, the one mistake we have seen in some rubber stamps is that the rubber pad do not get manufactured carefully which results in sloppy stamping. And while we understand that it is not entirely your thing to look at but you must make sure that your vendors are not (unintentionally) screwing your designed stamps.
Now that are planning to create different design options of your rectangular stamp we would like to share some kick ass ideas on how to get approvals on your designed stuff in a matter of minutes. The most effective way to demonstrate your designs is to create an impactful mock-up presentation. During the meeting you will let all the decision makers know how the stamps are going to look like in real life.
In addition to that, you will also be able to understand their concerns in a better way. And we hope that now you know why we mentioned creating multiple design options – it's because different approaches / designs / ideas will keep you from experiencing the vicious cycle of design – feedback – revision – repeat.
Mock-up presentations are also very important as a handsome amount of money is going to be spent on having the designs printed, published or manufactured and you wouldn't want to take the risk of giving a go ahead to your vendor(s) without having all the stake holders on board. So, if you want to grow as a successful professional, we will always encourage you to do things the way they are supposed to be done.
That's all for today guys! We really hope that our blog and mockup PSD will help you in creating best rectangular stamps for your personal or professional projects. And while you get ready to download the PSD file, don't forget to share it with your friends and colleagues as well.
Also, feel free to share your feedback, suggestions and design related requests with us because we would love to provide creative solutions. Until next time!
Free Self Inking Rectangular Rubber Stamp Mockup PSD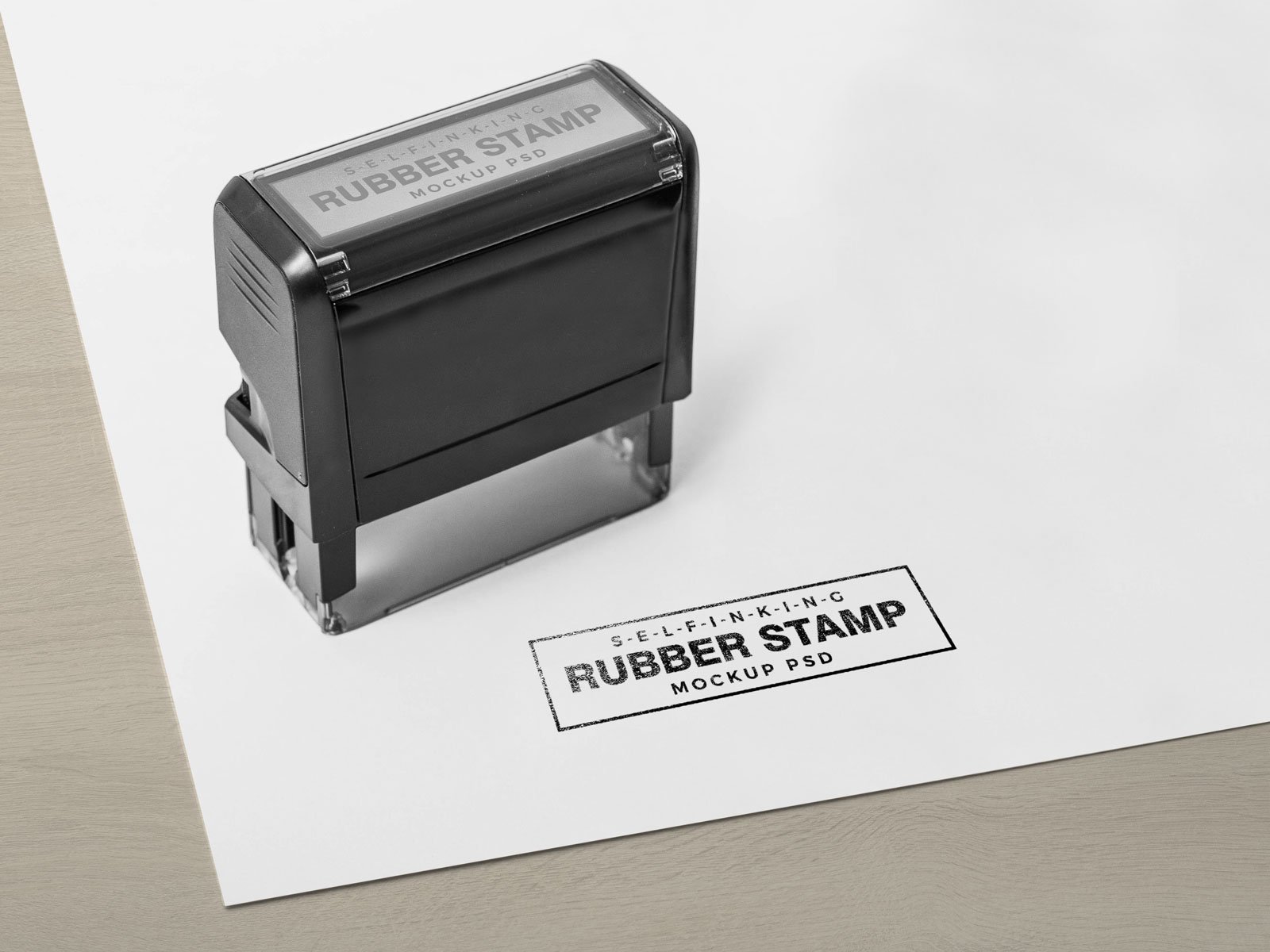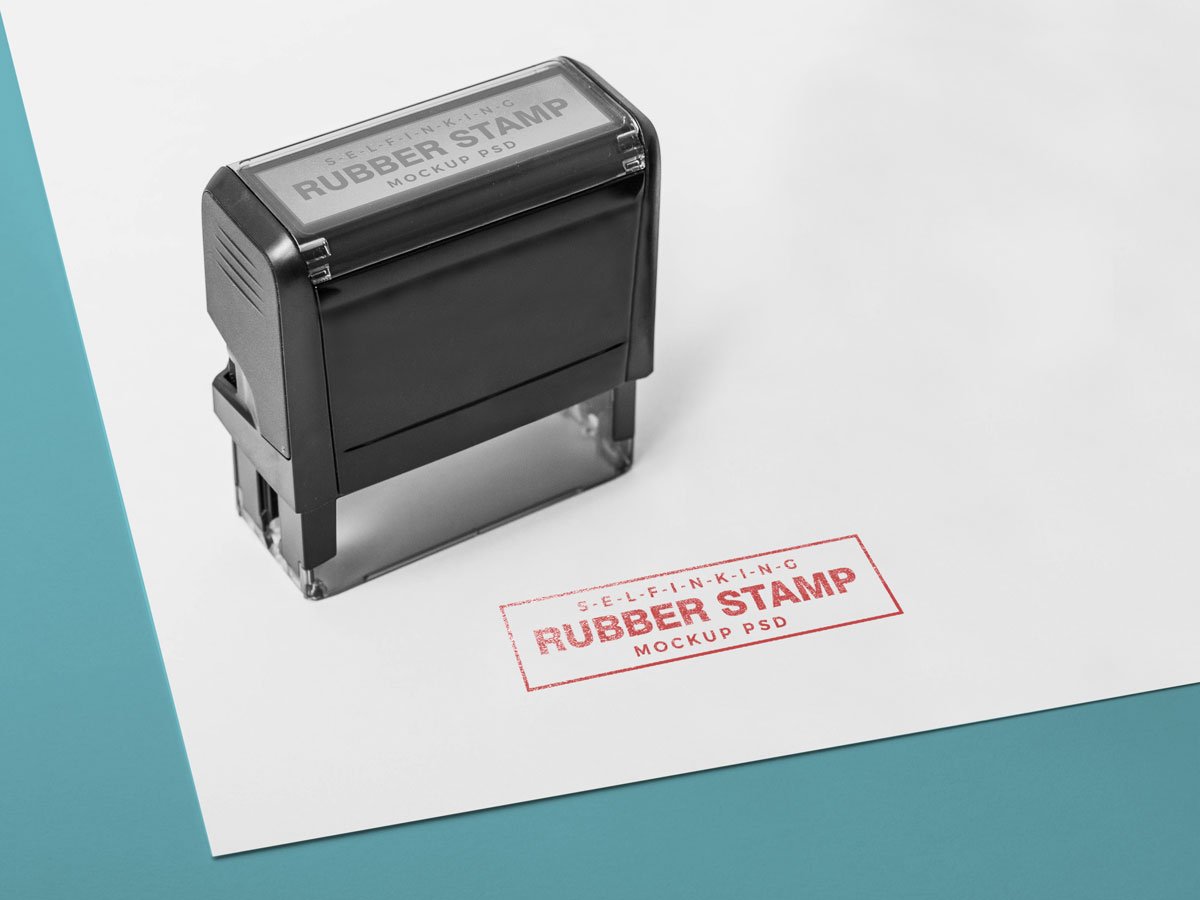 Available Format: Photoshop PSD
License: Free for personal and commercial usage
File Format: WinRAR
Mockup Resolution: 4000 x 3000 px
Note:
1. Free Rectangle Stamp Mockup is allowed to share online (A Must Linkback to this page)
2. Say thanks if you like or share/tweet with your friends. That means a lot to me.
3. And don't forget to follow or subscribe to receive more high quality premium freebies & awesome articles only.
Download Stamp Mockup
More High Quality Free Mockup PSD Files