Hey there guys! We hope that the world of graphic designing is treating you all well and that our blogs are being super helpful for each one of you as well. If you want to know what's up with us, we would love to share that we were going through the comments section of our recent blogs and found out that many of you wanted us to share Google Pixel mockup PSD files so that you can pitch in different games, mobile apps, wallpapers etc. to your clients. And we had to sit down, gather the relevant information and create things what you asked for.
In this blog today, we will be sharing free Google Pixel 4 and 4 XL mock-up PSD & Ai files for you to use. But before we do that, let's talk about the Google Pixel phones first! So, the phones are known as the Google phones and for all the right reasons but there is more to them – their features and everything else that is offered by Google is something that can convince you to get a phone for yourself.
We know that this is one of the deciding factors for most smart phone buyers that they are looking for great camera(s) and if you get something in a phone that can capture photos as if you were in a studio with all the professional equipment then there are chances you will fall in love with the technology. In your Google Pixel 4, you don't need a flash even when you are in a dark room, up in the mountains and want to capture a photo as your phone will take care of the light and will capture brilliant photos for you.
In addition to that, you can literally adjust the colors and exposures in 'separate parts of photos'. These phones have great lens and capture what you want them to capture with their amazing "focus" and the detailing.
You want help? You have Google Assistant right there to assist you. All you have to do is to say and your wish will be your Assistant's command as it can also find photos for you, set reminders for you too. In short, it is easier to control your entire phone and all the apps with your very own Google Assistant.
Oh, and did you guys know that you can use your Pixel phone by not even touching it? Umm yeah, you read that right! That is done by Quick Gestures which use radar motions and help you control your phone even when you are having your favorite meal or setting your hair with the gel. Also, you can unlock your Google phone with your face and that's not it. You can also get into your apps too by just using the face unlock feature.
Now, that you know that Google Pixel 4 and 4 XL are amazing phones to own and to use – anything that is designed for them must be awesome too, right? Be it an application, a game or even a mobile friendly website. You would want to create stuff that is oh-so-good, your team member and client(s) would approve all the ideas instantly.
But before you start working on the ideas of creating a Google Pixel relevant anything, you would want to see if it works or not. And what is the best way to go about it? A mockup PSD file, yeah? And that is the main reason why we decided to share highly editable mockup PSD files for you guys so that you can put in your ideas of games, interesting apps and backgrounds etc. in the mock-up and demonstrate your concepts with your clients.
Make this a habit of presenting your ideas through a mock-up presentation as it gives all the concerned parties a clear idea as to how things will look like after they are printed, published, manufactured or designed and developed in case of a mobile app / game. A good mock-up presentation is a self explanatory document which has the rationale mentioned along with the design options and it is worded in a way that it is not difficult to comprehend.
We know that we always encourage you all to create mockup presentations even if you are working as a freelance graphic designer or developer because this practice is something which can take you to places. So, what are you waiting for? Get your hands on our free Google Pixel 4 and 4 XL mock-up PSD files right away and start creating the awesome stuff you have been waiting to create.
Don't forget to share our blog with your friends and favorite colleagues too. And we will see you next time with another insightful blog and interesting but free mock-up PSD file you guys!
Free Google Pixel 4 & 4 XL Mockup PSD, Ai & EPS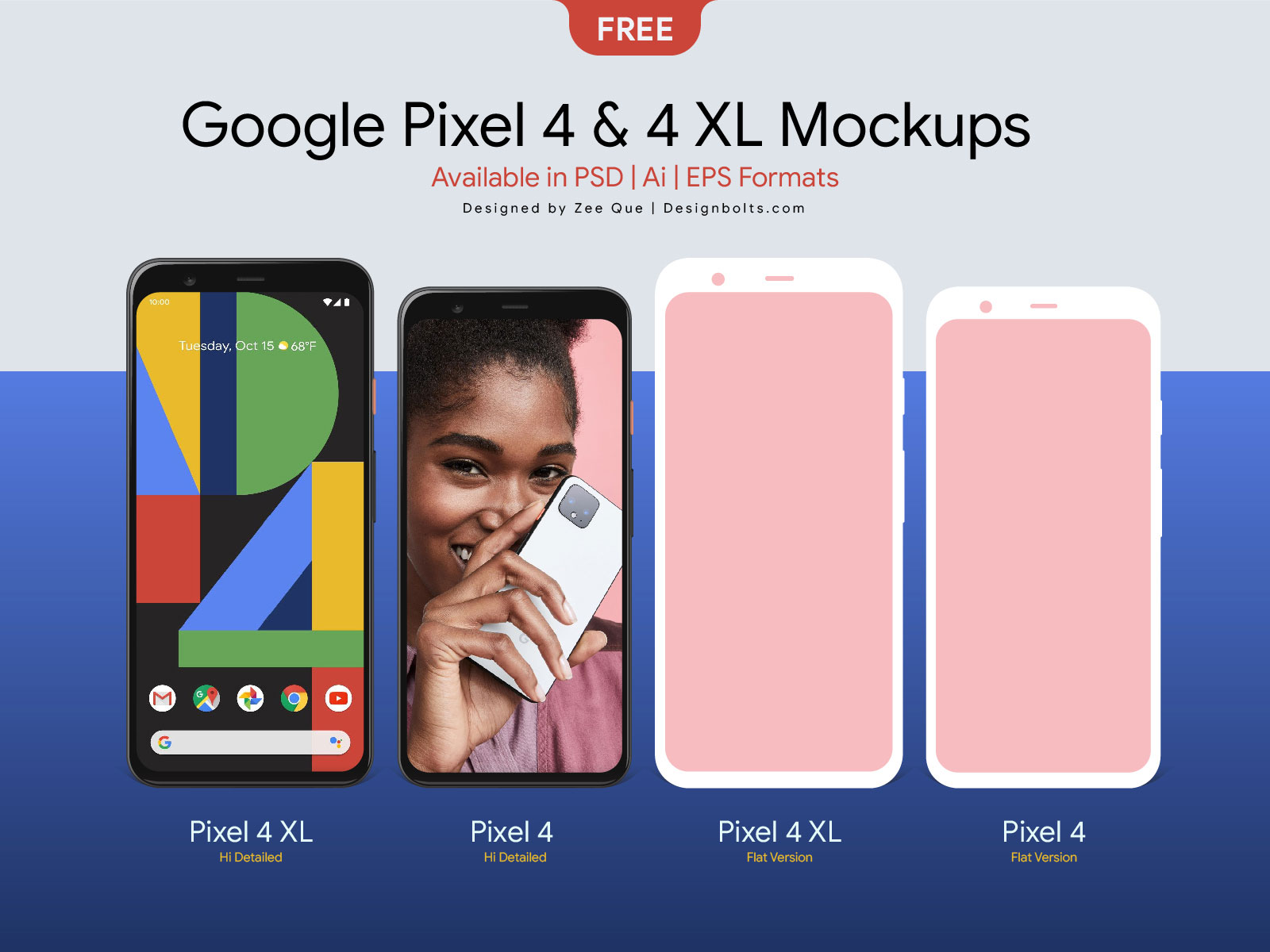 Available Format: Layered PSD with smart object insertion
License: Free for personal and commercial usage
Zip File Includes: Mockup PSD, Ai & EPS
Mock-up Resolution: 3000 x 3000 px / Cellphone

Note:
1. Free Google Pixel 4 Mockup & Google Pixel 4 XL Mockup Files are allowed to share online (Linkback to this page)
2. Say thanks if you like or share/tweet with your friends. That means a lot to me.
3. And don't forget to follow or subscribe to receive for more high quality premium freebies & awesome articles only.
Download Pixel 4 & 4 XL Ai / EPS
Download Pixel 4 & 4 XL PSD
More iPhone & Android Smartphones App Display Mockups: