Who doesn't love burgers? We know we do. And we can have them literally every day because burgers are so good, you just cannot say no to them. In addition to that, burgers are fulfilling as well so, you really do not need anything else to you know, go about in your day. One burger down the throat, and you are sorted for like 2-3 hours (given that you are not as big a foodie like us!).
Oh, and hi there guys! If you are confused about what might have happened to us, it is just that, that we have created this free but super editable free top view burger mock-up PSD file and while we were working on it, we got so involved that we had to order a couple of burgers for ourselves. Anyways, since you guys have read the topic of our today's blog, we would like to dive right into it so, that once we are done, you can all get your hands on our free mock-up PSD file and can also create awesome designs for your burger house or for you client's business as well.
Okay so, honestly there are like thousands of burger joints in the world and all have a special taste when it comes to their burgers and other eatables which brings their customers to keep choosing them over and over again. But what makes them different is the fact that they put themselves out there in a unique way. They try to not become a me-too brand. Allow us to share what a me-too brand in order to know better. So, when a brand makes something purely similar to their competitor's products, what they do is that they try to minimize the market share of their business rival. It is not like the me-too brands do not work, but there is no guarantee of their survival in the market.
A me-too brand is considered to be ethically wrong as well because firstly, you do not know enough about the product(s) that you have copied to sell in the market and secondly, there won't be anything new or unique about your brand. And it is also risky in the sense that there will come a day when you will have to shut down because not all audiences are ignorant especially the ones that have easy access to the internet and who know how to do their research.
Anyways, as far as the communication of your business is concerned and this is for both an existing business as well as for a business that is about to be launched, your first and foremost responsibility is to make sure that whatever you put on the table is unique and that it is required (by the audience and you are not just making a burger joint or going to sell burgers for the sake of earning money) and that you will put in efforts to make things work for your business.
This is also important to know that not every business has a story or history to sell – if you do not have a heart wrenching story to back your business strategy with, it does not mean that you will fail. You can succeed even if you do not have a powerful story but through your brand strategy. Always remember that there are multiple options to get the desired products from but the reason people will choose you is how you sell your products, how your services are like, how reasonably priced are you, how environmentally conscious are you and things like that. Your unique selling points are the reasons to believe you and your products / services so make sure that you work on that along with your branding and packaging and you will be good to go.
The reason why we create our free mock-up PSD files is to help anyone and everyone who is related to the advertising and marketing industries. With our mock-ups and design tips and tricks, you can make successful campaigns and can also bag the business deals that you have always wanted to bag. But know that only getting your hands on a free mock-up PSD file is not all, you have to create a presentable deck of design options as well through which you can share your thoughts and ideas.
Mock-up presentations always help the creative and design teams to bring the decision makers on one page while also making sure that they can easily incorporate the changes (if need be). And with our free top burger box mock-up PSD file, you can easily add in your design elements, change the color of the box with the one that complements your business's branding and create at least 2 to 3 design options to share with the concerned management for approvals.
That is a wrap for today (guess we're still hungry)! We'll see you guys next time with another interesting blog of ours – until then keep creating magical designs using our mock-up PSD files and by also following our tips.
Free Top View Burger Box Mockup PSD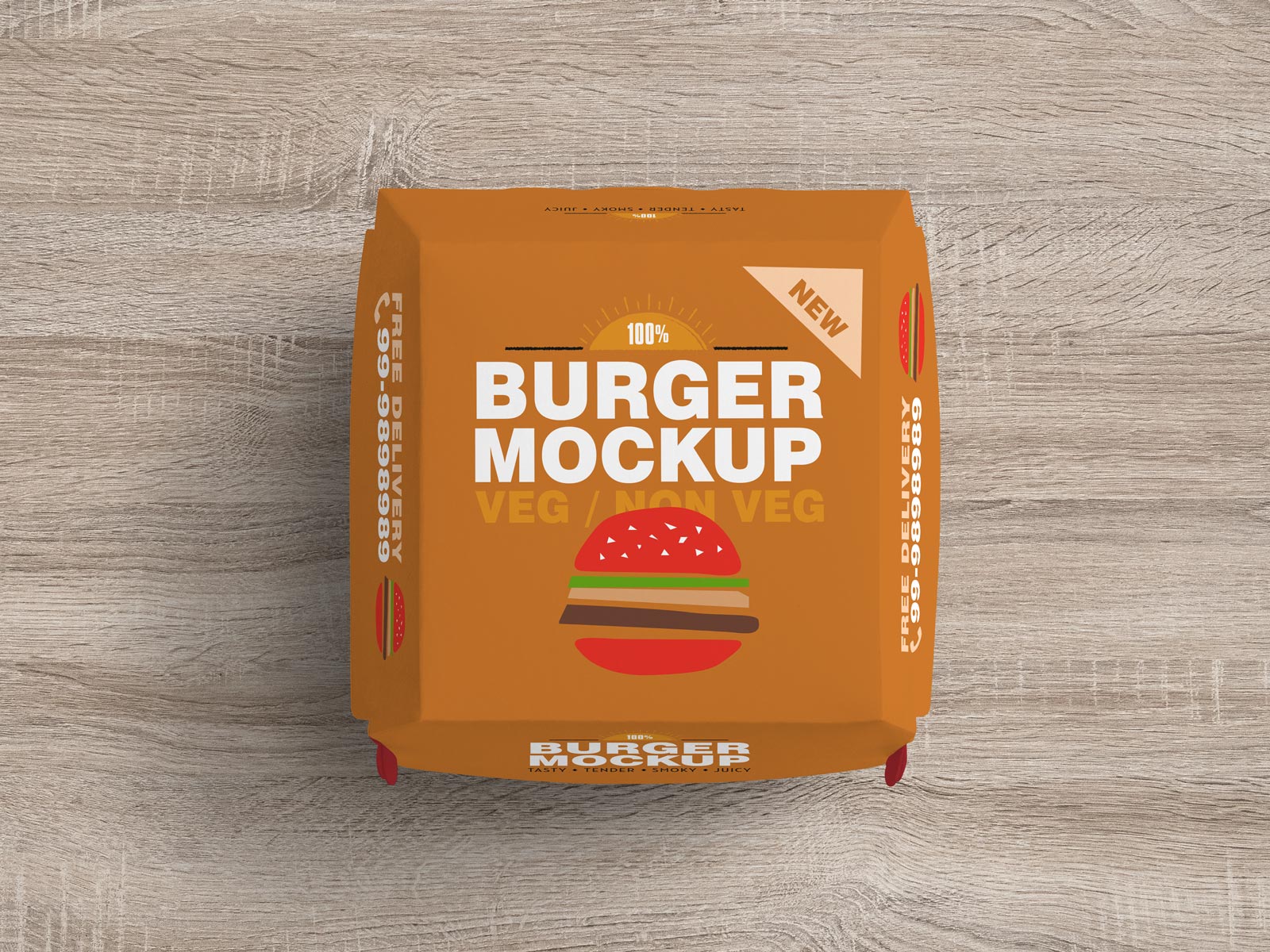 Free Perspective View Burger Box Mockup PSD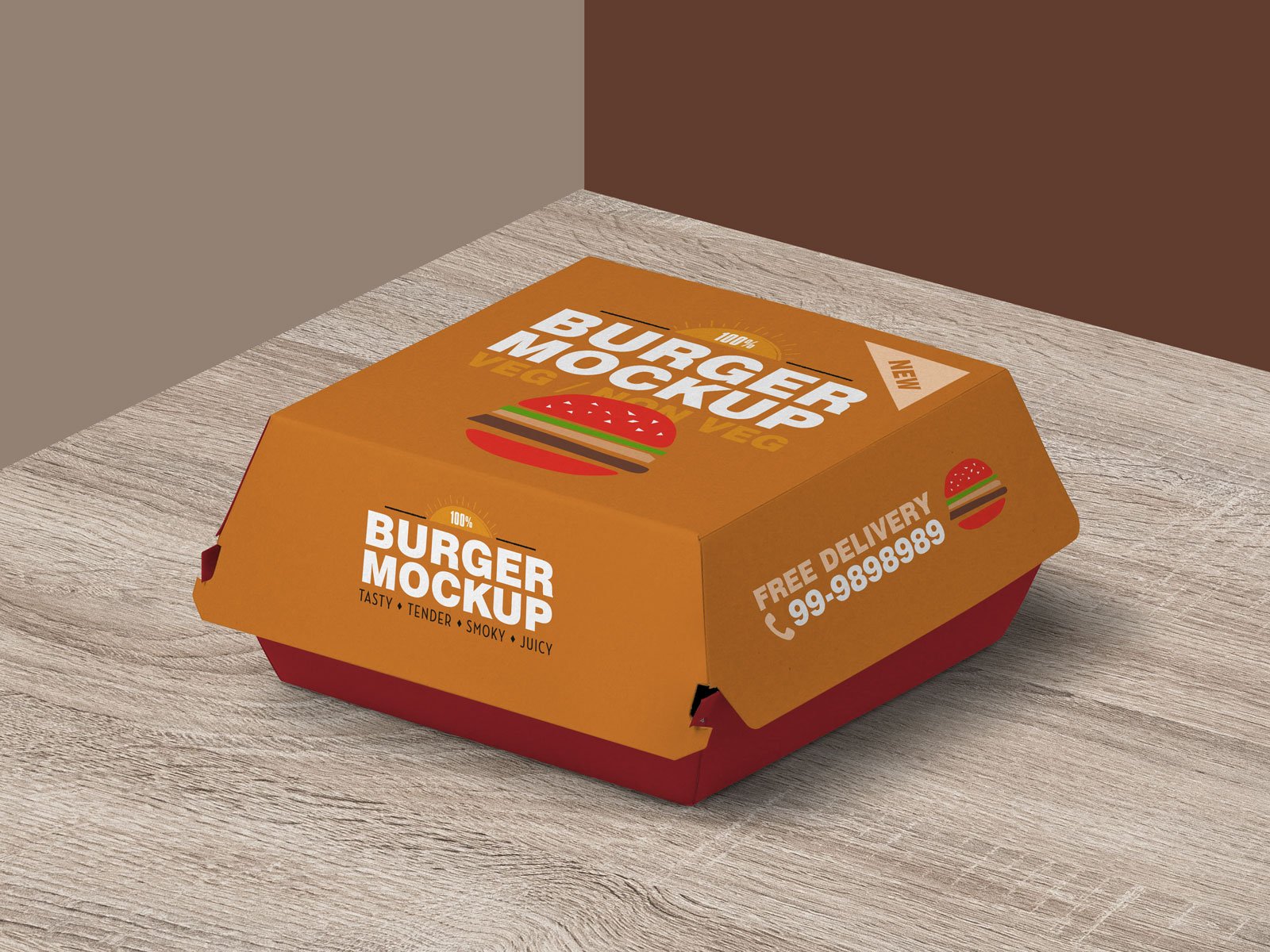 Available Format: Photoshop PSD
License: Free for personal and commercial usage
File Format: WinRAR
Mock-up Resolution: 4000 x 3000 px
Note:
1. Free Burger Packaging Mockup is allowed to share online (A Must Linkback to this page)
2. Say thanks if you like or share/tweet with your friends. That means a lot to me.
3. And don't forget to follow or subscribe to receive more high quality premium freebies & awesome articles only.
Download Top View Burger Box Mockup
Download Top View Burger Box Mockup
More High Quality Free Packaging Mockups: