Hi there everybody! We are back with yet another interesting blog of ours and we can bet that you all are going to love it but before we share what we have created for you guys, we would like to thank you for your overwhelming response on our previous blogs, for sharing our content and PSD files with your loved ones and colleagues and for also taking out the time to share your suggestions and feedback as well. It's always a great pleasure to hear from you guys and we will make sure to keep creating awesome content in the future as well.
We are almost always creating mock-up PSD files and design templates that you can use for free for your personal and commercial design projects but for our today's blog, we felt like creating vector images that can be easily used by literally anyone and everyone who wishes to make artworks etc. for toilets. These signs and symbols are necessary especially at public places as you cannot tell which toilet is for who. These symbols also work great for toilets that allow parents to change diapers of their children by placing the signs etc. at places where they can do it without having to worry about making a mess.
Sure, many people know how to go find out places without having to consult someone for directions but there are many people who find it difficult to reach to a certain place. Toilets and restrooms are no different, in addition to letting the customers, regular walkers etc. use the facility whenever they need to, it also leaves a nice impression on the visitors that you care for them as a business or a local governing and management body. Oh, and there are always a bunch of people who are going to appear in interviews or are meeting new people so public toilets really give them a chance to freshen up or do a little touch up on their way too.
We have also seen many organizations that discourage the usage of toilets and do not really have toilets etc. made for anyone because managing public place restrooms is a huge task. From making sure that all the toilets are nice and clean, that there are fully functional taps, a good quantity of tissue papers and hand towels, soaps or gels always there to also looking after the space so that no one vandalizes them is not a one-man job, you know. So, while we have created these free toilet symbols in vector format for you to design artworks, we also hope that public administrators invest in places and people that can benefit the masses.
Oh, and we feel that we must share this (not so) fun fact with you guys that there are also countries where people are charged for using toilets and restrooms. Umm yes, but we think that it is only fair because it also gets the people paid who are 24/7 making sure that you experience great services whenever you are using those public toilets. So, here we have made 6 free toilet symbols in vector format that you can not only use for your digital creative posts but you can and must use for artworks, stickers, and even for steel-plated symbols as well. All the symbols are perfect to be used and we can bet that you will have a great time working with them too.
There are a few things that we would like to mention here before we say goodbye to this blog of ours so, keep reading it in order to know more and design better:
Always, always, always create mock-up designs first for everything that you are designing but make sure to create them for those designs that require a third party vendor to develop or print them. By doing so, you will be able to work without having to worry about money or the efforts that are put in for designing and manufacturing of the projects etc. Creating mock-ups also give you a lot of room to keep experimenting with your imagination and skills to refine your work and to also make sure that you are going to launch different things this time around and we can bet that all of us are trying our best in our own capacities to be more unique by being more creative.
That is all for today! We hope that you had a great time reading this blog and that you will also work on your upcoming design projects and tasks using our free toilet symbols in vector format. Feel free to share your feedback and also share the blog with your favorite colleagues, we are sure that they would be thankful for having such considerate and great people around them.
Free Toilet / Restroom Symbol Icons Set in Vector Ai & PNG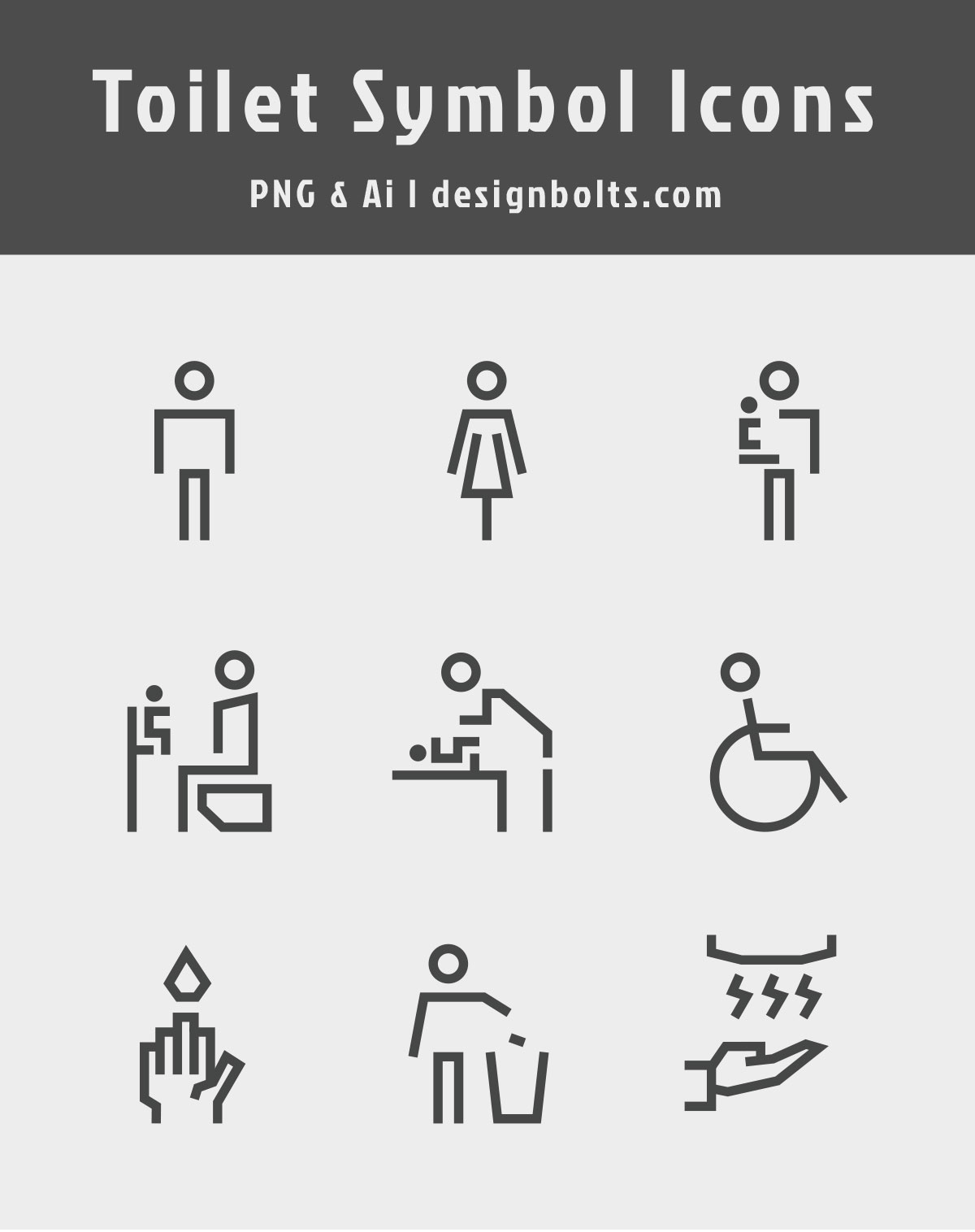 Available Format: Ai Vector & PNG Icons
License: Free for personal and commercial usage (Link Back to this Article)
File Format: Zip
PNG Resolution: 1024 x 1024 px
Note:
1. Free Toilet Symbols are allowed to share online (A Must Linkback to this page)
2. Say thanks if you like or share/tweet with your friends. That means a lot to me.
3. And don't forget to follow or subscribe to receive more high quality premium freebies & awesome articles only.
Download Toilet Symbols
Recommended: