Hi there everyone! How is life treating you all? We hope that you are keeping safe and that your work life is amazing too. Earlier this week when we were working on our content plans, we decided to keep the conversation alive regarding iPhone 13 and that is why we are here with our free isometric 3D iPhone 13 mockup PSD file. Allow us to share everything that you can do with this highly editable yet free file so, let's dive right into it!
Okay guys, before you Google what isometric means; we would like to share with you guys that it means a shape that has equal dimensions and when the same shape is used to draw a 3D mock-up PSD file, then that means that you can use it to create products like physical accessories and / or services to be used on a medium such as iPhone 13. Isometric 3D files work great for developers and designers who are passionate about creating new things every other day and it helps them share their ideas etc. in a better and more effective way too.
In most of our previous blogs, we know that we always talk about creating mock-up PSD files and taking out the time to work on detailed mock-up presentations as well because that is what that matters, alright! ? And if you are still not convinced, then we would like to talk about it in detail. Creating mock-ups always saves the person / team members from incorporating changes in the main design or even prototype for that matter. When you have created multiple options revolving around the same idea / concept, you can share the rationale with the decision making individuals so that they can understand the thought process and can also visualize how the products etc. will look like in real life.
And honestly, it's not about creating multiple options all the time, it is about having a mock-up file that allows you to make changes on it without disturbing the rest of your work. You can create wallpapers, you can create backgrounds, you can create skins, you can also create cases and back covers as well all sorts of applications and mobile websites using a mock-up PSD file to present them to your clients. And the best thing about working on the mock-ups is that you can design whatever you want to design and can make changes to your designs anytime as well.
Now, let's talk about the product itself that is iPhone 13! As you all know that it has become one of the most wanted gadgets of 2021 and for all the right reasons, we had to work on a mock-up PSD file that can fulfill your purposes all the while allowing you to share your innovative ideas and designs to your prospective clients or even to your own team members so that you can all work on executing those ideas.
In this part of our blog, we will share how you can make the most of our free isometric 3D iPhone 13 mock-up PSD file by sharing a few awesome features that are being offered by Apple.
We are sure that you would know how great the camera system is but well, let's talk about it again because Apple's new product line-up is worth every mention and praise to be honest. So, the dual camera system of iPhone 13 makes it one of the smartest choices in the world for those people who are planning to invest in something that offers Cinematic mode, Dolby Vision HDR, Night mode, Smart HDR and so much more that you can work on an exciting new photo editing app just for Apple users allowing them to make the most of their new gadget. The smart cameras will do their thing and your designed app(s) will make everything even more efficient and attractive.
The battery life of iPhone 13 is absolutely amazing that lets its users to enjoy a up to 2.5 hours more battery life. Do you know what that means? It means that you can introduce new games for the users so that they can spend their time becoming the best players of those games. iPhone 13 too has 5G so, if you have a website that would not really load on other phones due to low connectivity issues, then it is your time to shine. Introduce everything that you have been working for on iPhone 13 and let the world know you and your business.
Then of course, there are things like beautiful covers, cases, wallpapers and backgrounds that you can create for iPhone 13 and showcase them individually using our free isometric 3D mock-up PSD file.
That is all from our end, you guys! We hope that you had a great time reading our blog and that you will find the mock-up PSD file in an isometric 3D format super useful to create designs etc. for Apple iPhone 13. If you did like reading the blog, do share your feedback with us in the comments section.
Free Isometric 3D iPhone 13 Mockup PSD With (5 Colors)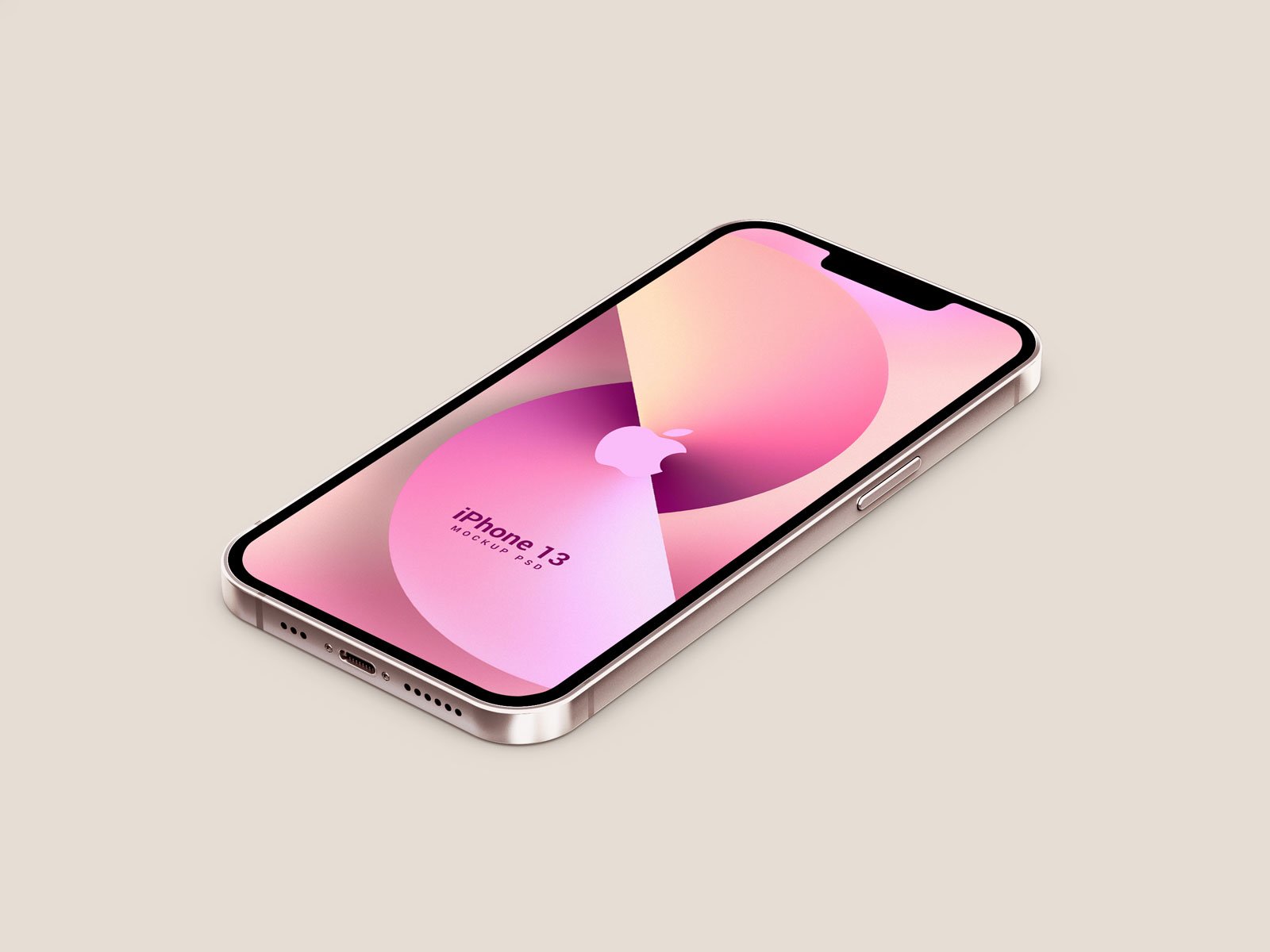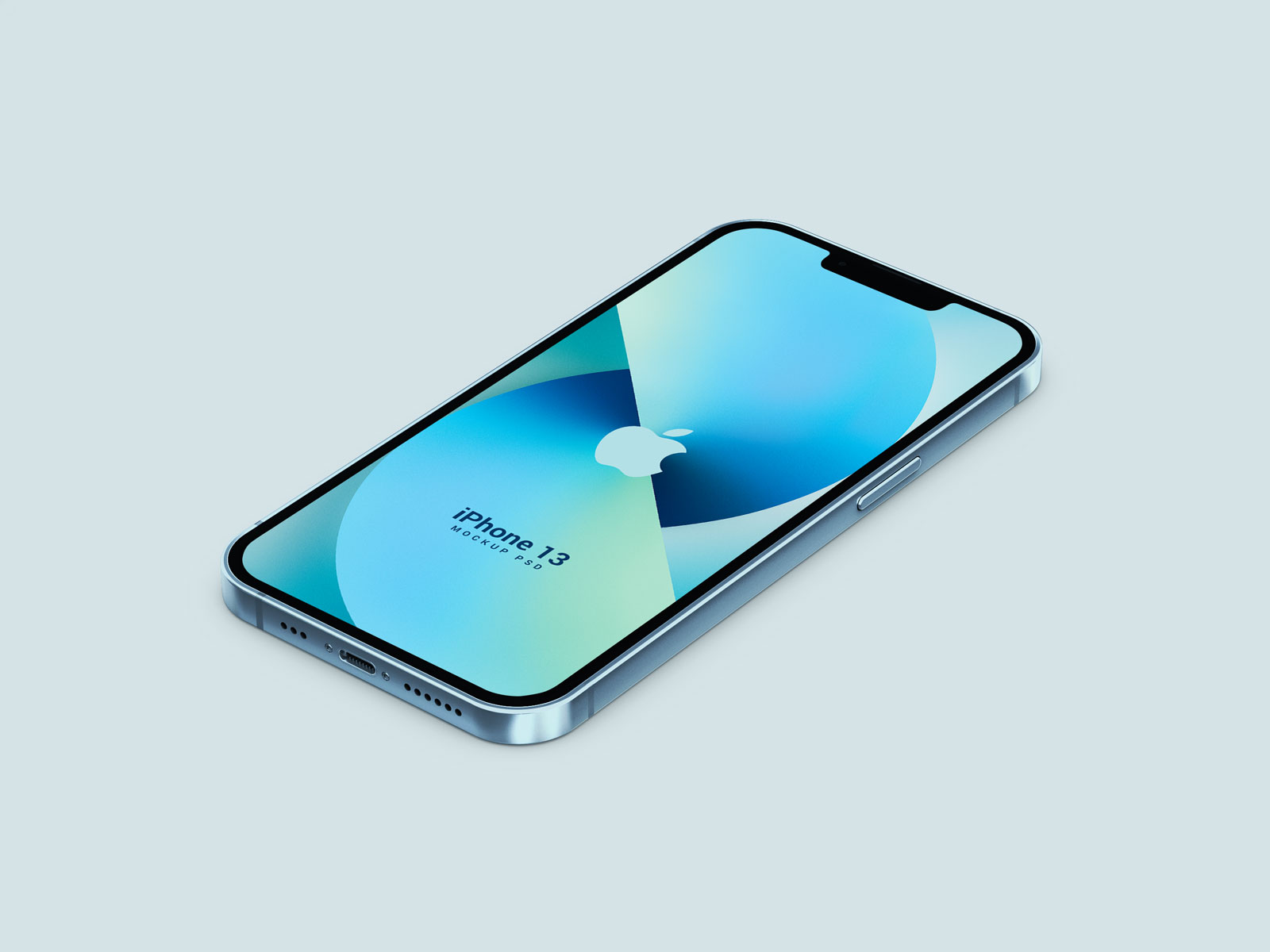 Available Format: Layered PSD with smart object insertion
License: Free for personal & commercial use
RAR File Includes: Free Apple iPhone 13 Mockup
Mockup PSD Resolution: 2532 x 1170 px
Note:
1. Free iPhone 13 Mockup PSD set is allowed for sharing online (A Must Linkback to this page)
2. Designbolts signature is placed as first layer kindly hide and use the mockup
3. Say thanks if you like or share/tweet with your friends
Download iPhone 13 Mockup
Recommended: