Hi there everyone! We hope that your work life is treating you well and that you are making the most of your general life too by taking some time out for yourself and for your loved ones. Always remember that life cannot be spent on a pattern, things keeps on changing for good and for bad as well; but what keeps everyone going is the ability to accept the change and the willingness to make the overall experience a better one. In this blog of ours, we will share ideas on how you can make your office lobby an interesting pathway for everyone along with our wall paper mockup PSD file for the very area so, let us get started!
Although, most of you would already know what we are going to say or feel the same way as we do, but an office space is one of those spaces where a person happens to spend more time than they would do at their own home. Take an example of a 9 to 5 job and a regular day at work – you and your colleagues not only discuss official ideas and work on projects during the day, but you also share your personal things with them too even if the things that you share with them are not too personal, you interact with them at a human level and that creates a connection no one can really break.
We have seen people becoming friends with their coworkers within days of joining a particular work place. Those people talk, hang out with each other, go to tea / smoke breaks and do all the fun things that they can during and after the work hours to make sure that they are spending quality time with the people they are working with. When that happens, you automatically start to bond with each other, you start getting each other and it benefits all of you when it comes to work too. Likeminded people share ideas, work on awesome projects together, execute amazing campaigns and while they are at it, they also make sure that they are rooting for each other too which makes the work environment a pleasant one.
So, when you are spending a reasonable amount of time at work, with people that you like and are comfortable with, it is also important for you to be at peace too and that can certainly not happen if the office is boring and has no positive vibes whatsoever. Then what should you do to make things work for all of you as well as for the organization? It is simple; does not really require a lot of time and efforts but sure involves money so be careful when you are planning to take big decisions that too, for the whole office place.
Usually lobbies are constructed near the entrance of buildings, but they can literally be anywhere – given that you have the space to create one. Anyways, so a lobby is the area that almost everyone uses on a daily basis especially if they are working at that workplace which means that the vibe of their day depends on how the lobby is like – if it is too dark and boring and does not really welcome the people, it will affect their moods too but if the lobby area is all happy and pleasant to pass through, then you will notice that the people, your people, friends, colleagues etc. are (at least) entering the building in a good mood.
Your first step was to come here and read this blog and your next step is to get your hands on our free office lobby wall paper mock-up PSD file the moment you get done reading it. Then all you need to do is to create a wall decal design that you think will complement your office so it could be a pattern, a solid color with some interesting work-related quotes on it, your founder's message, characters that you and your team members love (don't think that it will look childish because it won't!), or even doodles by your team members that you can easily turn into digital art as well and you will see how amazing your office lobby will start to look like.
Also, remember that there is no limit to being creative so, pick whatever you want to see everyday and have it welcome you every time you enter the lobby. On that note, we would like to say you all good-bye from our today's blog! We hope that you had a great time reading it and you will also share it within your personal and professional circles. Oh, and if you have any special requests and shares; feel free to share those with us in the comments and we will get back with everything that you want to see here and more in our upcoming blogs soon – until then, keep creating amazing content.
Free Office Lobby Wall Decal / Wall Paper Mockup PSD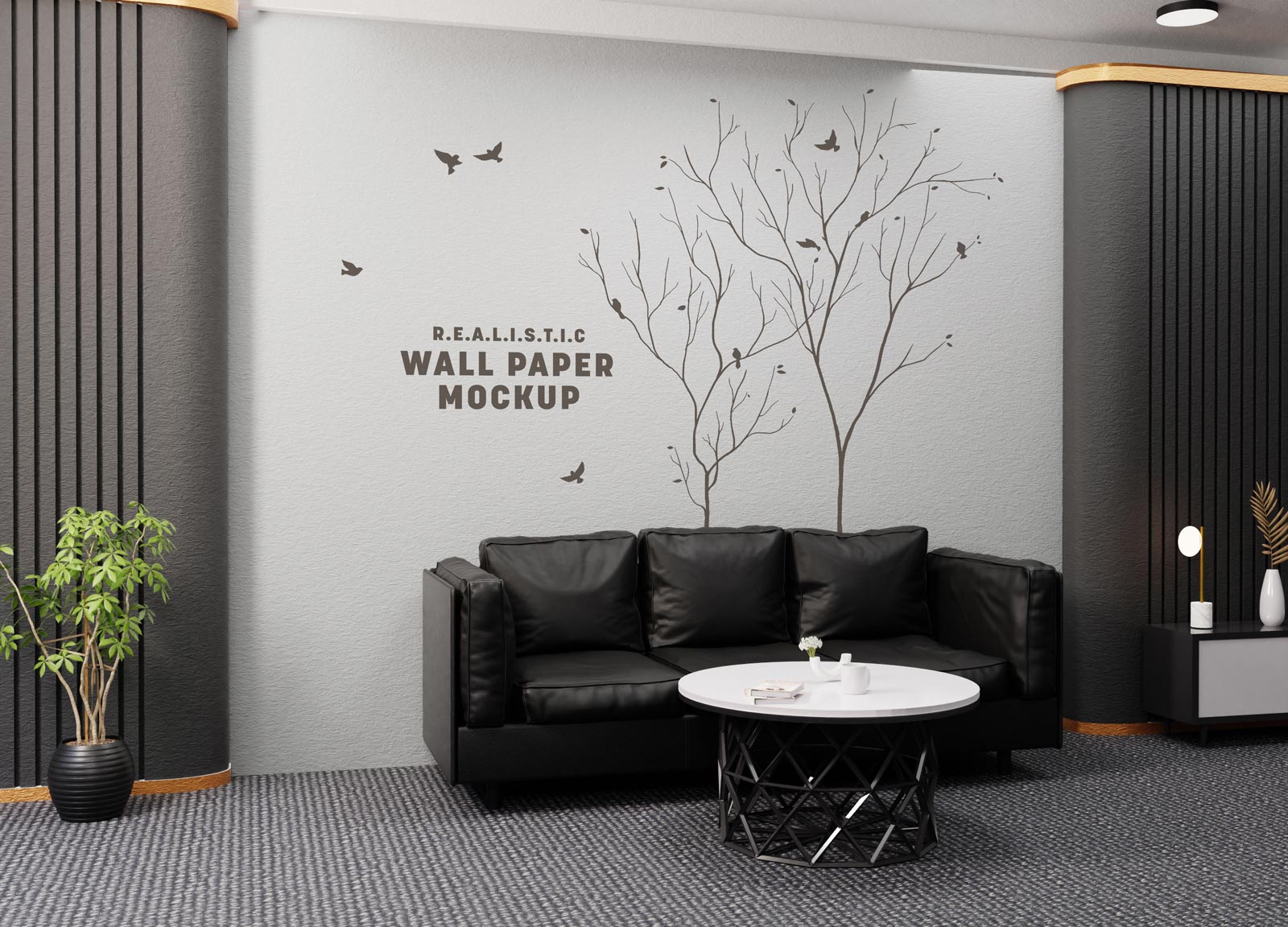 Available Format: Layered PSD with smart object insertion
License: Free for personal and commercial usage
RAR File Includes: Free Mockup PSD
Mock-up Resolution: 5000 x 3600 px 

Note:
1. Free Mockup PSD is allowed to share online (A Must Linkback to designbolts.com)
2. Say thanks if you like or share/tweet with your friends. That means a lot to me.
3. And don't forget to follow or subscribe to receive for more high quality premium freebies & awesome articles only.
Download Wall Decal Mockup
More High-Quality Wall Decal Mockup PSD Files & Stickers to buy: