Hi there everybody! We hope that you all are keeping safe and that our free, yet highly editable mockup PSD files are helping you get done and over with your design projects in style too. In our today's blog, we will share our free corporate stationery mock-up PSD file that you will love working on but before we get to that, we would like to take this moment to thank you all for your overwhelming response on our previous blog and for also sharing the content and everything else that we share here, with your friends, colleagues and loved ones. Keep supporting us in the future as well.
Recommended: 30+ Free Stationery Mockups For 2022 Projects
Okay so, there are chances that you are reading this blog because you just got a task to design corporate stationery for one of your clients or that you are planning to upgrade your own existing stationery designs and we are glad that you are here because this blog and our free corporate stationery mockup PSD file will help you work on amazing things and that's a promise. Now, we know that many people think that designing corporate stationery means hours and hours of creating designs and that it is not something that can be fun or interesting, you know.
What if we told you that a task, a design becomes fun when you make it fun and happening and if you are not into that thing, then you might get bored the moment you will start working on it?! Always remember that there are multiple ways of creating designs, but the most effective ones are those that are created after doing some research here and there and the same goes for corporate stationery designs too. You first need to understand why you are creating your stationery? And if you really need it so, let's talk about that and more without any further delays.
First things first; corporate stationery is designed and printed in order to look professional – not just in front of the employees and team members but in front of the guests, clients and customers as well. For example; we would trust a company more that uses a well-designed letterhead for communication than a company that does not have anything of the sorts. Same goes for appointment letters, medical prescriptions, bills and more such stuff. Corporate stationery items instantly bring in more credibility and if you are someone who is just starting their business, then we would definitely suggest you have your stationery items designed and printed right away and start using them too.
Recommended: 50 Free Professional Stationery Mockups
Secondly, corporate stationery items also motivate the team members/employees to use professional communication items and if you wish to keep them more interested at work, then you can also add in some additional goodies like summer caps, t-shirts, mugs, laptop stickers, mobile phone covers etc. so that they not only feel good about flaunting what you are providing them with, but they know that you care for them in your own ways and it will be beneficial to create a healthy work environment as well.
Thirdly, corporate stationery items are great for networking as well. You are at a job fair, at a business conference or even hanging out with your friends at your favorite café, and you bump into someone or meet someone that you can work with in the future. And we would like to ask you what are you going to give them in order to stay connected even after the event? Your business card, right? So, there you have it – another advantage of having a professional corporate stationery item (business card) with you.
Another great thing about corporate branding is that it helps you represent you no matter where you are – meaning free branding and publicity and for all the right reasons too. You can get in touch with potential clients and customers, you can get in touch with prospective business partners, team mates and employees and you will see how with a couple of smart moves, you have reached where you wanted to reach.
So, it is safe to say that we have now established that corporate stationery does nothing but good for everyone and now comes the practical part of the process; how to think of it and then how to design it. We have created multiple items that you can use to create designs for your corporate stationery items that include; envelopes, business cards, lead pencils, badges, loose paper sheets (for letterheads) and of course, a mobile phone that you can use to display your branding etc.
And once you have decided the thematic look & feel of your corporate stationery items, all you will have to do is to incorporate your thoughts into designs and don't forget to create mock-ups as well so that if there are any changes, you can cater to them before you get to the printing stage.
Free Corporate Stationery Mockup PSD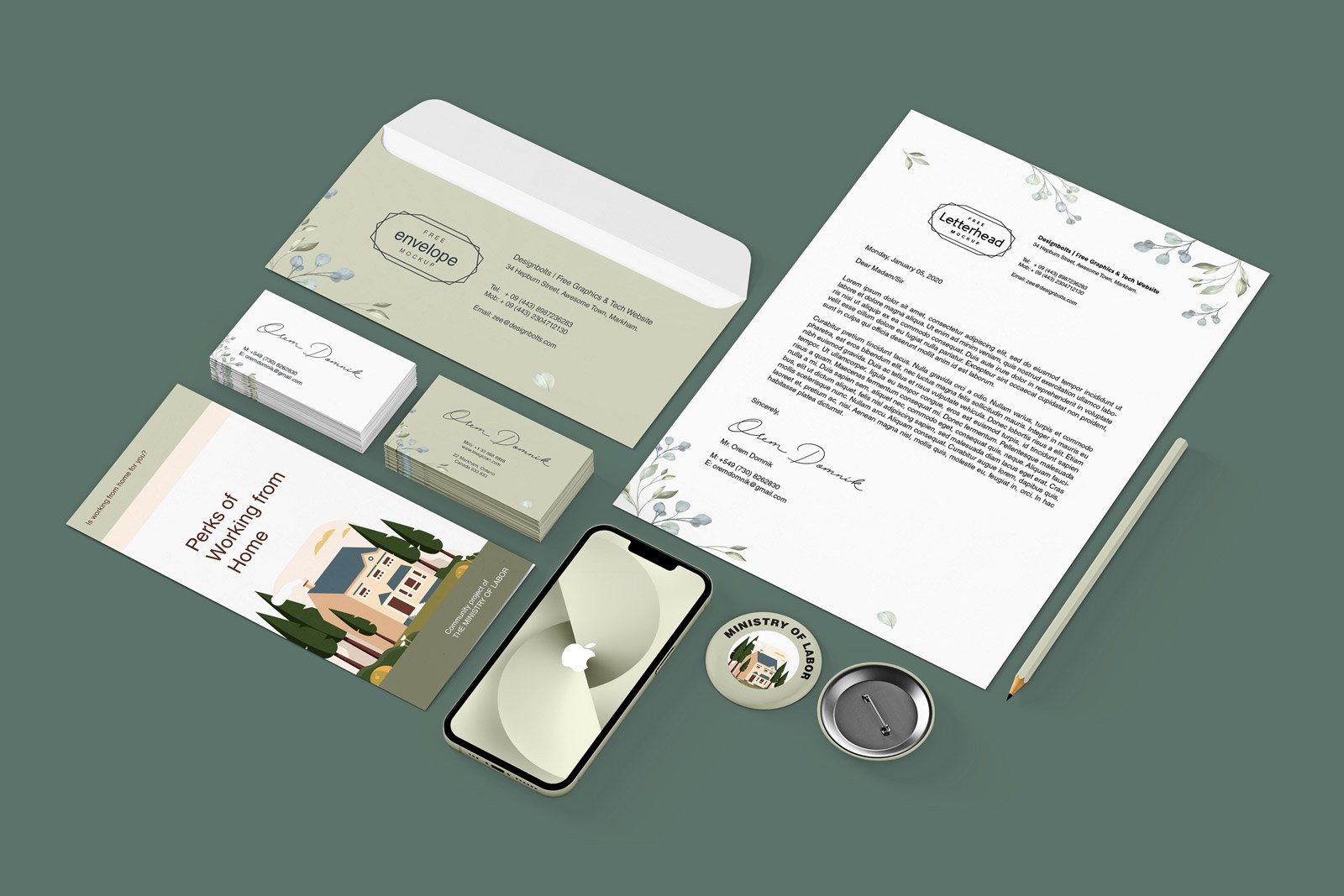 Available Format: Layered PSD with smart object insertion
License: Free for personal and commercial usage
WinRAR File Includes: Free Stationery Mockup PSD
Mock-up Resolution: 5000 x 3333 px 

Note:
1. Free Stationery Mockup PSD is allowed to share online (A Must Linkback to designbolts.com)
2. Say thanks if you like or share/tweet with your friends. That means a lot to me.
3. And don't forget to subscribe to receive more high-quality premium freebies & awesome articles only.
Download Stationery Mockup
Recommended: