Hi there everyone! We hope that you guys are doing well and that you are very excited to check out what we are about to share with you all today. And we can't wait to share that and more with you too but before doing that, we are just going to take a moment to thank you all for the love and support that you guys shower us with and for always making sure that your family members, friends and favorite colleagues are also reading our blogs and making the most of them too. We really hope to see more of that happening in the future as well.
When we were working on our content ideas for this week, we wanted to share something that is related to the branding in general and then, of course, these yummy-looking ice cream designs that we came across and we knew that this is something you all are going to enjoy reading and viewing too. So, for those who are not super aware of what branding is, we want you all to read this, and to read this well. Branding is a fundamental aspect of marketing and business strategy. It involves creating a unique and consistent identity for a product, service, company or even an individual for that matter but branding ice cream requires a thoughtful and creative approach to stand out in a competitive market and appeal to consumers' emotions. Here are 11 steps to consider when branding ice cream:
1. DEFINE YOUR BRAND IDENTITY:
Start by defining the personality and identity of your ice cream brand. Decide what makes your ice cream unique and different from others. Consider factors such as the type of ice cream you offer (for example; traditional, gourmet, organic, vegan), the flavors you specialize in and the overall experience you want customers to have when they enjoy your ice cream.
2. KNOW YOUR TARGET AUDIENCE:
Understand your target audience and their preferences. Are you targeting families, health-conscious individuals or adventurous foodies? Tailor your branding and marketing messages to resonate with the specific needs and desires of your target customers.
3. CHOOSE A MEMORABLE NAME:
Select a catchy and memorable name for your ice cream brand that reflects its personality and values. Ensure the name is not already in use by another company or product to avoid potential legal issues.
4. CREATE A CAPTIVATING LOGO:
Design a visually appealing and recognizable logo that represents your brand's essence. The logo should be versatile enough to be used on packaging, signage and marketing materials.
5. DEVELOP UNIQUE PACKAGING:
Ice cream packaging is crucial for branding, as it is often the first point of contact with customers. Use eye-catching designs and colors that align with your brand identity. Consider eco-friendly packaging options to appeal to environmentally conscious consumers.
6. CRAFT ENGAGING BRAND STORY:
Share the story behind your ice cream brand. Highlight what inspired you to create it, your commitment to quality ingredients or any meaningful connections with the local community. An engaging brand story can create a stronger emotional bond with your customers.
7. OFFER A VARIETY OF FLAVORS:
Develop a diverse range of delicious and innovative ice cream flavors that cater to different tastes. Consider rotating seasonal flavors to keep customers excited and coming back for more.
8. CREATE A UNIQUE SELLING PROPOSITION (USP):
Identify and communicate your unique selling proposition that sets your ice cream apart from competitors. It could be an exotic ingredient, a special preparation process or a commitment to using only organic/vegan ingredients.
9. USE SOCIAL MEDIA AND INFLUENCERS:
Leverage social media platforms to showcase your ice cream brand, engage with customers and share mouth-watering visuals of your products. Partner with influencers and food bloggers to reach a broader audience and generate buzz.
10. OFFER SAMPLING AND EVENTS:
Organize tasting events and sample giveaways to allow potential customers to experience your ice cream firsthand. These opportunities can help generate word-of-mouth recommendations and create loyal customers.
11. FOCUS ON CUSTOMER EXPERIENCE:
Ensure that the customer experience at your ice cream shop or retail outlets aligns with your brand's values. Friendly staff, a welcoming ambiance, and excellent service can contribute to a positive brand perception.
That being said, we would love you guys to check out Ditto vegan ice cream design right away and see what learnings you can gather from it.
Lastly, we not only hope that you guys had a nice time reading the blog but that you will also take out some time to share your feedback with us in the comments section as well. And while you are at it, don't forget to share the blog with your favorite colleagues so that they can get inspired too for their personal and commercial projects.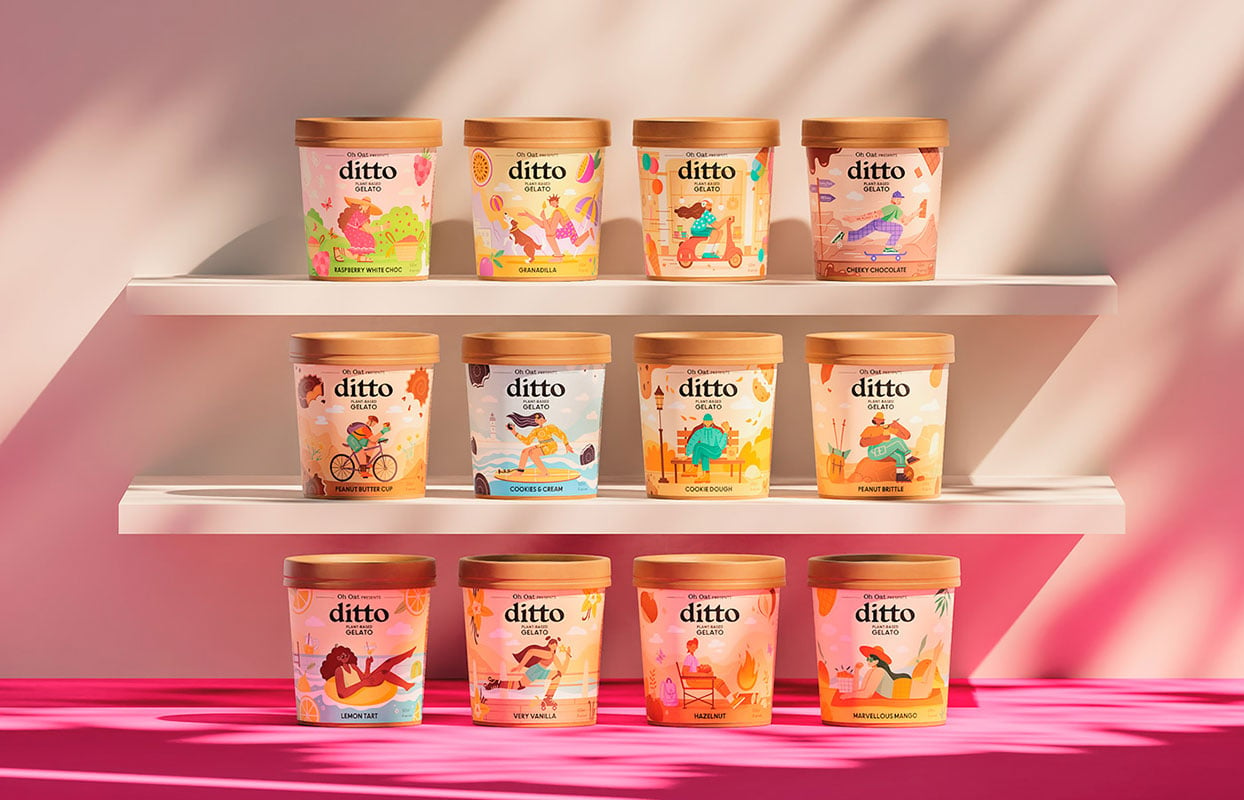 Credit: Source
Recommended: