Hi there everybody! We are back with yet another super useful blog of ours and we can bet that you all are going to love reading it as much as we did when we were working on it as it features our new, free yet highly editable ice cream tub mock-up PSD file that you can use for your upcoming personal and commercial design projects. And before we start sharing everything that you guys must know in order to make the best ice cream tub designs, we would like to take a moment to thank you all for your constant support and unconditional love that you shower us with. We hope to receive more of that in the future too.
If you guys are ice cream fans, then you would not only know your ice cream like no one else does but you must have fantasized a design or two in your head to materialize if given a chance to do so. And keeping that in mind, we wanted to share this ice cream tub with you all today which will let you create amazing designs and then some more that you can use to propose to an existing client or can pitch to a potential one.
As you know that no matter what, ice cream is consumed to celebrate something; it could be something as big as a promotion at work or to make the most of pleasant weather. But in addition to that, ice cream is also consumed when people feel low and want to distract themselves. For example; you guys must have seen your favorite actors in movies and seasons, etc. consuming ice cream after a breakup. But if we were to share something to back it; we would just say that eating ice cream really releases a feel-good chemical dopamine that can be stress-inducing or it can just make us feel happy too.
That being said; we would like to share how you guys can make the most of that information in order to make the perfect ice cream tub designs using our free mock-up PSD file. Ensure you guys read the blog until the end to make informed and creative decisions!
Always remember that whenever you offer your customers something to cherish even before they have used or consumed your products, you are already ahead in the game and that is literally what you can achieve with your ice cream tub designs. For example; you can create tub designs that are filled with or can be filled with flavors for chocolate ice cream lovers but also have a connection in celebrating a great week at work. Or you can create designs that would cheer up a sad soul or two who is low in spirits and could use something to feel good – even if it is for a short time.
Now, for designing the ice cream tubs, it is very important that you plan out the whole thing before you sit in front of your screens to start creating the designs. For example; you have to think if your design will cover the entire tub or do you want it to have a defined front and back. Then you must also know if you are going to have a design inside the tub as well. You can use that space to write an encouraging message so that anyone who is having the ice cream all by themself knows they are in for another treat even after they have finished the tub, you know.
To make it more exciting, you can also announce competitions for your digital and social media platforms by asking your customers to share a specified message that will win them a prize or two. This won't only generate revenue for your business but you will also make your brand come across as a brand that has unique ideas to keep the consumers engaged with them in one way or the other. Also, no matter what, always keep the ice cream tub designs playful and exciting; make them such that they will evoke emotions and will also get you sales.
That's all for today! We hope that you not only had a great time reading the blog but that you will also share it with your graphic designer friends, favorite colleagues and students, etc. as well so that they can also make the most of our free ice cream tub mock-up PSD file for their personal and commercial projects. Feel free to share your feedback and special requests with us in the comments section down below and while you are at it, don't forget to share if you guys have any suggestions so that we can keep sharing the content and designs that you expect from us.
Free Ice Cream Tub Mockup PSD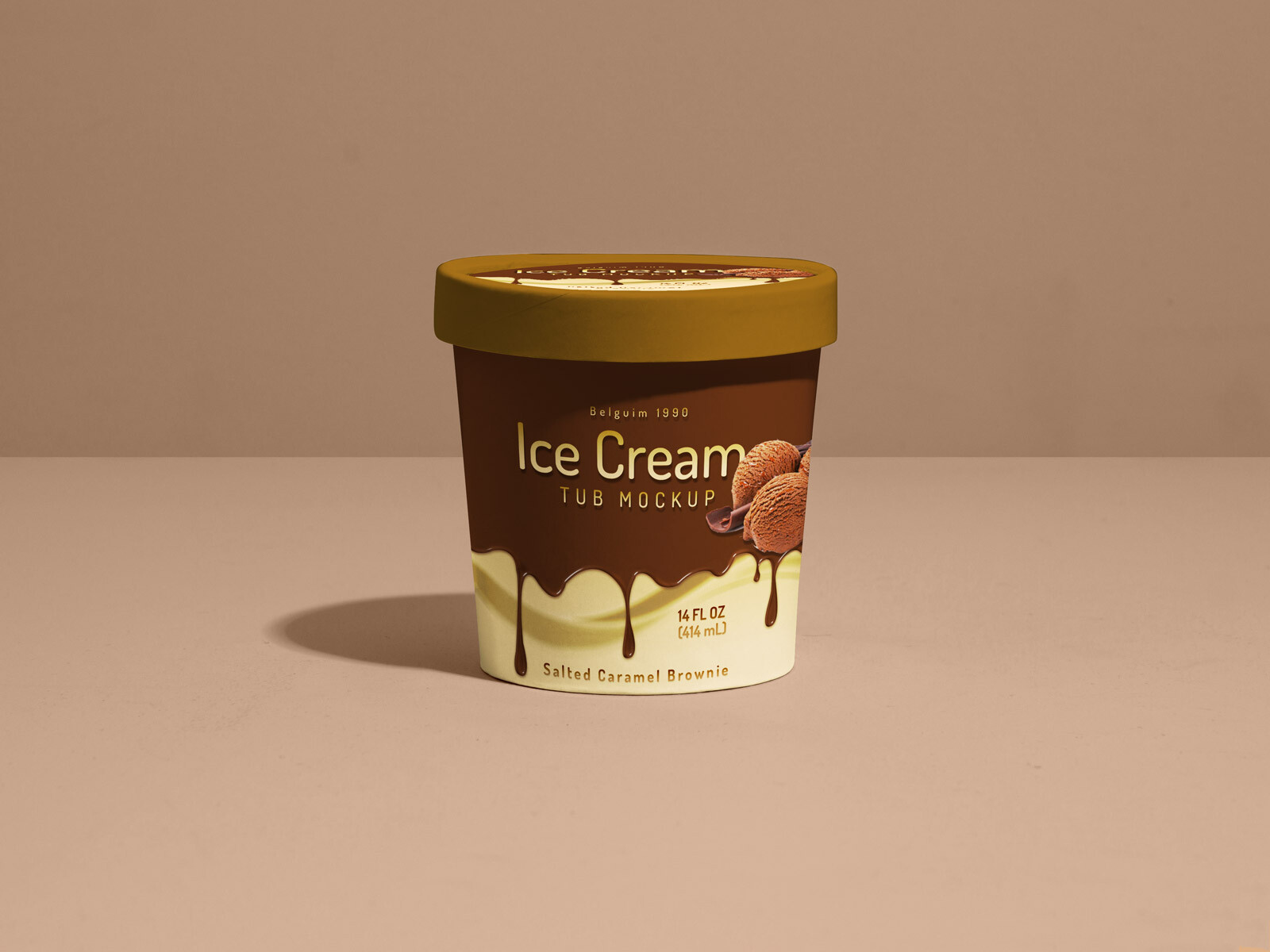 Available Format: Layered PSD with smart object insertion
License: Free for personal and commercial usage
RAR File Includes: Free Ice Cream Tub Mockup
Mock-up Resolution: 4000 x 3000 px
Note:
1. Free Mockup PSD is allowed to share online (A Must Linkback to this page)
2. Say thanks if you like or share/tweet with your friends. That means a lot to me.
3. And don't forget to follow us or subscribe to receive more high-quality premium freebies & awesome articles only.
Download Ice Cream Tub Mockup
More Awesome Free Packaging Mockup Files: