Hi there everyone! We are back with yet another super interesting and useful freebie of ours that we can bet you all are going to love reading especially if you are planning to up your design game when it comes to social media icons and more. And we can't wait to share everything that you guys need to know about Twitter in general and the carefully designed free new Twitter X logo icons in graphic formats. But before we share that, we would like to thank you guys for the love and support that you send our way and for always sharing your feedback with us as well as it helps us work on more insightful content, etc. And we would love to see more of that happening in the future too.
For those of you guys who do not have an interest in joining Twitter, it is not too late for you. Twitter is a popular social media platform that allows users to share and interact with short messages earlier known as "tweets" which have now been renamed as "posts". Here is some information about Twitter that you would like to know about:
TWEETS / POSTS:
A tweet / post is a short message limited to 280 characters (formerly 140 characters). It can contain text, images, videos, links and hashtags. Posts, formerly known as tweets are the main form of communication on the platform.
FOLLOWERS AND FOLLOWING:
Users can follow other accounts to see their posts in their timelines. When you follow someone, their posts appear on your timeline. Similarly, you can have followers who see your posts. This system creates a network of connections.
RETWEETS (NOW REPOSTS) AND LIKES:
Users can retweet / repost (share) other users' posts to their own followers, amplifying the message. Likes, represented by a heart icon, show appreciation for a tweet.
HASHTAGS:
Hashtags are keywords or phrases preceded by the '#' symbol. They help categorize and organize tweets, making them easier to find in searches or trending topics.
MENTIONS:
You can mention other users in your tweets by using the '@' symbol followed by their username. This notifies them and allows others to see your conversation.
VERIFIED ACCOUNTS:
Twitter used to verify the authenticity of certain high-profile accounts by placing a blue checkmark next to their username. This would help users know that the account belongs to a legitimate individual, organization, or public figure. But now, anyone can get a blue tick on their accounts by paying a certain amount to Twitter.
Note that this happened after Elon Musk recently acquired Twitter. And we believe that this not only impacts the credibility of the accounts but there are chances that with the passage of time, many people will stop using Twitter altogether because of such policies.
TRENDING TOPICS:
Twitter highlights popular topics, hashtags, and discussions through its "Trending" section. These topics often reflect what is currently popular or relevant in the world.
PRIVACY SETTINGS:
Users can adjust their privacy settings to control who can see their posts and interact with them. Profiles can be set to public (visible to everyone) or private (only approved followers can see posts).
DIRECT MESSAGES:
Users can send private messages to each other using Twitter's direct messaging (DM) feature. This allows for more private conversations.
MEDIA SHARING:
Twitter allows users to attach images, videos, and GIFs to their posts. Videos can be up to a certain duration (usually a few minutes) and are played directly within the platform.
TWITTER SPACES:
Twitter Spaces is a feature that allows users to host live audio conversations or discussions. It's similar to audio chat rooms where multiple users can participate.
LISTS:
Users can create lists to organize the accounts they follow into specific categories. This makes it easier to keep track of posts from specific groups.
TWITTER FOR BUSINESSES:
Many businesses and organizations use Twitter to reach their audience, share updates and engage with customers. Twitter provides advertising options to promote posts to a larger audience.
NEWS AND INFORMATION:
Twitter is often used to share breaking news, updates, and real-time information due to its quick and concise format.
Now that you guys know many things about Twitter that you might not know in such detail, we would like you all to have a look at the free and new Twitter X logo icons in graphic formats that have been created for you guys so that you can utilize them for your personal and commercial projects and then some more. And even though, many users of Twitter do not really like the recent updates of the platform, the design world does not stop for anyone, right? So, what are you waiting for? Check out the Twitter X logo icons right away and then start using them for your work, web design & study purposes.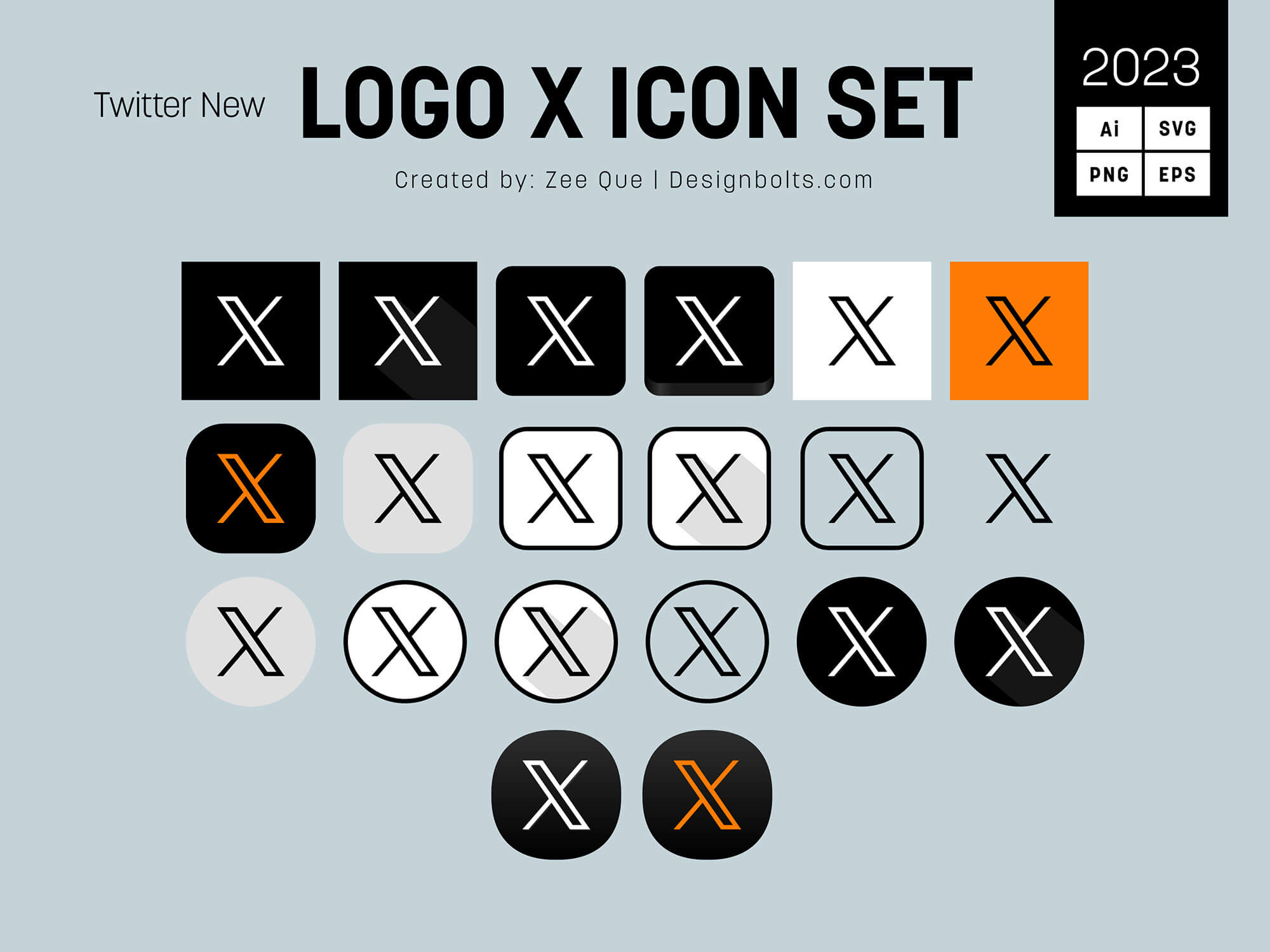 Format: Illustrator Ai, SVG, EPS & PNG Icons
License: Only for personal usage on your websites
Available Sizes: 1024, 512, 256, 128, 72, 48 px
New Twitter X Logo is all right reserved © twitter.com
Download Twitter Ai, SVG, EPS & PNG Icons
Make a donation if you like my Freebies

Looking for more Free High-Quality Icons: