Hi there everyone! We hope that you guys had a great time reading our previous blog and that you are super excited to read this one too – and you should be because we have created these amazing flat vector social media icons that are not only free but this deck has everything that you will need to work on your presentations, mock-ups, designs for digital and social media platforms and so much more but before we dive right into it, we would like to take this moment to say that your honest feedback and interesting suggestions keep us motivated so never stop sending those in.
Social media icons are very helpful when it comes to designing pitch presentations, college lectures as well as monthly or annual round up reports. But despite them being so much in use, we have seen many people compromising on the quality of the vector social media icons and you might disagree with us on this, but know that pixelated imagery and design elements ruin the aesthetics of a visual project. We also feel that you should never settle for less and always work on something that is not only aesthetically beautiful, but your content is so well designed that it can also keep your audiences engaged with you as well.
Before we start talking all technical and stuff, we would like to share what flat designs really are so that those who do not have enough information on that can educate themselves through this blog of ours. So, guys flat design (of literally anything) is basically designed by following the minimalistic design approach which allows you to use it however you would like to use it. Flat designs are clean and neat design that offer an open space for the designers etc. to tweak them as per their requirements. With crisp edges, unique and interesting color combinations etc., you can experiment with the colors, design elements freely and we are sure that whatever you will do is going to help you create something that is one of a kind.
In addition to that, we would also like to talk about the fact that many people think that minimalistic designs are not cool or are boring but that is so not the case. When you create something that is minimal, looks super neat and clean and has the power to keep you engaged with it, that is something appealing, effective and meaningful. More is not always everything and you must choose the path that is not overcrowded for it will be that design / campaign etc. that is going to be super successful as well. That being said, we would now walk you through the process of choosing vector social media icons etc. so that when you are doing it, you can make an informed decision for yourself.
We would also like to mention it here that we have seen many designers who have started to settle for less – and that does not look good because firstly, you are a designer yourself which means that you can create your own thing without being dependent on any third party resource and secondly, your work represents you too so, if you are producing something that is weak in design, then know that people will assume that you didn't want to work on that thing in the first place regardless of what the actual reason was. We know how important it is to prove yourself when you are working so never let go of that chance by picking up low quality design material etc.
Now, allow us to share the 20 flat vector social media icons that you can use for free in 2022! In our collection of flat vector social media icons; you will be able to get your hands on the icons of Google Plus, Behance, YouTube, Twitter, Pinterest, Dribble, Instagram, Facebook, RSS, myspace, LinkedIn, StumbleUpon, Mail, Yahoo, DeviantArt, Vimeo, etc. To make your presentations and lectures more fun, you can change the colors of these logos and customize them as per your needs too but as that not only looks even more relevant when everything in the content deck has harmony among the design elements etc. but you can also ask people questions like if they are able to guess the names of the social media platforms by looking at their "new" logos.
And that is all for today from our end! We hope that you guys enjoyed reading this blog and that you will also make the most of our 20 free flat vector social media icons as well. Don't forget to share your feedback with us in the comments section and while you are at it, feel free to share the blog within your personal and professional circles as well and we will see you guys with something more fun and exciting in our next blog.
20 Free Vector Flat Social Media Icons 2022 | Ai + 1024 PNGs
All social icons are official brand colors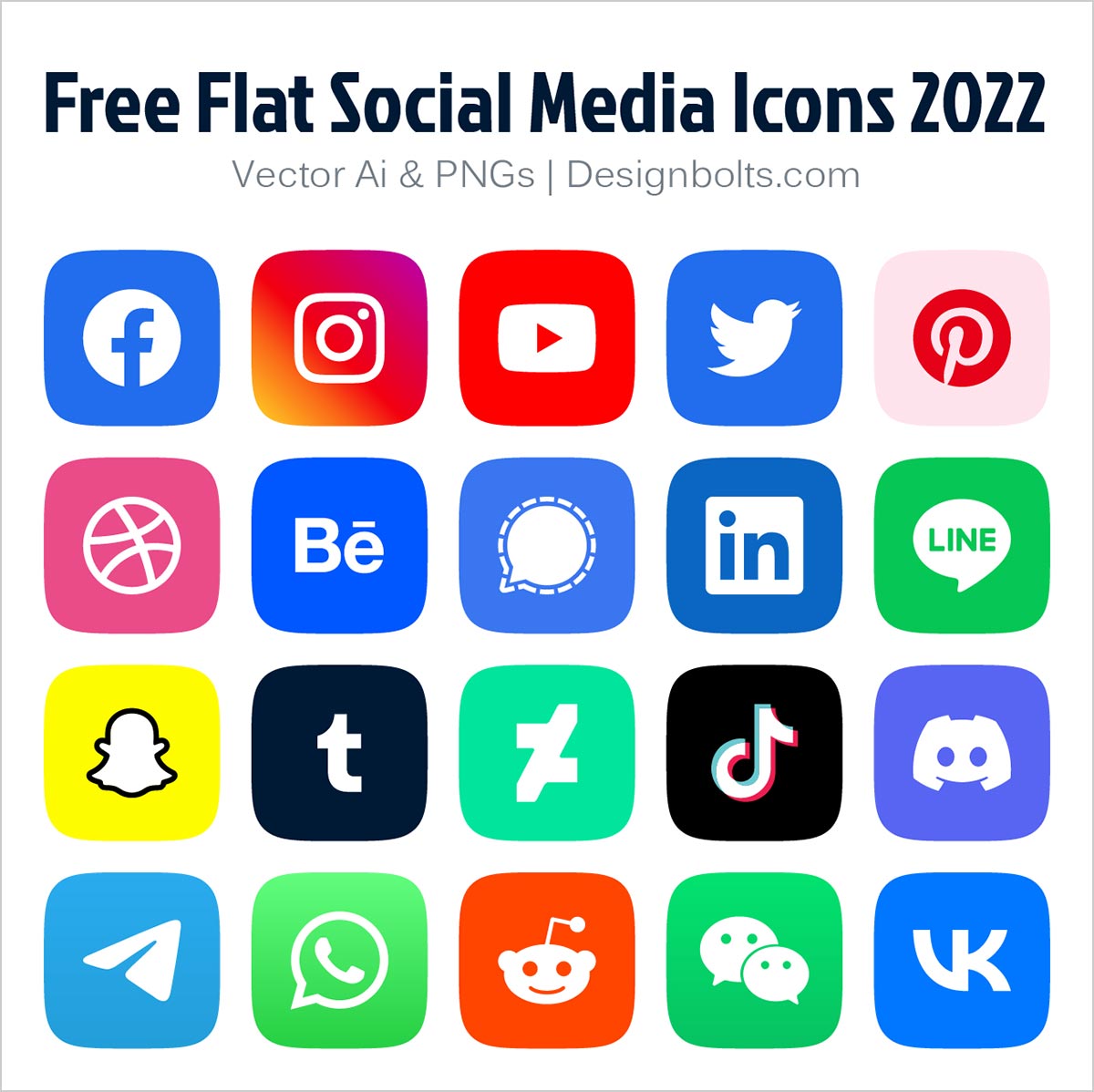 Available Format:  Vector (.ai) file (Light Backgrounds) Very easy to edit
Available Size: 1024, 512, 256, 128, 72, 48 px
License: Free for personal and commercial use (a link back is must)
Note: If you don't want to link back you have to purchase the premium version down below.
Social Vector Icons 
Social PNG Icons 
Premium Version: 300 iOS Social Icons (Ai + PNGs)

Looking for more Social Media Icons styles: