Hello there everybody! We hope that you all are keeping safe and that your work life and life in general are going great too. As you all know that the whole world had to face some serious challenges when coronavirus hit almost every country in its own messed up ways, we needed to make sure that we are sharing information, designs and ideas that can help you stay safe during the pandemic and we are so very happy to mention it here that finally the vaccines are being used worldwide and we are sure that we will come out if these trying times soon.
Whenever something happens in a country or even in the world, there are many people who make sure to fabricate the information and make their lies facts so that they can cash out on their false news. But the best thing about the internet is that when there are people who are sharing misinformation by the minute, there are also people and platforms that are debunking their myths etc. efficiently. Same thing happened when scientists around the world did their research and more to work on the vaccines and strived harder than ever to make them accessible in literally every country that the anti-vaxxers joined hands to say all sorts of things that discouraged the majority and they ended up not getting vaccinated.
Recommended: 50+ Cool Coronavirus Masks
Do you know what happens when more and more people get vaccinated while also making sure that they are following all the SOPs as well? Well, for starters; vaccines are there to help you minimize the chances of getting seriously ill and the symptoms of the virus are not that hard on the people as well so, that is like the main reason why you must get yourself vaccinated if you still haven't and if you have, then we can bet that our free COVID-19 vaccine badge stickers will help you getting recognized in the best ways possible.
Are you thinking about the why that just popped in your head: Why would anyone want to get recognized after they have gotten themselves vaccinated? When you wear a badge that mentions something like you are suffering from a chronic disease; it helps the people around you to help you in their own ways for example by making space for you to sit, helping you move around in a rushy area and things like that. Wearing a badge / sticker that mentions that you have gotten your COVID-19 vaccination means that you are safe to be around and others who are vaccinated can feel safe around you as well.
In addition to individuals wearing COVID-19 vaccine badge stickers, we have also created these designs for online and retail sellers too. These badges and stickers can and must be used by health providing centers as well as hospitals as well that are providing the masses with the facility to get vaccinated so that everyone who is now vaccinated can wear the badge sticker to public places and act like a responsible citizen of their country. The main aim is to get vaccinated so that we can get rid of the virus as soon as we can and getting vaccinated and also following all the SOPs are the only two things that we can do to get things done in a responsible way.
You would know how reinforcement works, right? When there is a small prize, gift or an incentive that is to be given to the participant of an activity after they are done with a task, they feel encouraged to do it and also spread the word about it too. Vaccine badge stickers will work in the similar way so, if you know people who are a little too afraid to get themselves vaccinated for the things that they have heard from less informed people or from the internet, you can surely help them know better and advise them politely to get vaccinated too in order to get their (free) badges if an organization is giving them that is. If you are not getting it for free, you can also invest in something like that because it is for the humanity, you know.
We have created multiple design options for you guys that you can use for your educational institutions, for your work places, for your patients, for the masses especially if they are your customers and you will see that we are progressing towards the goal of getting vaccinated on a bigger level. So, that is all from our end! We hope that our blog and these free COVID-19 vaccine badge stickers to print and sell will help you get on the track and you will play your part in being there for the masses in your own creative ways.
Free COVID-19 Vaccine Badge Stickers To Print & Sell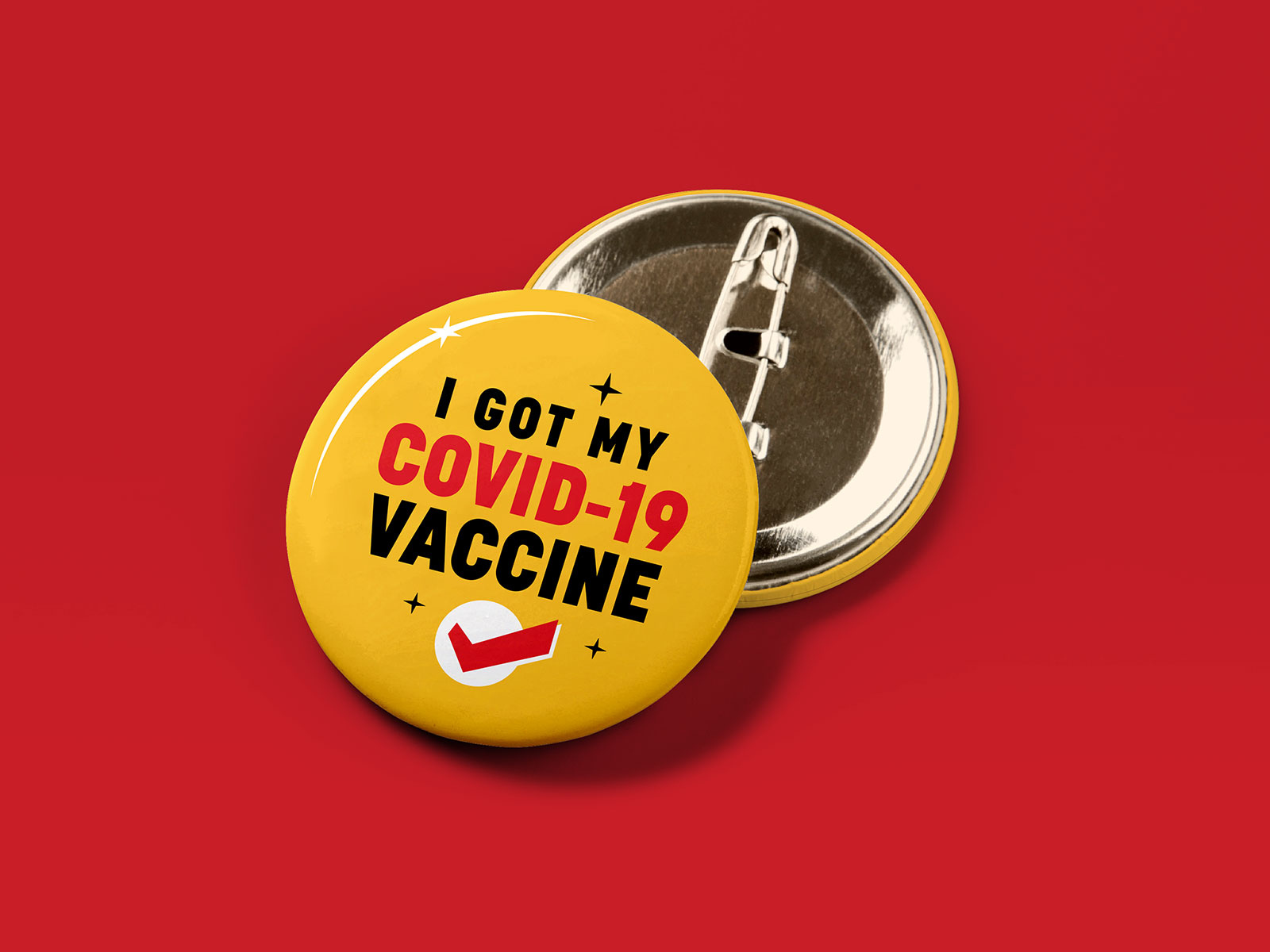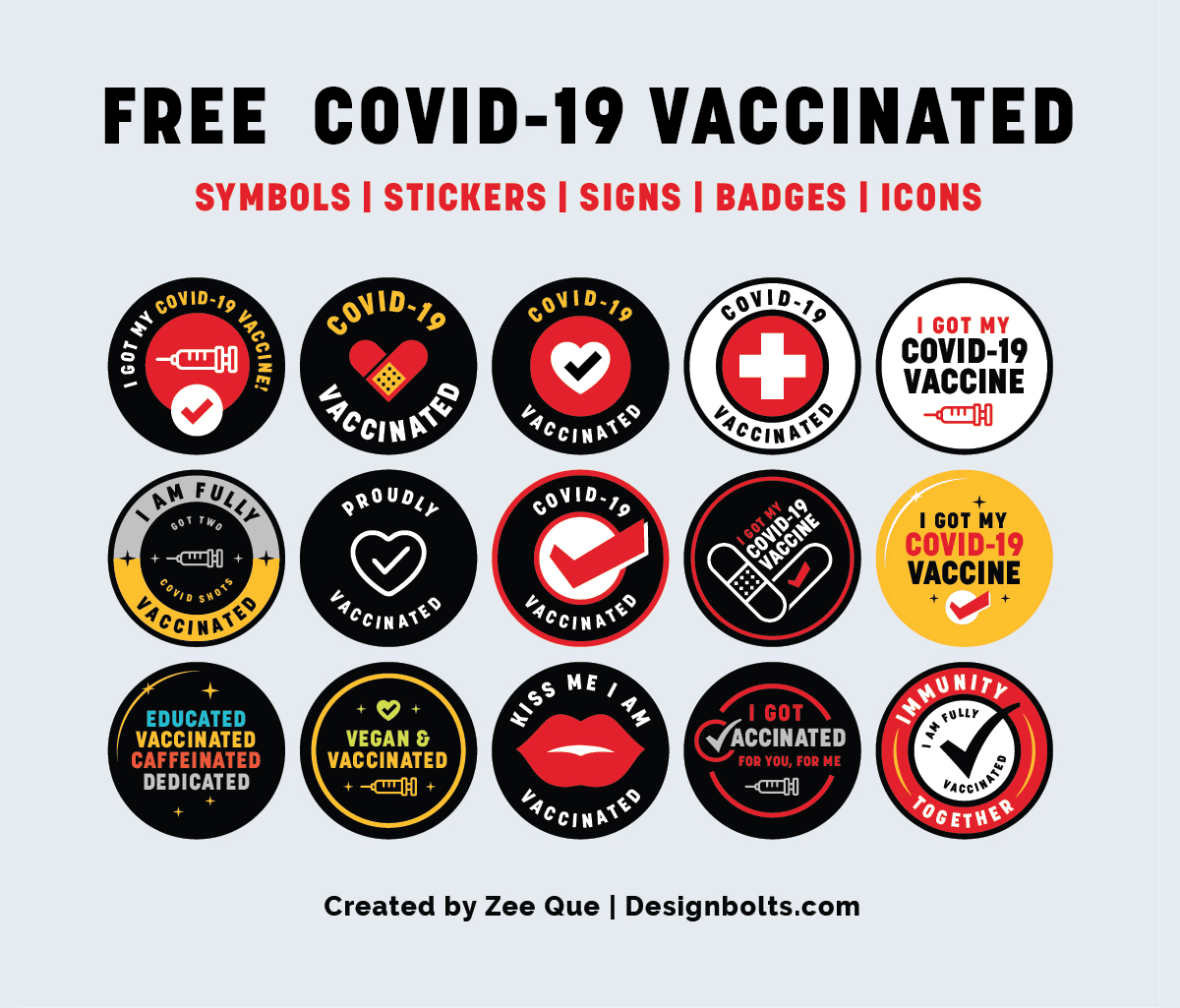 Available Format: Ai, Vector & PDF
License: Free for personal and commercial usage (Link Back to this Article)
File Format: Zip
PNG Resolution: 1200 x 1200 px
Note:
1. Free Coronavirus Pin badges are allowed to share online (A Must Linkback to this page)
2. Say thanks if you like or share/tweet with your friends. That means a lot to me.
3. And don't forget to follow or subscribe to receive more high quality premium freebies & awesome articles only.
Download Ai
Download Printable PDF
Download PNG Icons
Recommended: