Hi there everyone! We hope that you are enjoying reading our blogs and are also making the most of our free yet highly editable mock-up PSD files for your personal and commercial projects. We are super excited for our today's blog mainly because we (finally) get to talk about the new product lineup of the Apple iPhone and while we are at it, we also want you all to know that we have worked on this free iPhone 15 app screen UI mock-up PSD file for you guys that you can instantly get your hands on and start utilizing it for your upcoming tasks, etc. right away.
Before we formally begin the blog today, we want to mention what we are going to be talking about in this blog so, sit tight as big and exciting surprises are coming your way. For example; we will be sharing a number of things that you guys would want to know about the Apple iPhone 15 lineup and how you can utilize our free mock-up PSD file too. So, let's get started!
It is being said that the new lineup of Apple iPhone is expected to be launched during the first week of September. But as per the latest news that is making rounds on the internet, it is also being heard that Apple has allegedly cut iPhone 15 production during the time when many, many people have started to talk about the new devices and how they are actually going to be different from the ones that have been already launched in the market. And while such news is going to be making the headlines somewhat, we think it is safe to say that such things are said to gather more traction (although quite frankly speaking, Apple does not need that sort of hype to run the show).
That being said, let us have a look at what the iPhone 15 lineup is going to be like or rather we should say, what we can expect from the soon-to-be-launched devices. Make sure that you guys have read the blog till the end in order to make informed decisions both as a customer as well as someone who would be getting their hands on our free iPhone 15 Pro app screen UI mock-up PSD file.
Recommended: Free iPhone 15 Pro Max Mockup PSD
Okay so, iPhone 15 is expected to offer a USB-C port instead of a Lightning port (this would be for all the models of iPhone 15, just by the way). In addition, the new lineup might also be offering more of a sleek and less intrusive design as well. We would also like to mention that as per the rumors, there are chances that this lineup is going to be an expensive one and we are really hoping that Apple, this time around does justice with the price factor because otherwise, what exactly is the point of keep launching new devices with a little improvement to the look and feel while the internal systems remain the same and that too with higher prices, right!?
We would also like to mention that there are chances that the Dynamic Island is also coming to the new lineup of iPhone models but it has yet to be confirmed if it is going to be available on all the models or just on the Pro and Pro Max models. Also, there are rumors that direct us towards stating that the iPhone 15 lineup might have bigger batteries to offer as well which means that you can spend more time on your new device for work as well as for entertainment from the moment you are going to spend your money on one of the most anticipated Apple products.
Oh, and did we tell you guys that we can definitely expect better and improved cameras as well? Because, yeah, that is happening too and we can bet that you all are going to love what all Apple is going to be offering through their new lineup (and we really hope that happens for real, you know!?). So, keeping in mind all these things; we are sure that by using our free iPhone 15 app screen mock-up PSD file you will be working on great things.
That is all for today, you all! We hope that you had a really nice time reading our super-informative blog today and that you will also share it with your graphic designer friends, favorite colleagues and students, etc. as well so that they can make the most of it too. We would also like to encourage you guys to send in your feedback and while you are at it, don't forget to let us know about your special requests as well so that we can start working on them and be back here super soon with your requested content and more.
Free iPhone 15 App Screen Ui Mockup PSD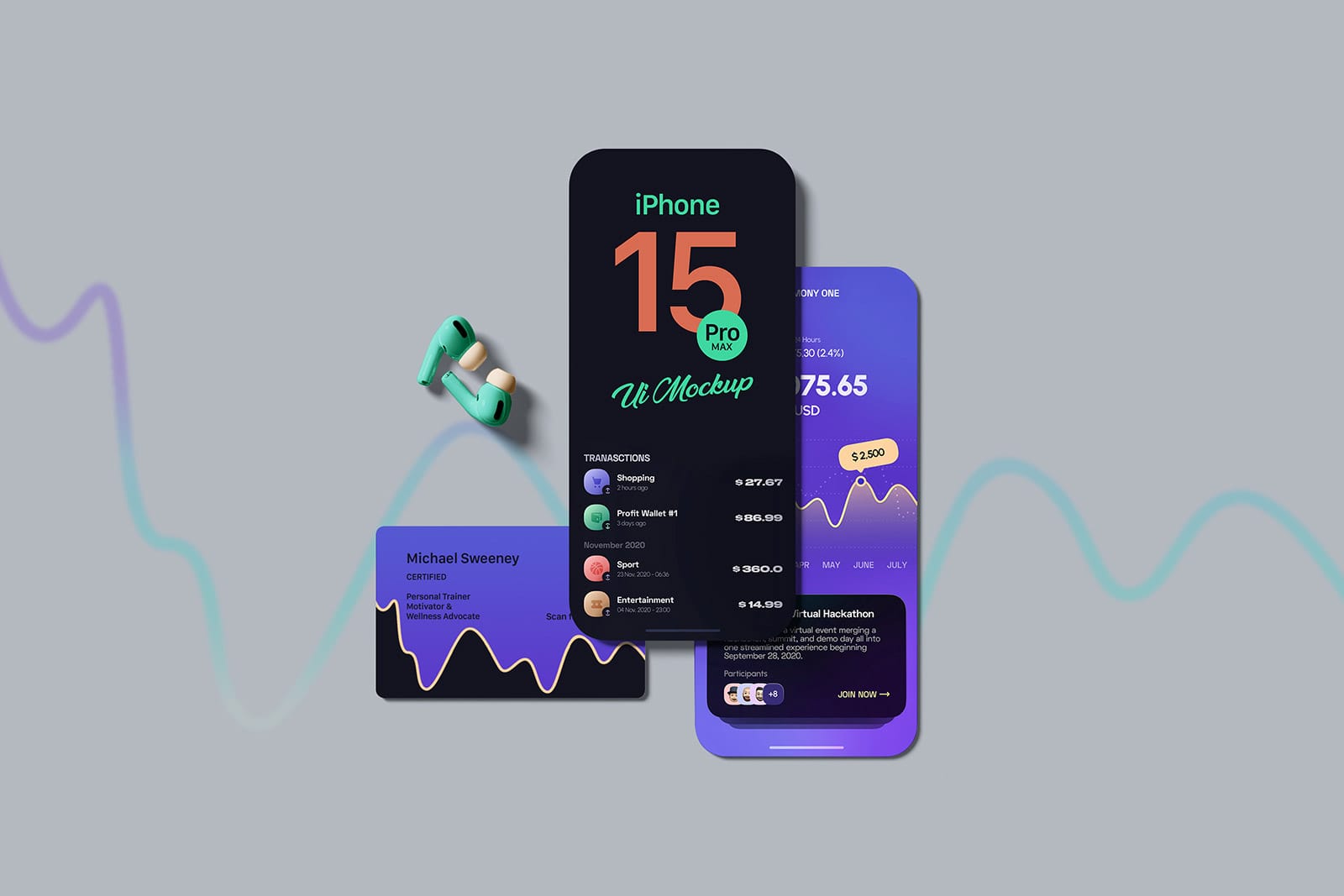 Available Format: Layered PSD with smart object insertion
License: Free for personal & commercial use
RAR File Includes: Free Apple iPhone 15 UI Mockup
Mockup PSD Resolution: 3000 x 2000 px
Note:
1. Free iPhone 15 UI Mockup PSD set is allowed for sharing online (A Must Linkback to this page)
2. Designbolts signature is placed as first layer kindly hide and use the mockup
3. Say thanks if you like or share/tweet with your friends
Download iPhone 15 UI Mockup
Recommended: