Hello, friends! What's happening in your lives these days? We hope that all is well and that you are also making the most of our blogs, tips and tricks and everything else that we happen to share here for your personal and commercial projects. For our today's blog, we are going to be sharing our free yet highly editable coffee bag mock-up PSD file with you guys, paired with a couple of easy-to-follow tips that will help you make the most effective and beautiful brown coffee bags but before doing that, we would like to take a moment to thank you for the love and support that you send our way and for always making sure that your friends, family members and favorite colleagues are also reading our blogs and utilizing them as well. And we hope to see more of that happening in the future too.
If you guys happen to consume coffee and that too, on a daily basis, then you must have come across many different styles of coffee pouches, bags, bottles and then some more in your life. Now, we always talk about how packaging is literally the deciding factor when it comes to purchasing a product for the first time because obviously, you have no idea how it tastes or smells for that matter so you really take a leap of faith and do your thing, that is to purchase the product, consume it and then continue getting the same thing given that you liked it in the past as well.
But is that it? The look and feel of the product packaging must be super nice to convince you to get something for the first time but what are the other factors that are involved which can make you get something off the store shelf instantly and take it home to try and see if the decision was right or nah? Well, your product packaging should also be user-friendly so much so that anyone can hold it easily and can place it inside the shopping cart.
In addition to that, your packaging must also be informative for your target audiences and that also includes your existing customers as well. When we say make your packaging informative, we don't mean to ask you to also send out a couple of pamphlets with each product of yours so that your existing and potential customers can read what you are offering, if they need to watch out for allergens, etc. but make it fun to look at and read from, you know!?
We would also like to mention here that while you will be working on ideas with your creative and design teams to make the product packaging look fancier than the ones that your competitors are selling, you must also keep in mind that your product packaging has to be protective as well as in it should be durable enough to keep the contents safe and fresh at all times. Other than that, no matter how far or close, the product will be moved from one place to another so, you will also have to make sure that the packaging is strong enough to hold what all was packed inside it. Think of all the possibilities that come to your mind, consult with your team members, take a test run of the sort and then finalize the material(s) for your product packaging.
Another crucial factor that will make your product packaging and your brand a hit is how much you are trying to protect the planet. Yes, we are talking about environment-friendly packaging (and no, it should *not* be considered something that is being talked about literally every day so, it is okay if you do not want to be that responsible towards the planet and the future generations as well!). You must also go for cost-effective solutions for product packaging. In this case, you can never go wrong if you choose brown bags to store and sell coffee to your audiences for example; with Kraft paper, everything will be more than just perfect; given that you design the coffee packaging by using our coffee bag mock-up PSD file.
That's all for today! We hope that you not only had a great time reading the blog today but that you will also share your valuable feedback with us in the comments section as well. Also, feel free to pass on the information that you could gather from this blog to your graphic designer friends, colleagues, students, etc. as well so that they can get their hands on our free standing coffee bag mock-up PSD file and create their own designs as well. We will see you guys next time with something more fun & exciting to work on.
Free Standing Coffee Bag Mockup PSD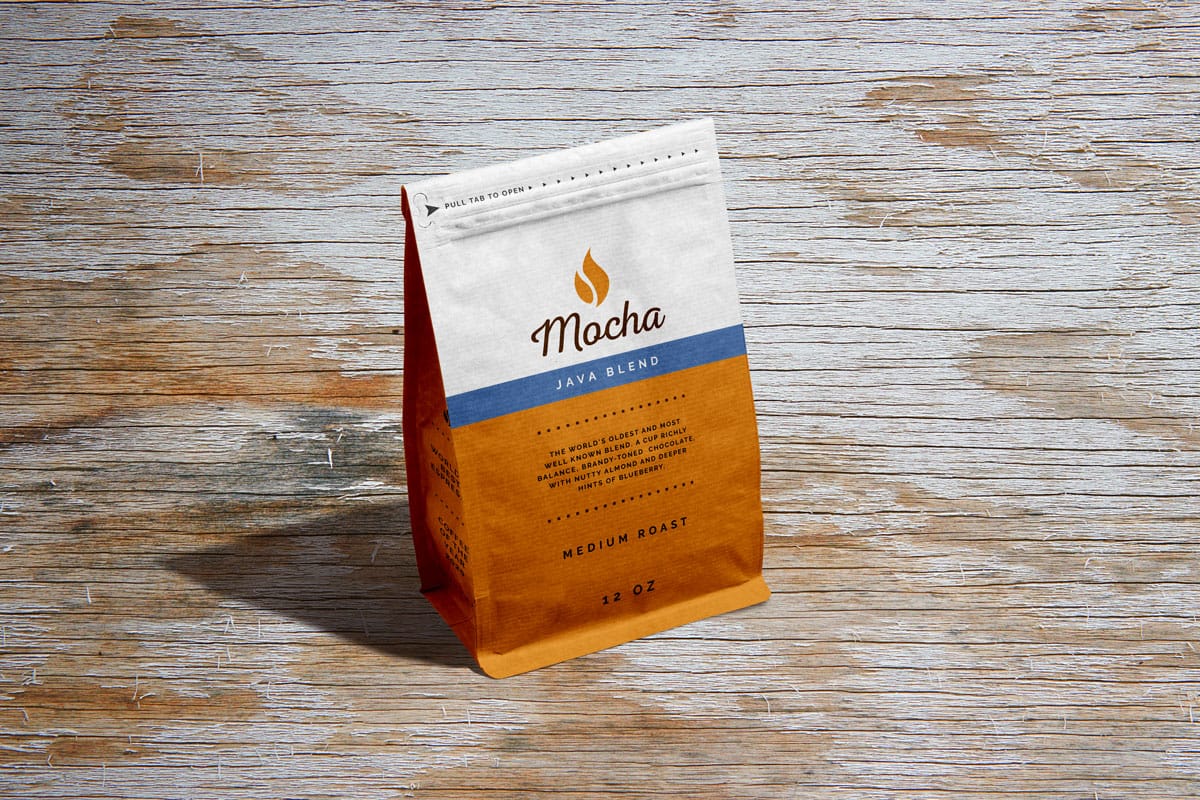 Available Format: Layered PSD with smart object insertion
License: Free for personal and commercial usage
RAR File Includes: Free Coffee Pouch Mockup PSD
Mock-up Resolution: 4500 x 3000 px
Note:
1. Free Coffee Pouch Mockup is allowed to share online (A Must Linkback to designbolts.com)
2. Say thanks if you like or share/tweet with your friends. That means a lot to me.
3. And don't forget to follow or subscribe to receive for more high quality premium freebies & awesome articles only.
Download Coffee Pouch Mockup
Recommended: