Hi there everyone! We hope that you had a lovely time reading our previous blog and that you can't wait to read what we are about to share with you all today. We would like to add here that we are super excited to let you guys know (almost) everything that will help you use our free yet highly editable iPhone 15 Pro Max mock-up PSD file but before we do that, we want to thank you all for the love and support that you send our way and for always making sure that your friends, family members and favorite colleagues are also reading our blogs and making the most of them too. And we would love to see more of that happening in the future as well.
We are sure that you guys know that Apple has very successfully unveiled their new line-up of iPhones which happens to be the iPhone 15 and the interesting thing is that the pre-orders are underway (for very obvious reasons) as the phones will be available in the stores from September 22, 2023. Okay so, you all need to know that as per the official Apple website, the iPhone 15 is forged in titanium meaning that this is going to be the first (ever) iPhone which features an aero-space titanium design. We would like to mention it here that Titanium happens to have one of the best strength-to-weight ratios of (literally) any metal which has resulted in Apple manufacturing the lightest iPhone Pro models. And we know that this is more of a see-it-to-believe-it kind of a situation here so, maybe check one out as soon as you get a chance to do so! 😉
The most exciting feature of the iPhone 15 is that it is charged with an A17 Pro Chip which is truly going to be a game changer. This Chip will prove to be the best for your gaming experiences and also offer you the best graphics as well and we can bet that you all can't wait to see stunning things happening right in front of your eyes. In addition to all things Pro, Apple iPhone 15 line-up will be available in the following 4 attractive colors which are:
Natural Titanium
Blue Titanium
White Titanium
Black Titanium
We are aware of the fact that we have mentioned it multiple times before as well that we upgrade our phones when we know that this is the device which is capable of giving us the best camera there is and we want you all to know that the iPhone 15 line-up will help you capture your wildest imagination and then some more as it offers dramatic framing flexibility, next generation portraits, multiple focal lengths, and more. All of that basically means that with an iPhone 15, you will get to enjoy not just 1 or 3 but 7 pro lenses no matter where you are. Oh, and did we mention that iPhone 15 will allow you to experience 120 mm of pure Pro zoom too? Well, yes! That's how incredible everything is going to be and we are so very excited for all of you guys who have the ability to not only explore all the possibilities in order to make things even more exciting for your customers and clients who will be getting their hands on the iPhone 15 Pro very soon but we know that you are going to get things done too so, be it a stunning iPhone 15 Pro case or an app that is larger than life sort of a thing for you then.
Before we conclude our today's blog, we would also like to talk about the Action Button as well as it will keep track of your favorite feature – all you will need to do is to set it and let the Button do its thing. It's time for you to explore more about the iPhone 15 line-up so, we will take our leave from here while you let your creative juices flow.
That is all for today! If you liked reading the blog today, feel free to share your valuable feedback with us in the comments section and while you are at it, don't forget to let your graphic designer friends, favorite colleagues and students, etc. get their hands on our free iPhone 15 Pro Max mock-up PSD file so that they can carry out their research and figure out what they can design or develop for their upcoming iPhone 15 Pro Max projects. We will see you guys next time with something more exciting and fun to read and work on. Until then keep creating inspiring and impressive designs for yourselves and for the businesses that you are working with.
Free iPhone 15 Pro Max / 15 Pro PSD & Vector Ai Mockups
Highly Detailed PSD & Flat Version Ai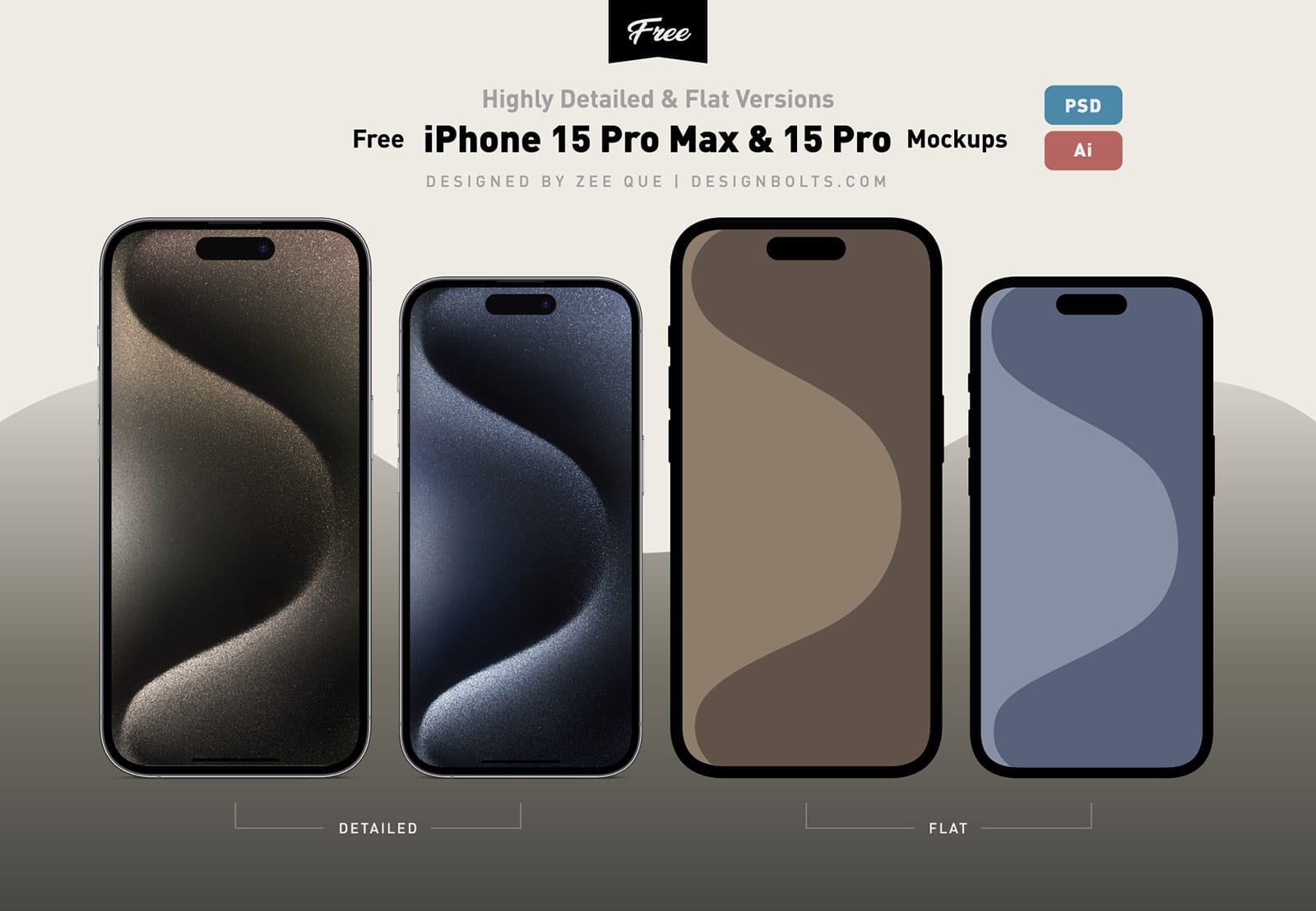 Available Format: Layered PSD with smart object insertion
License: Free for personal & commercial use
RAR File Includes: Free Apple iPhone 15 Pro & iPhone 15 Pro Max in PSD & Ai
Mockup PSD Resolution: 3000 x 2250 px (2x supported)
Note:
1. Free iPhone 15 Pro Max Mockup PSD set is allowed for sharing online (A Must Linkback to this page)
2. Designbolts signature is placed as first layer kindly hide and use the mockup
3. Say thanks if you like or share/tweet with your friends
Download iPhone 15 Pro & Max PSD
Download iPhone 15 Pro & Max Ai
Recommended: