Hi there everyone! We are back with yet another super amazing and useful blog of ours and we can bet that you are super excited to make the most of it for your upcoming design and development projects, but before we start sharing everything that you guys need to know in order to do just that, we would like to first take a moment to thank you guys for the love and support that you shower us with and for always, always making sure that your friends, family members and favorite colleagues are not only reading our blogs but that they are also utilizing them for their personal and professional needs as well. And we really hope to see more of that happening in the future too.
We are sure that by now, you guys must have checked out almost every blog that talks about Apple's new line-up for their iPhone but through this blog, we want you guys to explore more of what's already there so that you can work on projects, etc. that won't just make the iPhone be used in different ways but you can also create and offer more stuff to the end customers as well which includes phone cases / back covers, screen protectors, pop sockets and phone grips, phone stands or holders, etc. Then there are car mounts for phones that you can design and get manufactured and in addition to that, you can also work on phone skins, selfie sticks, mobile phone wallets, docking stations as well as armbands that can be used while working out and other outdoor activities.
And then, of course, there are also electronic devices as well such as the wireless charging pads, power banks, Bluetooth speakers, gaming controllers and so many other accessories and devices that can be connected and used with and for the iPhone 15 Pro Max. So, what are the ways in which you can use our free yet highly editable iPhone 15 Pro max mock-up PSD file!? Well, first things first; you need to know what all is happening around you in the market to see what else you can offer to your target audiences which is not only unique and different so to say, but it is also worth their money. You can conduct multiple research sessions to find out about that and once done, you can sit with your design, creative and other relevant teams to chalk out your thoughts and then make something out of them too.
When it comes to using a mock-up PSD file to demonstrate your ideas and more such stuff, you must keep in mind that the sky is the limit so push yourself to the level of creativity where you would know that you have actually done something amazing, something groundbreaking. And if you wish to know how that can happen then allow us to share how great this forged-in titanium iPhone 15 Pro Max is. Well, in easy-to-understand words, it is Pro in every sense of the word but we will start with the A17 Pro chip which is a game changer as it offers groundbreaking performance here is how:
The A17 Pro chip is made to offer you nothing but the best performance that you can think of and it is also an upgrade for Apple as well because this phone is going to change the meaning of how you play your games, take photos, record videos, get your work done and then some more and in addition to that, it will also allow you to enjoy the most perfect graphics of all times and that is not all because the Apple iPhone 15 Pro also offers an all new Action button which is a fast track to your favorite feature – always ready for your command so that you can get done and over with your personal and work things within a few taps and clicks. And you can do all of that all day; thanks to the Pro battery that is there, really!
That's all for today! We not only hope that you had a nice time reading this blog but that you will also share it with your friends, favorite colleagues, students, etc. as well so that they can get their hands on our free iPhone 15 Pro mock-up PSD file and utilize it to work on their upcoming projects and then some more. We would love to encourage you guys to also let us know if you have any special requests to make so that we can work on them and be back here super soon with your requested content and more. Until then, keep creating magical designs, apps, websites, etc. for your own business or for the ones that you are working with.
Free iPhone 15 Pro Max Mockup PSD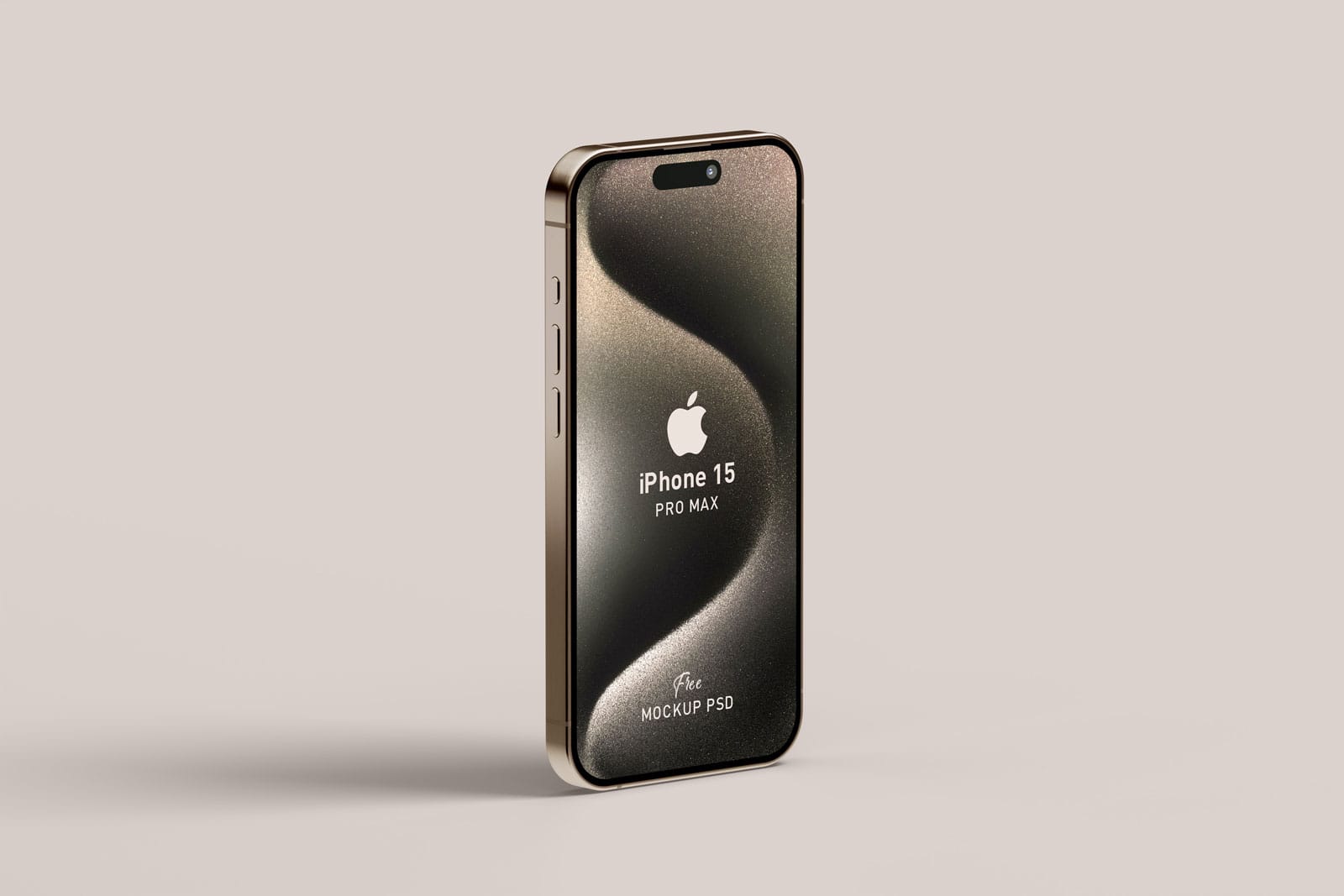 Available Format: Layered PSD with smart object insertion
License: Free for personal & commercial use
RAR File Includes: Free Apple iPhone 15 Pro Max
Mockup PSD Resolution: 4500 x 3000 px
Note:
1. Free iPhone 15 Pro Mockup PSD set is allowed for sharing online (A Must Linkback to this page)
2. Designbolts signature is placed as first layer kindly hide and use the mockup
3. Say thanks if you like or share/tweet with your friends
Download iPhone 15 Pro max Mockup
Recommended: