Social media icons are reckoned to be the basic essentials of a blog. If you got less impactful icons on your blog; it is not going to attract your visitor's attention. A blogger is like the captain of his ship so he should always be prudent enough to make a best choice of social media icons for his blog.
A well conceived thought behind social media icons would provide your blog a "lift". If you are an "Apple" lover and having the blogs fixed for Apple merchandises then this post of social media icons is going to be a best pick-up for your respective blogs. It is all about free high quality social media icons for iPhone & technology blogs. These social media icons are of high quality and appealing to become the very asset of your blog! Scroll down and have a look.
High Quality Social Media Icons For iPhone & Technology Blogs/Websites
Facebook Icon Twitter Icon RSS Icon LinkedIn Icon Behance Network Icon Deviantart Icon Digg Icon New MySpace Icon Pinterest Icon YouTube Icon Tumblr Icon Blogger Icon Stumble Upon Icon Vimeo Icon Orkut Icon Flickr Icon Google + Icon Dribbble Icon Delicious Icon & Instagram Icon.
Don't forget to subscribe us for more free logos, free Vectors & Free Icons in future.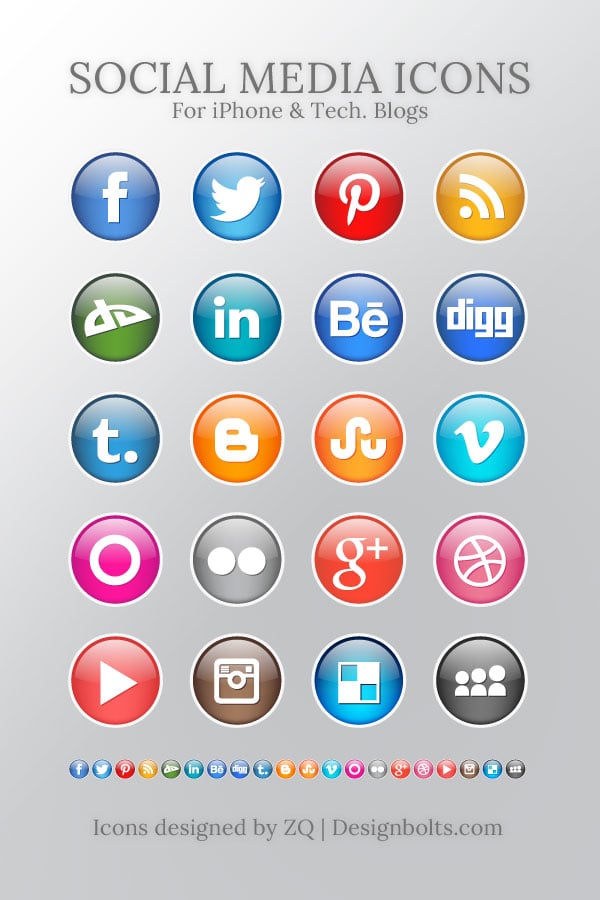 Free Version:
Available Size: 18, 24, 32, 48, 56, 72, 96, 128, 256 px
License: CC Attribution-Noncommercial-No Derivate 3.0
High Quality Social Media Icons
—————————————————————————————————-
Premium Version for only $ 3.00
Available Format:  Vector (.ai) file
License: Creative Commons Attribution 3.0 Unported License
[paiddownloads id="29″ return_url="https://www.designbolts.com/thank-you/"]
—————————————————————————————————-
More Free Icons Download & Vectors: