There was a time when things were numerable, brands and products were countable and therefore there was no need for big advertisements to publicize the goodies locally, nationally or internationally as there were hardly few channels and advertisements could easily be fallen in the radar of people's eyes.
But now time is changed, the market and cooperate world is offering gigantic products and brands to choose from. Therefore convincing others about your quality, motive and impression is very difficult. You have to set your millstones, you have to outdo yourself, and you have to be extra active and faster in order to make your name bigger or at least recognizable in the market.
The best business tactic is to make yourself noticeable through advertisements, either in the electronic media or in print media as well. Any company can place a bigger or smaller advertisement in the magazine or in the city, town newspaper easily, people see it, develop a level of interest and head towards it. Advertisements on the flyers, billboards, brochures or on the hoardings too are the best way to connect to people.
But electronic media is more used these days because majority of the people come into terms with your advertisement all at once on various channels repeatedly. My today's post is about free frontlit outdoor advertising hoarding mock-up PSD that will help you in placing your own design element into this hoarding mockup to show it off to your client as in presentation about the product. Outdoor advertisements play a vital role in gaining the attraction and attention of the masses because tons and tons of people stop on the roadside either on their vehicles or the layman pedestrians.
The real stance is to make an advertisement communicative enough to be understood by the people easily. I am sure you will feel easy while using this mockup in your current or upcoming advertisement project. So write to us what more are you eyeballing at, we will bring more stuff for you in future. Subscribe us for more posts!
Free Frontlit Outdoor Advertising Hoarding Mock-up PSD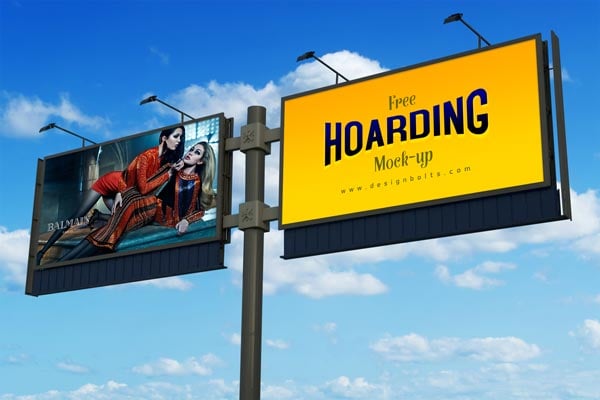 Available Format: Layered PSD with smart object insertion
License: Free for personal presentational use only
Zip File Includes: Outdoor Hoarding Mockup PSD
Note:
1. PSD Mockup is allowed for sharing online (A Must Linkback to this page)
2. Layers are hidden to decrease the size of file kindly unhide and place your design on red colored layer.
3. Say thanks if you like or share/tweet with your friends
Free Hoarding Mockup PSD
More High Quality Free Mockup PSD Files