Life is so unpredictable and we never know what tomorrow is going to unfold before us. We can still hope for best day, a good future, a pleasant tomorrow, some good cherishing moments to live, some friends to hug, some hands to shake, some shoulders to lean on and also some crazy trends of fashion to follow.
Well fashion and we, go hand in glove with each other. If fashion is plucked out of our lives we will look deprive and so dull to death. This is not all, we love to glamorize ourselves regardless of what gender we belong, we crave for fashion and we like to enhance the beauty of us. The most important key to get you polished enough is to be confident, be open-minded, be flexible & compatible with the circumstances. I have understood a fact, that if you don't move with time, it leaves you far behind.
People already are so much in shape, toned in their bodies, up to date, why would someone pay a heed to you? So better keep yourself on point and do not forget to outshine. Well designers meet some terrific projects on daily basis and this may vary from posters, to logos, from brochures to business cards etc. All type of works demand ideas and innovation.
Today I am unfolding before you a post of 12 zodiac signs fashion wall calendar design templates of 2017 & mock-Up PSD files. Believe it or not, most of us begin our days reading our horoscope, it unleashes some wild equivocation about how the day is going to be, how the weekend is about to be spent, how the month is replete with surprises, how this year will leave its benchmark & more. Most of us truly believe in them, whilst others just don't. Well nevertheless only Lord knows what tomorrow is throwing at us; you check out this calendar 2017 design which is amazing, voguish, sophisticated and stunning.
Insert in your calendar design on professional mock-ups and present it to your client. Also it will give your client a great idea that how wall calendar will look in real after printing
Stay hooked and we will keep surprising you with some marvelous design posts in the coming days. Here we go!
3 Wall Calendar Mock-Up PSD Files
Download > Calendar Mock-up
Zodiac Wall Calendar Design Template 2017
Download > Calendar Design 2017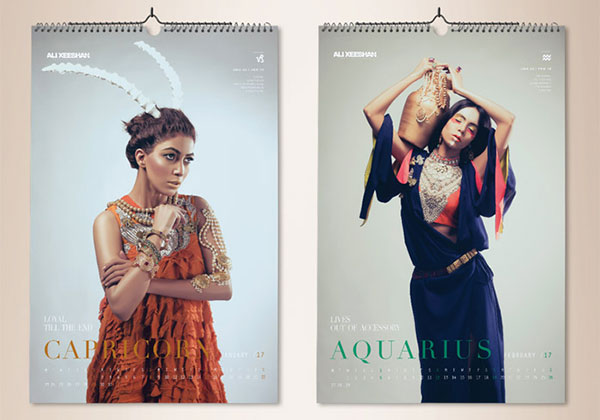 More Premium Mockup PSD Files, Design templates & Graphics: