There is only one thing that works efficiently everywhere and that is none other than the will to do hard work. Yes, it does wonders for those who believe. At first, things look difficult but once a man gets sink into the situation, the clouds become clearer and the sunshine of success peeps out. No matter wherever you go, you must follow your dreams and do all your efforts to achieve your target.
There is no shortcut to success and the only nail to the coffin is your hard work and conviction. I have seen people giving up on the edge of success just because they get tired and exhausted of their journey. Push the boundaries and recall why you held for so long, it will help you remembering your aim and give you an internal motivation. For the artists and designers it has never been easy to merge and submerge out of their field.
Because it has some really strict rules to abide by. Being a designer myself, I always wonder what if I switch to another technique, what if I try my skill elsewhere, so in short one must never be afraid of experiments. The struggle is real but it does wonders, I repeat. Once you know what you are capable of, there is nothing that can bring your spirit down. It is you who can make everything possible. Down here I am putting forward a free outdoor advertising swinging shop sign mockup which can be used for personal or commercial projects.
All you need to do is to put in your desire design elements and show it off to your client. Advertisements play a vital role in gaining the attention of the audiences and to reach the target people. Designers should use a bigger and bolder font to make the words readable and insightful. Outdoor advertisements attract a massive amount of people. Also they help people locating the brand/store. It also serves as an emblem and the passerby can stop for a while to notice the store easily.
For more amazing freebies and tech/design accumulation you just have to stay tuned and keep your fingers crossed. We love to surprise you with amazing design feed, and your feedback makes our mutual experience worthwhile. Here we go.
Free Swinging Shop Sign Mockup PSD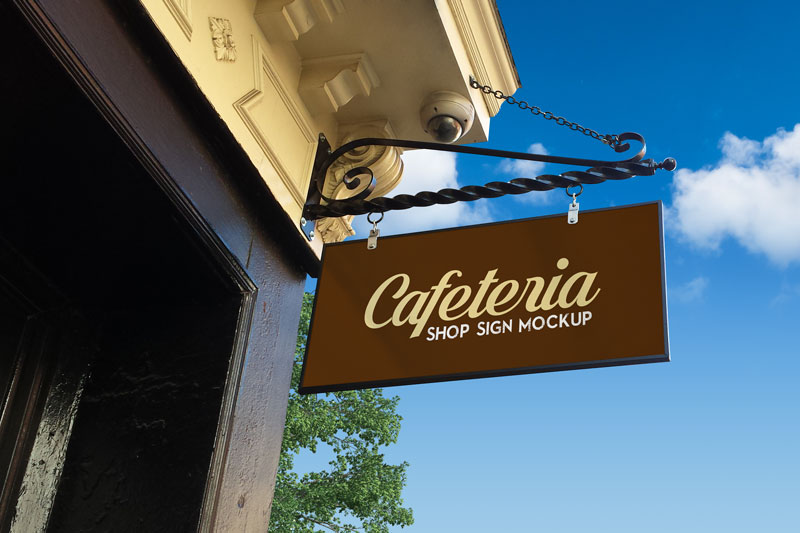 Available Format: Photoshop PSD
License: Free for personal and commercial usage
File Format: WinRAR
Mock-up Resolution: 3000 x 2000 px
Artwork Size: 1400 x 550 px
Note:
1. Free Shop Sign Mockup is allowed to share online (A Must Linkback to this page)
2. Say thanks if you like or share/tweet with your friends. That means a lot to me.
3. And don't forget to follow or subscribe to receive more high quality premium freebies & awesome articles only.
Free Shop Sign Mockup PSD
More Free High Quality Mockups of 2018: