Hey guys! We would like to thank all of you for liking our blogs so much and sharing your honest feedback in the comments section. Our today's blog is going to be great too so let's get started without any further delays.
Do you guys prefer using a hand sanitizer when you are hanging out with your friends? Or do you just cannot live without properly washing your hands, you know with water and soap? For us – that totally depends on the situation, really. But if we were to pick one from the water & soap combo and a hand sanitizer, we would choose the sanitizer because of how handy it is. And the brands are making sure that they can fit anywhere in a make-up pouch or a bag so that it is super easy for everyone to use the product.
So, what happened today was that we just got done with a hand sanitizer spray bottle mock-up PSD file and we thought to share it with all of you right away. And we are pretty sure that the ones who requested this very PSD file will be really happy to see our blog.
But what is so special about our mock-up PSD? Is it easy to edit? Yes, it is. Will you have to pay an amount to download this amazing mock-up PSD file? Well, if you are asking this question then that means you did not pay attention to the title. We are just kidding but yes, our hand sanitizer spray bottle mock-up PSD is absolutely free to download and use.
If you are a regular reader of our blogs then you would know how often we mention the benefits of creating a mock-up presentation and sharing your designs by arranging a proper review meeting but if you came here for the first time then let us give a recap before we move forward to the next step.
Creating a well-designed mock-up presentation can save you and your agency a lot of time and efforts (and of course money). This practice can save you from having any sort of professional disputes between your organization and your clients as well. And the biggest advantage of presenting ideas by developing an impactful mock-up presentation is that all the stake holders can see how things will look like in real life even before they are printed or published.
A design review meeting can also help you understand the changes / revisions if there are any to make things look better than the initial designs. You can explore the possibilities and can also learn a thing or two by participating in healthy and creative discussions. That being said, we would now like to talk about how you can create super amazing hand sanitizer spray bottle designs and can help your brand's product stand out in the crowd of other existing brands.
As you know there are some hacks and tips & tricks to ensure that your designed stuff will always get the 'work' done so let's have a look at some super easy to follow design tips:
First things first, define your brand personality, product and your audience because this will help you in determining a lot of things like; colors, fonts (as well as typography), brand descriptors etc.
There is a set color palette for every type of product and a hand sanitizer comes under the categories of both toiletries and cosmetics so you have to carefully pick a middle ground that is not only relevant but can also compel your potential customers to purchase the item(s). And if it still sounds too difficult or confusing then all you have to do is to do some research on the color psychology and its influence in advertising.
You can see that we have placed the hand sanitizer spray bottle among supporting elements – as this will help you get an idea about the bottle size. And you will be able to determine the areas on which you would want to place your logo and other design elements.
In addition to that – check out the latest trends that are being incorporated around you. It will be a nice thing to do and will also help you in producing just the perfect stuff and nothing else. In the recent past, we have been seeing some trends around us and we would love to share it with you guys for inspiration.
For example; the most modern and trendy design techniques these days especially for the cosmetics + toiletries categories are black packaging, line drawings, warm colors, customized fonts, design patterns as well as minimalistic design approach. All you have to do is to see what works best for your brand / product and add it to your design bible.
That's all for today guys! We are positive that you will find this blog really helpful for your design tasks. Don't forget to share it with your friends and colleagues as well. And we will see you next time!
Free Hand Sanitizer Spray Bottle Mockup PSD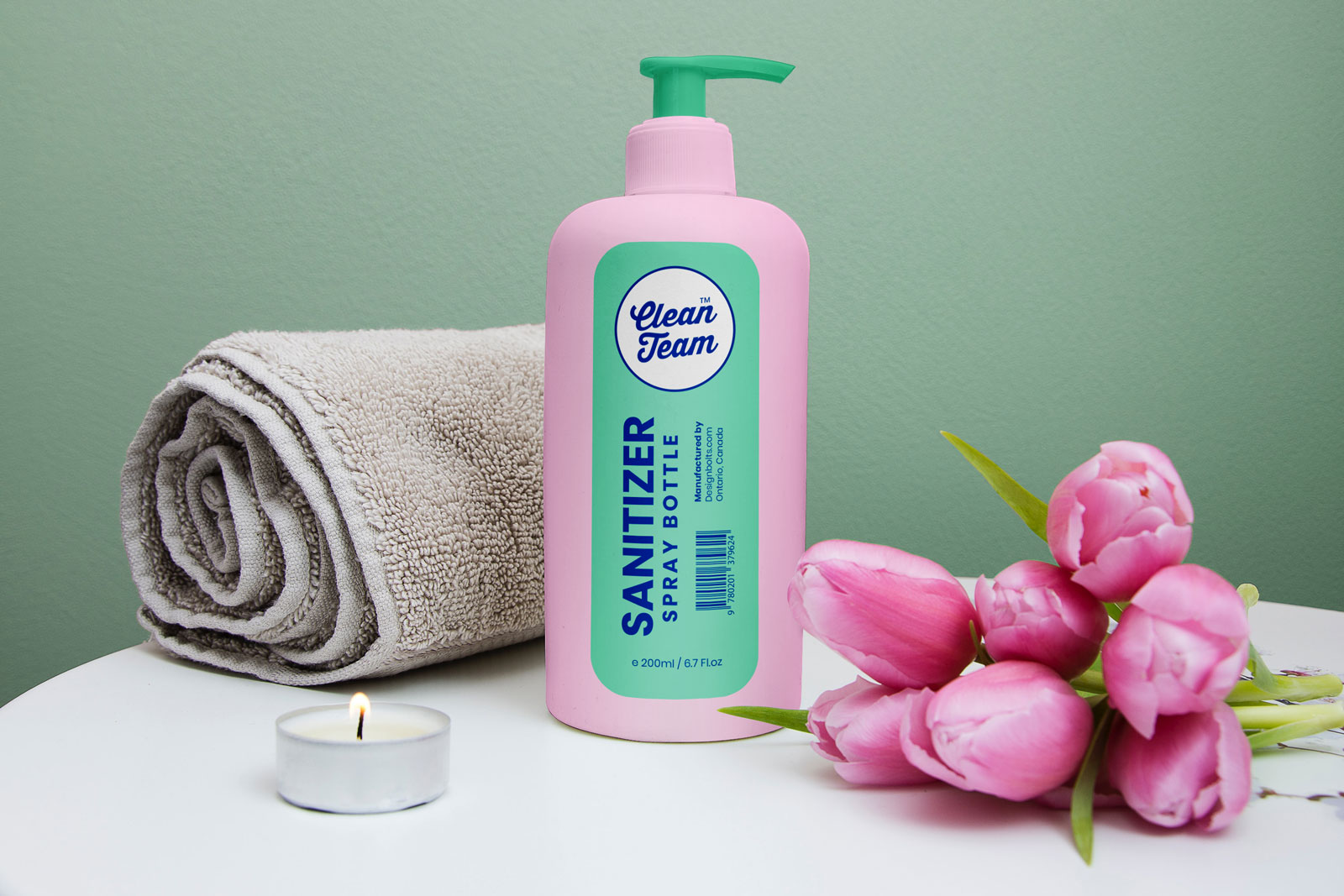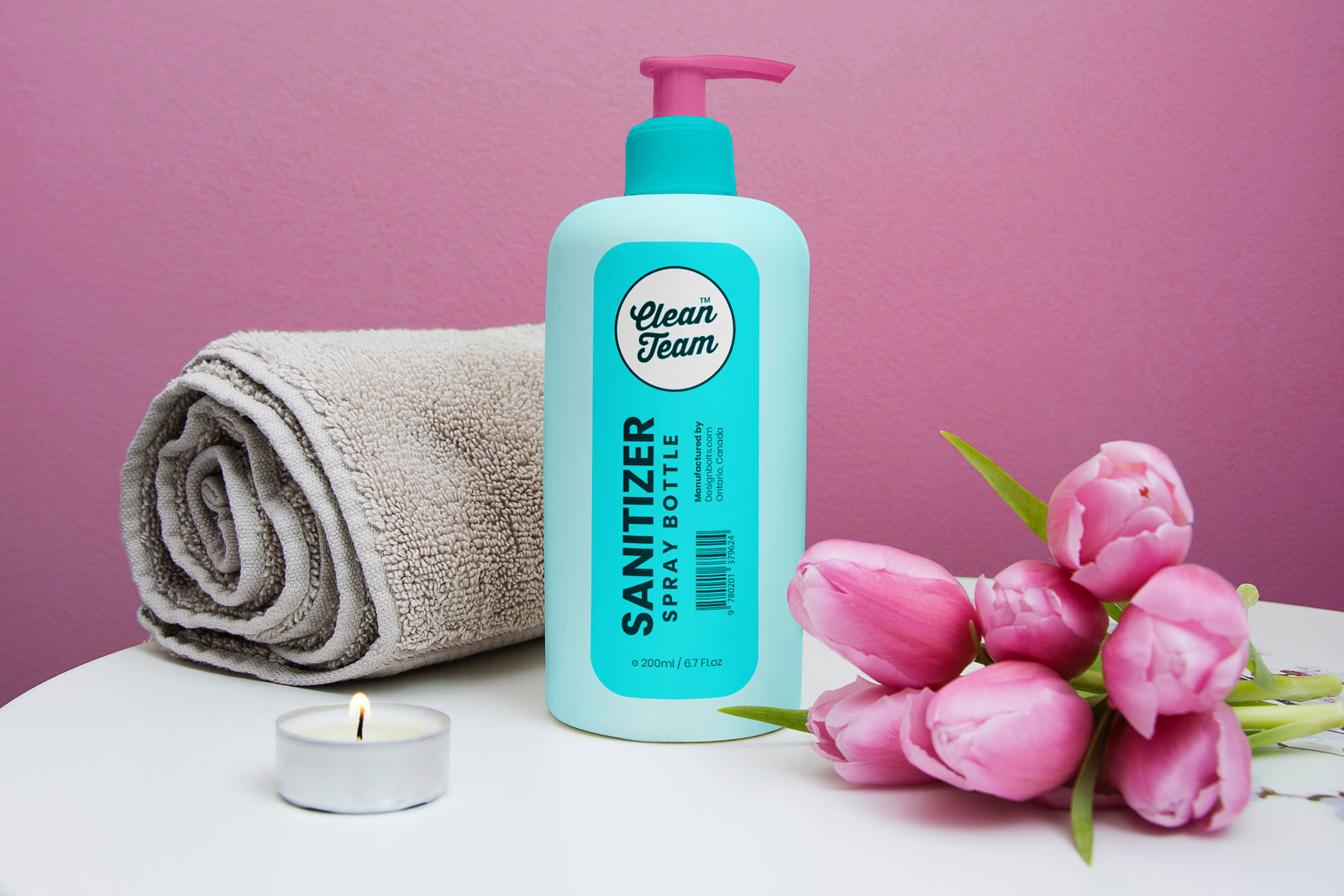 Available Format: Photoshop PSD
License: Free for personal and commercial usage
File Format: WinRAR
Mock-up Resolution: 3000 x 2000 px
Note:
1. Free Sanitizer Bottle Mockup is allowed to share online (A Must Linkback to this page)
2. Say thanks if you like or share/tweet with your friends. That means a lot to me.
3. And don't forget to follow or subscribe to receive more high quality premium freebies & awesome articles only.
Download Sanitizer Mockup
More Latest Free High Quality Bottle Mockups: