Hello there our passionate & creative graphic designers and lovely readers! A little birdie told us that you guys were waiting for a new blog to be shared so, here we are with yet another amazing read for all of you along with a unique mock-up PSD file which you know is all yours for free. Without any further ado, let's dive right in!
If you have been following our blogs for quite some time now then we are sure that you guys must be aware of the fact that we just love creating logos and sharing how that's done as well and for our today's blog, we decided to share a logo mockup PSD file on textured paper. Textured paper logos are becoming a thing (and for good!) as this doesn't only give a chance to the brand architect to experiment with newer techniques and trends but it also enhances the aesthetics of the branding. So, it is like whatever you do will be a win win situation for both the brand and the designers associated with it.
As you all know, logo is one of the most important 'factors' that can either make or break the brand and of course, no one would want to fail themselves or the brand own or are working with. In order to make things work in the best possible ways, we have to make sure that our logo remains the best part about the brand and it also gets rebranded if need be, you know to stay relevant in the game and to indirectly spread the message to the masses that you are well aware of the modern trends of marketing as well.
Logo for the textured papers is normally designed and rolled out for official documentation for example the letter heads and invoices that are to be sent to the clients and vendors for financial dealings as well as to carry out all the legal processes through documentation. And when we were working on the logo mockup PSD file, we made sure that it is fully editable for each one of you so that you can not only create your own logos but you also have the freedom to change the background or the textured paper as well.
Recommended: 20+ Best Logo Mockups
We have some super fun ideas to share with you guys and you can take inspiration from them so that your own company or your clients can have the best logos for your letter heads, notepads etc. Let's have a look at them!
Your textured can have literally anything when it comes to the textures for example; lines, patterns or may be brand relevant design elements as well.
Or you can choose a solid color in the background while keeping the logo embossed to create a more sophisticated look on the paper or anything for that matter.
In our mock-up PSD file, you will notice that we have used the gold foil as it looks amazing and is considered to be the best approach when it comes to corporate stationery and we will suggest you to keep it that way.
Also, whatever color & pattern for the background is shortlisted by you, you must ensure that it does not take it away from the logo itself which means that your logo has to be the first thing that grabs the attention in seconds. That being said, you also need to make sure that the finish of the paper as well as the logo is not rough or you know 'bad' otherwise it won't look nice.
Okay so, this happens to be our most favorite part of the blog because we know how important it is to create a mock-up presentation before having anything printed or manufactured on a large scale as this practice not only saves money but you are also in control of anything that gets released from your end for example; the budget for the paper, foils, number of items that have to be printed or published etc.
Make sure that you and your team members work on a nice and detailed mock-up presentation to share your concepts and design ideas along with the rationales with your clients or the brand team. Give them a realistic approach to see how their letter pads or logo is going to look like in real life so that they can make an informed decision before giving you a final go ahead.
That is for today, guys! We hope that with our free textured paper logo mock-up PSD file, you will be able to create nothing but the best logos for yourself and for your clientele. Don't forget to share your thoughts and feedback with us in the comments section down below and while you are at it, do share the blog with your favorite colleagues too!
Free Gold / Silver Foil Textured Card Logo Mockup PSD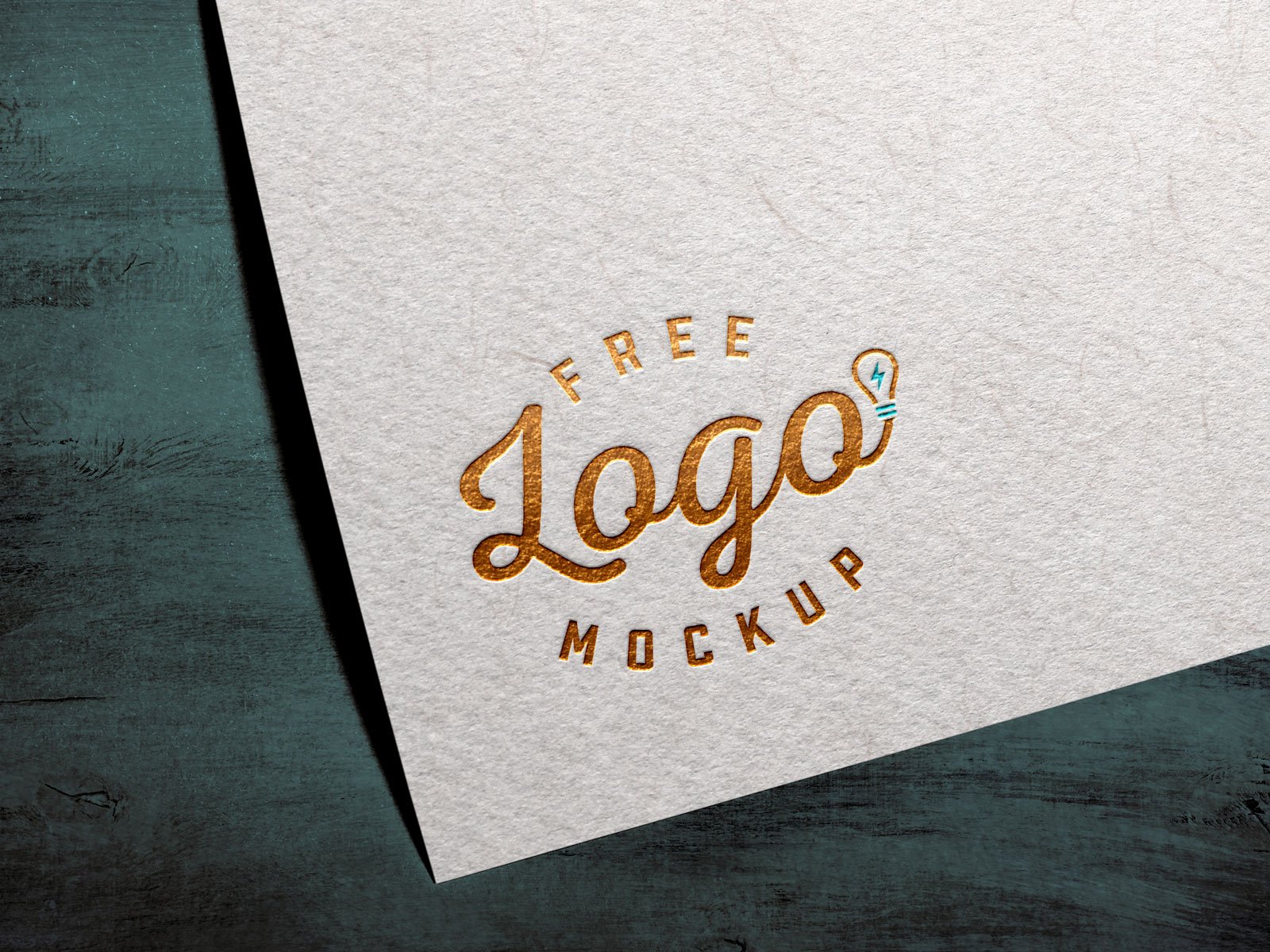 Available Format: Layered PSD with smart object insertion
License: Free for personal and commercial usage
WinRAR File Includes: Free Logo Mockup PSD
Mock-up Resolution: 3000 x 2250 px
Note:
1. Free Textured Card Logo Mockup PSD is allowed to share online (A Must Linkback to designbolts.com)
2. Say thanks if you like or share/tweet with your friends. That means a lot to me.
3. And don't forget to subscribe to receive for more high quality premium freebies & awesome articles only.
Download Logo Mockup
More Free Logo Mockup PSD Files: