Hi there guys! As you all know that Samsung launched their Galaxy S20 5G on February 11 this year and all the fans were more than happy to know that an amazing smartphone is about to hit the market. But as far as the artists, designers and developers are concerned, we have our own things to do whenever a tech company launches a new device that is smarter, more efficient and is all set to sweep the world off its feet. Those things include app and game designs, mock-ups for websites and the device itself and anything & everything that might bring business for a brand – any brand in one way or the other.
Now, Samsung is claiming that their Galaxy S20 5G is going to change how you photograph and we are here to tell you if that's true but first things first – this smartphone comes in 3 different models; Galaxy S20, S20+ and S20 Ultra. It has a 12MP Ultra Wide Camera, 108MP Wide-angle Camera and 48MP Telephoto Camera. In addition to that, it also has a Depth Vision Camera. What's so cool about the 108MP though? Well, it lets you pinch in. Again. And there is option to pinch in again so yes, the camera is that cool for you to take brilliant photos and shoot even amazing videos. Oh, and did we tell you that you can print your photos without having to worry about them getting pixelated!? Because that is also true!
With your Samsung Galaxy S20 5G's Space Zoom, you can literally zoom in 100x to take photos of the stuff you cannot imagine could be shot in those of photos of yours and trust us when we say this: we are more than just excited to see that happening. It has up to 10x Hybrid Optic Zoom and 100x Super Resolution Zoom. Honestly, what a great, great time to be alive, right?
Another best part about Samsung Galaxy S20 5G's cameras is that Samsung has tripled the sensor size which means that now you can shoot whatever you want to shoot and capture whatever you want to capture during night and your videos and photos will come out as great as anything else. Do you want to know how does that happen? Allow us to tell you that and more! So, the pro grade camera system of Galaxy S20 5G captures a number of photos at a time and then merges them into one shot that is less blurry and noisy. And that gives the person a chance to capture photos etc. as if they are doing it during day time.
Recommended: Galaxy Note10 & Note10+ Mockup PSD & Ai
You must be wondering about the selfies now, right? We will tell you how your selfies are going to be even more awesomer and the 40MP camera will help you staying ahead in your selfie game. Oh, and have you heard about the 8K Video because the new Samsung Galaxy S20 5G has that – the highest revolution video on a smart phone and we think that it is safe to say that Samsung is becoming the most fancy tech company to offer such amazing features and specs. on their devices.
Do you want to know how powerful the network is? Well, the Samsung Galaxy S20 5G offers download speeds up to 2.0Gbps on LTE and WiFi connections. And the all day battery is going to change the game for you as well. Ah, it is like the awesome stuff is not going to stop anytime soon and it might take us days to mention how cool this new smart phone is because it is and we know that we can't be the only ones who are waiting for this smart & steady device to be available in stores.
Recommended: Best Galaxy S20 Cases for Boys & Girls
But before we move on to the next big thing, we would like to tell you that with your Samsung S20 5G smart phone, you will forget the word 'delete' as the phone offers HUGE storage space which means that you won't be deleting your photos, videos, documents and apps to free up some space. Just by the way, the internal space is 128GB and you can expand it with a micro SD card up to 1TB – say whattt!!!?
And now, we are going to tell you why we created the free Galaxy S20, S20+, S20 Ultra 5G LTE mock-up PSD & Ai! So, you must be getting a lot of opportunities in order to cash on your design and development skills this year too and we want you to start off your projects with the Samsung's new smart phone. Check out the things, all the crazy things that you can do with this device and start working on your projects. From games and apps to incorporating the powerful camera and other features, we are sure that you will come up with great ideas.
Free Samsung Galaxy S20 | S20+ | S20 Ultra 5G LTE Mockup PSD & Vector Ai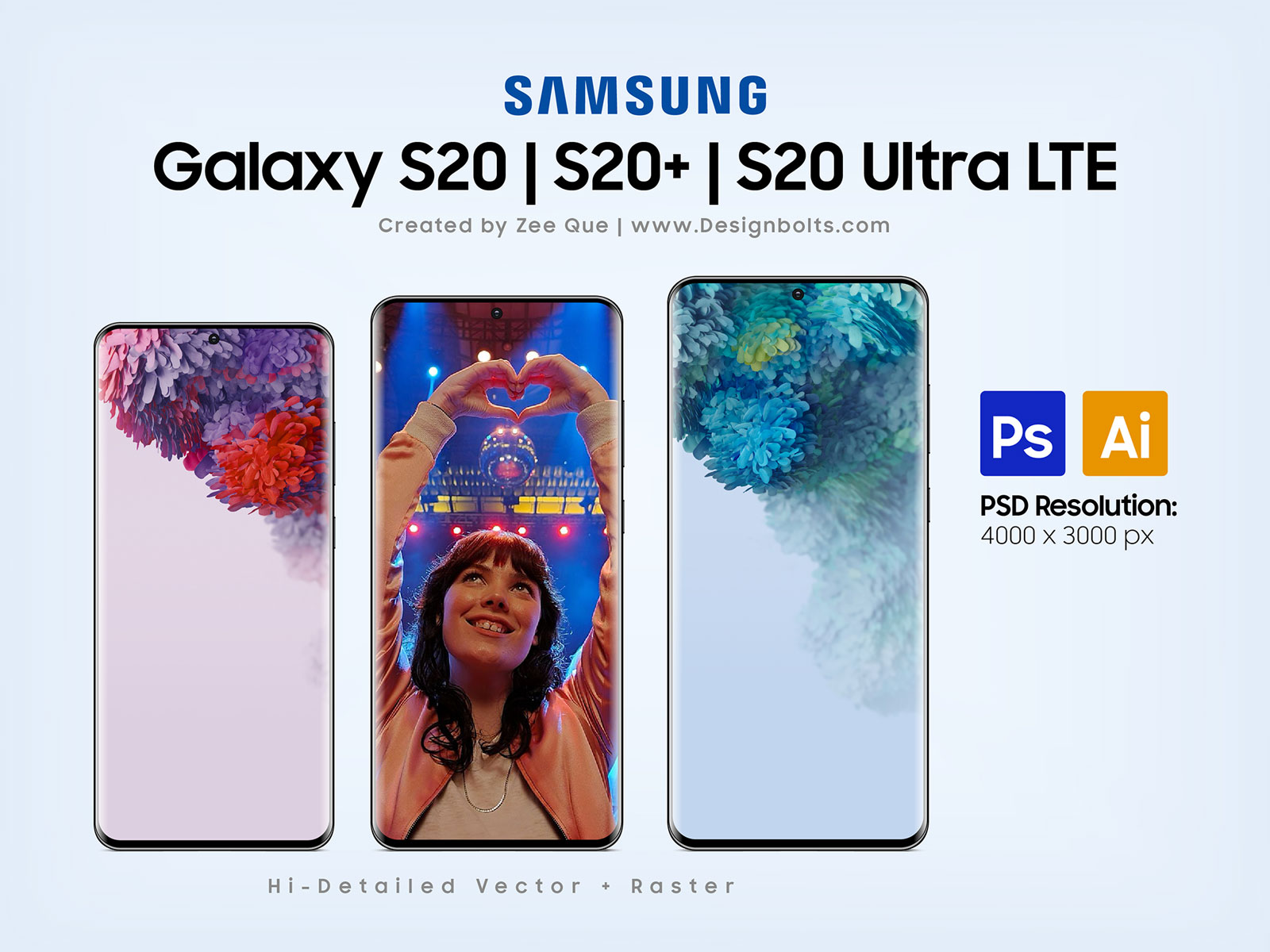 Available Format: PSD & Vector Ai
License: Free for personal & commercial usage
RAR File Includes: Free S20, S20+, S20 Ultra Mockups
PSD Resolution: 4000 x 3000 px
Note:
1. Free PSD & Ai Mockups are allowed to share online (A Must Linkback to this post)
2. Say thanks if you like or share/tweet with your friends. That means a lot to us.
3. And don't forget to subscribe to receive for more high quality premium freebies & awesome articles only. Unsubscribe anytime.
Download S20 Series Mockup PSD
Download S20 Series Mockup Ai
Recommended: