Hi there guys! We are so glad that all are having a great time reading our blogs and are also creating brilliant designs & art works for yourselves as well as for your clients. We are aware of the fact that most of you must be staying at homes as a result of the COVID-19 outbreak in many countries around the globe and to keep you all motivated, we would like to share that we are working on a few great blog topics and designs and we will keep sharing them with you from time to time.
For our today's blog, we decided to share different types of barcodes and free dummy barcode and QR code vector files so that you can get your hands on these super useful files and can work on them to create your own barcodes for your stores as well as for your clients' stores. But before we share how to work on our files, we would like to share why barcodes and QR codes even exist and why they are used worldwide. So, let's get started!
Barcodes are created and "used" as these codes are effective when it comes to tracking the products etc. and storing the information and keeping the data safe for a number of reasons. You can track your huge inventories through simple barcodes without having to ask humans to write product codes on each product separately. This also eliminates the chances of any human errors whatsoever and we think that, that's one of those reasons why you and your clients should always consider using barcodes.
For brands and organizations that have inventories which are so big that it can take days to categorize them if done by humans, it is always advisable to use barcodes so that the data is not only aligned and is on order but it also improves the entire system of inventorying. And the best thing about barcodes is that these are inexpensive too so that anyone can use them without having to worry about anything. Oh, and another good thing about using barcodes for your inventory is that you will also save time which may have been spent in training the team members so, there is that!
Recommended: Be More Creative While Using Barcode in Packaging
Let's have a look at the QR codes now and the reason why these types of codes became a thing. We think that the best definition of explaining what a QR code is that it literally stands for Quick Response Code and it can be scanned through a digital machine like your smart phone. Also, know that it is a barcode that we use in super markets etc. A QR code has a number of black colored squares and dots which are "designed" to represent information.
You must have seen that a number of smart phones have this option to scan the QR code through your camera and that's the reason why now you see QR codes on magazines, flyers, posters, tickets etc. too because innovation demands quick access to detailed information.
Recommended: 60+ Creative Barcode Designs
Now, let's have a look at the different types of barcodes that are widely used by organizations and websites free to generate barcodes: Do not forget to bookmark this page so you can comeback again to generate free barcodes in vector eps, jpg, pdf, png and gif. All of them provide vector barcodes
Types of Barcodes & Online Free Barcode Generator Websites:
It is important to note here that all these barcodes are created on type of 2D or Linear keeping in mind the usability and how the codes are to be used for work purpose and everything else for that matter. And we know that looking at a barcode might be confusing for a person who is a customer but the ones who create barcodes find it interesting enough to spend time on creating them.
By using our barcodes and free dummy barcode & QR code vector files, you will be able to create your own barcodes plan easily and effectively but there are a few more steps that you all need to follow to make that process a lot more smoother. First things first; you guys will need to create a barcode plan to execute it. Your next step is to create a Company Prefix (which just by the way, is an identification number and is usually created by an GS1 organization). This prefix helps companies create identification keys for logistics, trades, assets, locations, coupons etc.
After that you will have to assign numbers to categorize the products. Then you will have to decide a barcode printing process to ensure that the barcodes are printed perfectly. Now select the barcode, determine its size and also decide the format of the barcode as well. You can also pick a color to create your own customized barcodes.
And that's all for today! We hope that you will find this blog useful and will also be able to create your own barcodes and QR codes using our free dummy barcode & QR code vector files.
31 Types of Barcode Examples & Free Barcode & QR Code Vector File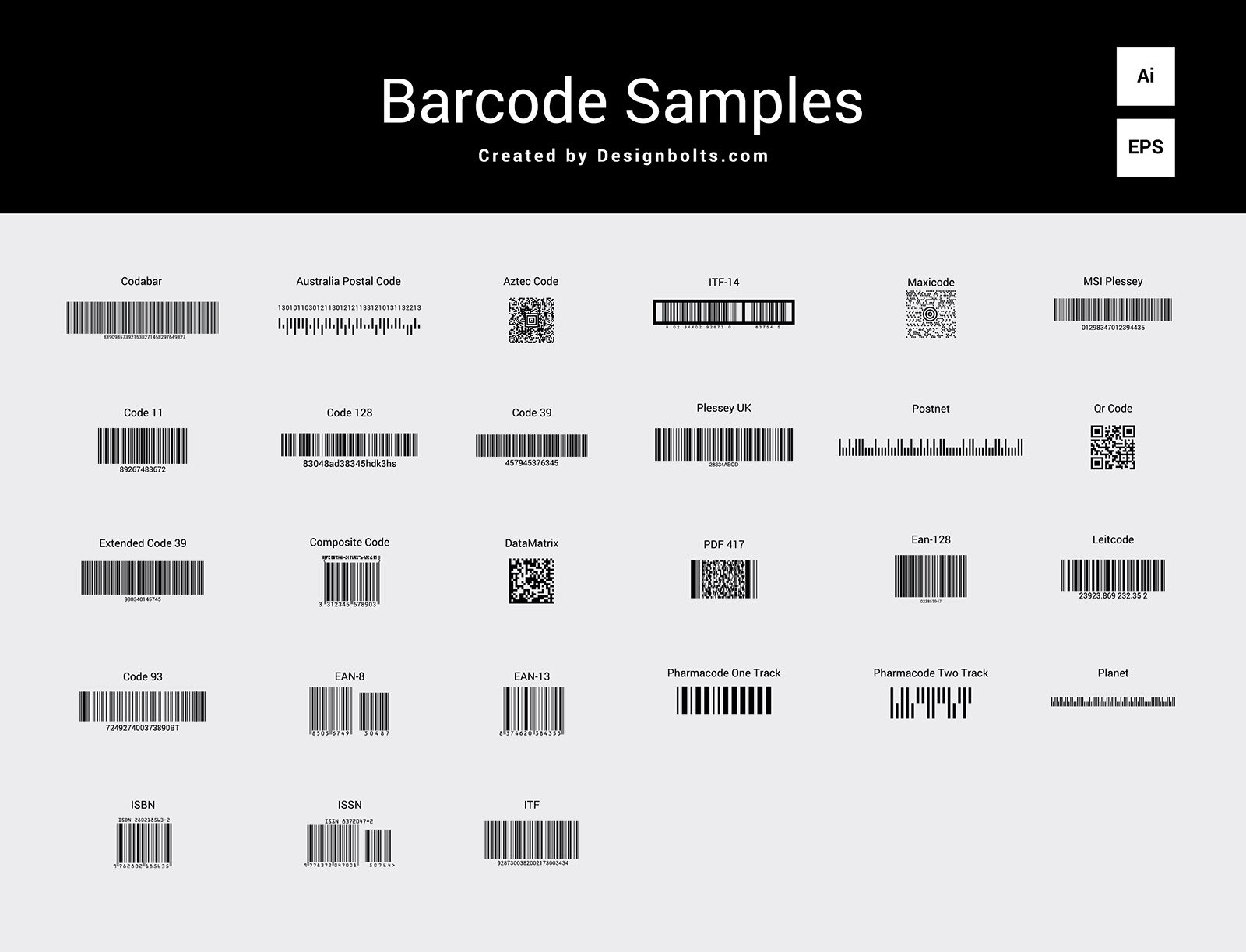 Available Format: Vector Ai and EPS
License: Free for personal and commercial usage
File Format: Zip
Note:
1. Free Barcode Samples are allowed to share online (A Must Linkback to this page)
2. Say thanks if you like or share/tweet with your friends. That means a lot to me.
3. And don't forget to follow or subscribe to receive more high quality premium freebies & awesome articles only.
Download Barcodes
More Free Useful Vector Files: