Hello there friends! First things first, we are really thankful to each one of you for always sharing your genuine and constructive feedback with us and for also spreading our content among your loved ones, friends and colleagues.
As you all know that many countries are getting back to live the new normal, it is also important for businesses and retail stores to revamp their branding and that could mean anything like at first, you would want to redesign/revamp the signage, shop fascia, banners and billboards and in the next stage, you would want to do the interior of the mall/store/shop etc. We'd also suggest you to keep the revamping in phases so that you do not overwork yourself.
And once you are done with bringing something new for your customers, you must also consider rebranding the shopping bags as well. Let us tell you that you won't have to go anywhere else as we have created this free hand holding shopping bags mock-up PSD file for you guys. Not only it is highly editable but with the human element, you will also be able to showcase realistic mock-ups to your team members and team lead as well as to your clients.
We literally keep all the shopping bags whenever we shop directly from a store because well, these shopping bags come in handy for more than one purposes like you want to carry your work snacks in something and you grab the nearest shopping bag and put your stuff in it or you want to use the super pretty ones to carry your best friend's gift in it, you know.
Recommended: 50 High Quality Free Shopping Bag Mockups
Creating new designs for any business is fun especially when you happen to have a message to share with your existing and potential customers for example; you would love to hear from your customers, their feedback or suggestions so, you give out a nice message right there on the shopping bag so, that wherever it goes anyone who sees it will know how to reach out to you. You can also share tips with your customers regarding the Coronavirus and how one must be careful especially while they are out & about and shopping because that's one of those messages that need to be shared – at times, on a daily basis.
There are several other cool things that you can do to make even your shopping bag the talk of the town. Have you guys ever shopped anything because of how nice the packaging was? Know that at this point you haven't heard of the brand or this very product. We can bet that we are not the only ones. Then come the shopping bags, we have always found them interesting as they can speak to your potential customers in an effective way so how about you make it worth their while?!
You would know (by now) that there are no hard & fast rules to design anything – not even when you receive a lengthy brief from one of your clients. We believe that a free hand must be given to the creative and design team so that they can come up with ideas without any limitations or restrictions per say. When you give the relevant teams an open ground to play on, they create things that are not just out of the box but they are so good that you won't be able to ask for any revisions whatsoever. Trust your design team and they will prove how great they are.
Moving forward, we have a few super amazing design tips to share with you guys that can help you in creating some stunning shopping bags for your own brand or for your client's. Continue reading to know more!
We will start from the top, the handles – normally they are kept in one color and typically, jute is used to serve the purpose as it is cost effective too. In our free hand holding shopping bags mock-up PSD file, we are also showcasing bags with jute handles because they look neat and really bring out the subtlety. Also, it is easy to handle too. If you want, you can pick a color that resonates with your business and see how it will look in real life by creating a mock-up of that very design.
Now, the bag itself. No one has ever said that your shopping bag has to be plain – although if your budget does not allow you to spend a lot of money on using multiple colors, finishes etc. Then that's fine too but if you have the budget to go creative then be creative – be as creative as you can be to design your shopping bags. From typography to foil printing to colorful patterns and design elements, you can add whatever you feel will look awesome on the shopping bag design and you'll be good to go.
Create at least three to four different designs of the shopping bags, add them in a nice mock-up presentation and then share it with the concerned team members. Also, feel free to share our blog and free hand holding shopping bags mock-up PSD file with your favorite colleagues and friends!
Free Excited Man Hand Holding Shopping Bags Mockup PSD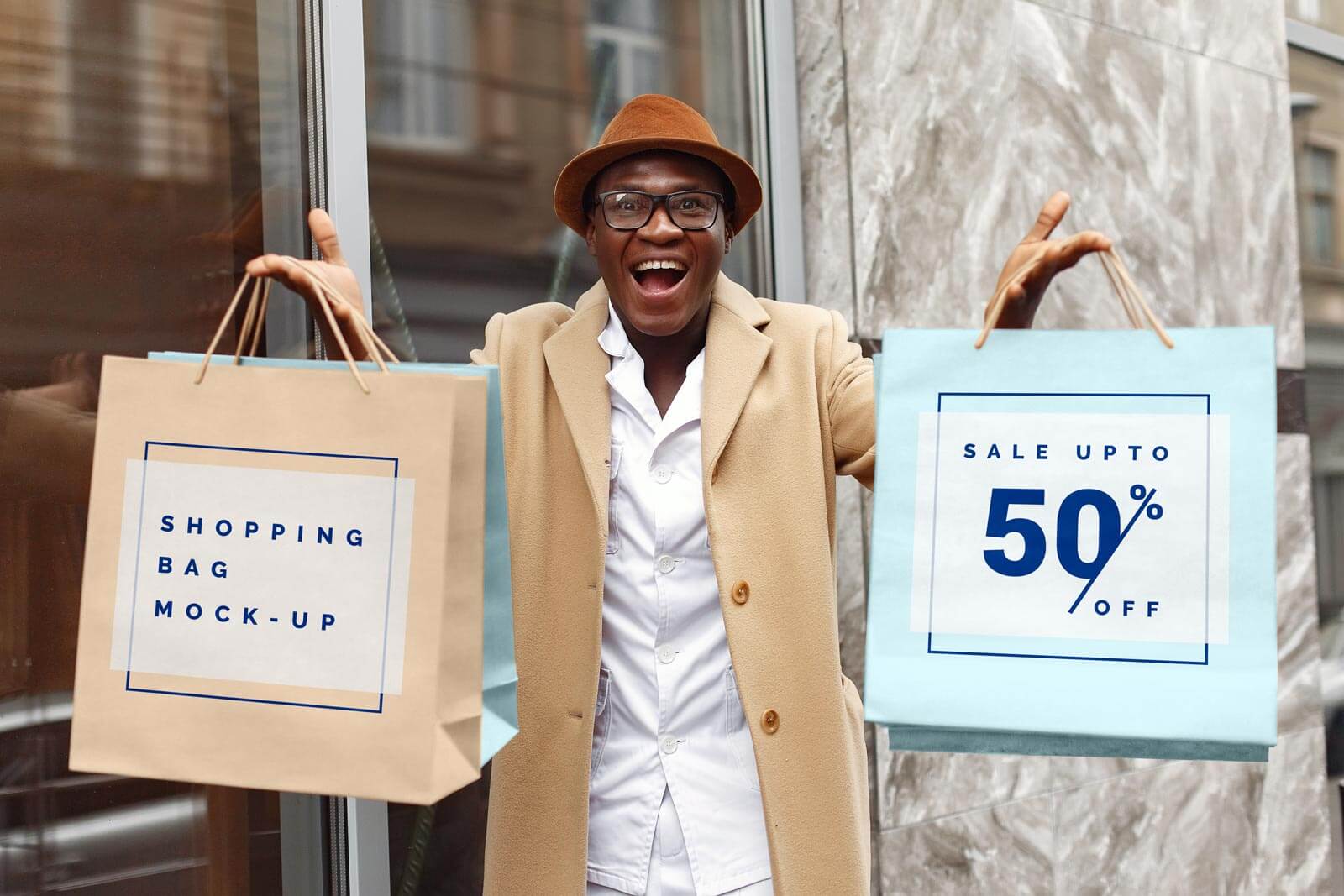 Available Format: Photoshop PSD
License: Free for personal and commercial usage
File Format: WinRAR
Mockup Resolution: 4500 x 3000 px
Note:
1. Free Shopping Bag Mockup is allowed to share online (A Must Linkback to this page)
2. Say thanks if you like or share/tweet with your friends. That means a lot to me.
3. And don't forget to follow or subscribe to receive more high quality premium freebies & awesome articles only.
Download Shopping Bag Mockup
More High Quality Free Shopping Bag Mockup PSD Files