Hi there everybody! We hope that your work life is treating you well and that you are having a great time generally too. Since the weather has started to change everywhere in the world, we also hope that you guys are taking good care of yourself too. As far as the work is concerned, don't forget to take breaks so that you can go back to your work and actually enjoy it as well. And if your break consists of reading one of our blogs, then that is the wisest decision to make as today, we are going to be talking about more on the window pouch packaging for almonds, so let us get started!
If you follow us regularly, you must have read our blog on Free Window Pouch Packaging Mockup PSD and the benefits of going for such an interesting packaging type. And for our today's blog, we thought to start with something unique for the same packaging design that you can use for your personal and commercial design projects. By creating a free window pouch almond packaging mock-up PSD file, we are sure that we will be to guide you all through the process of packing and selling nuts in style.
As you know that packaging designs play a crucial role in making or breaking a brand – any brand. It does not matter how big or small the scale of the business is, if you know how to grab your audience's attention through communication and packaging, you have already won the game. We are saying it because a packaging design is the first thing a customer gets to interact with.
Recommended: Free 80+ High Quality Packaging Mockups
Your potential customers might watch your TVC or DVC, they will see your ads on YouTube and Instagram too and if they are interested, they will find you in the stores as well. But the thing that still has to perform is the packaging itself, and that is when a potential customer decides to invest in your business or to ignore it. And if you are actually good that the customers would want to purchase a thing or two, the unique taste, amazing quality etc. are the characteristics which will make them your loyal customers. Honestly, it is that simple and all you have to do is to be unique and be confident about how you do your thing.
There are still a few things that you must know about window pouch packaging so that you can create them for your own business or feel free to suggest them to your friends, business partners, clients etc. The best thing about window pouch packaging designs is that the product can be seen clearly and upfront. Your customers will find it easier to check the freshness of what you are selling by looking at it and if the quality is intact, so is the freshness, they would love to get a pack or two.
In addition to the above mentioned benefit of window pouch packaging, you must know that you get to save a lot of money too as this type of packaging is cheaper to produce and super easier to handle as well – be it at the warehouse or the stores. These window pouches take less space, can be made to stand in the aisles which makes it convenient for the store managers as well as for the customers to easily pick the pouches and put them in the trolleys etc.
Another thing that you must know about window pouch packaging is that these pouches happen to gain instant and more attraction as they stand out in the aisles and the customers make an effort to get to those products that are sold by keeping in mind the factors of ease and convenience. Also, window pouches keep food items safe and fresh for longer periods of time. You can use puncture resistant films to protect the items that are in the pouches like almonds if we are to mention the item for this particular mock-up PSD file.
Now that we have mentioned a number of advantages that you can avail through window pouch packaging designs, we are going to suggest you make the most of this packaging style as well. It is cost effective, it helps you manage the inventory without any hassles, it keeps your product(s) fresh, and it is one of the sustainable packaging options that are available in the market. With the reusable zipper, your customers can reuse the pouch for storing some other items as well.
So, what are you waiting for? Get your hands on our free window pouch almond packaging mock-up PSD file today and start creating designs for yourself. And if you liked the blog, do share it with your colleagues and friends as well and we will see you guys next time around with something even more exciting and fun.
Free Window Pouch Almond Packaging Mockup PSD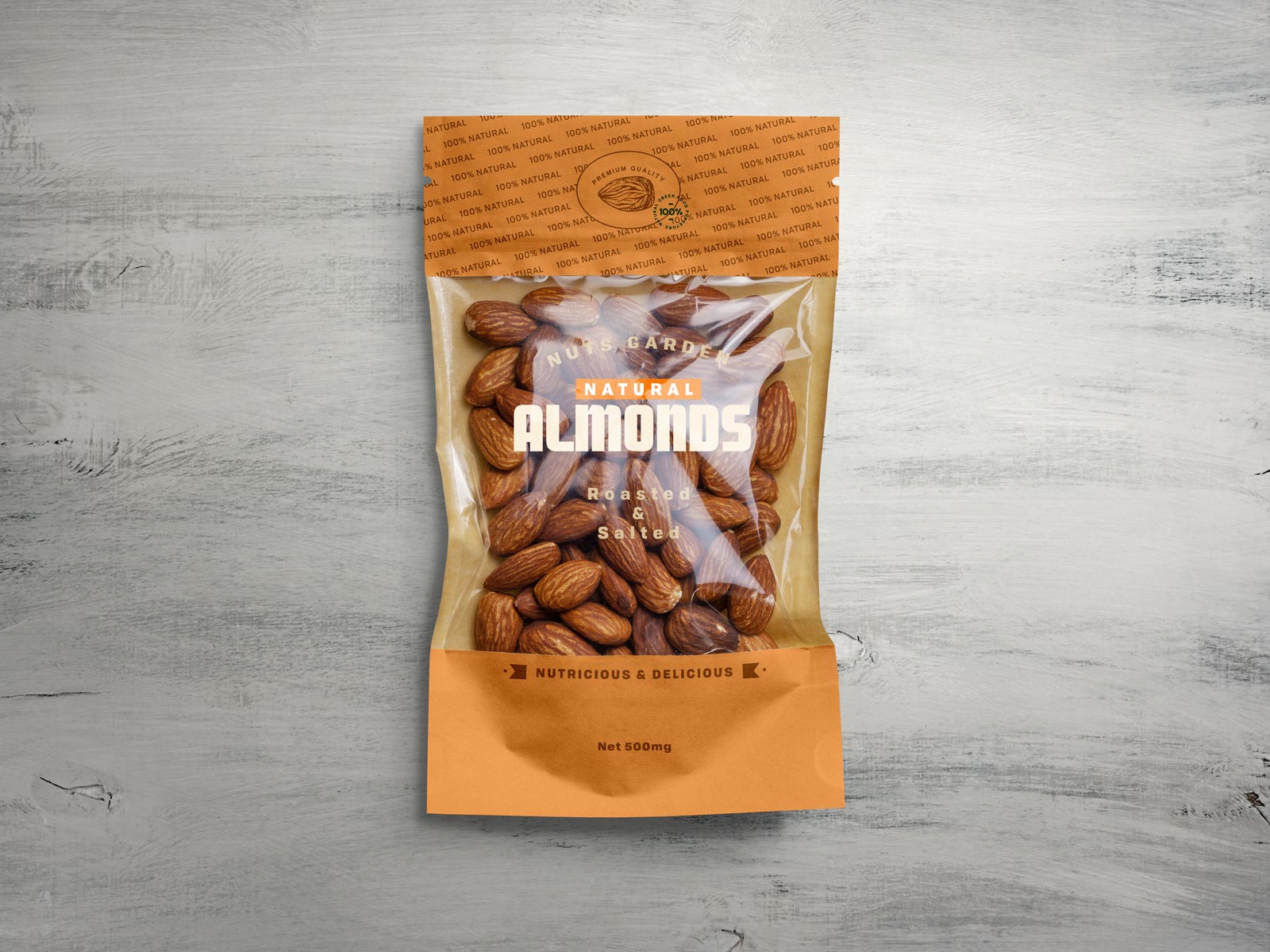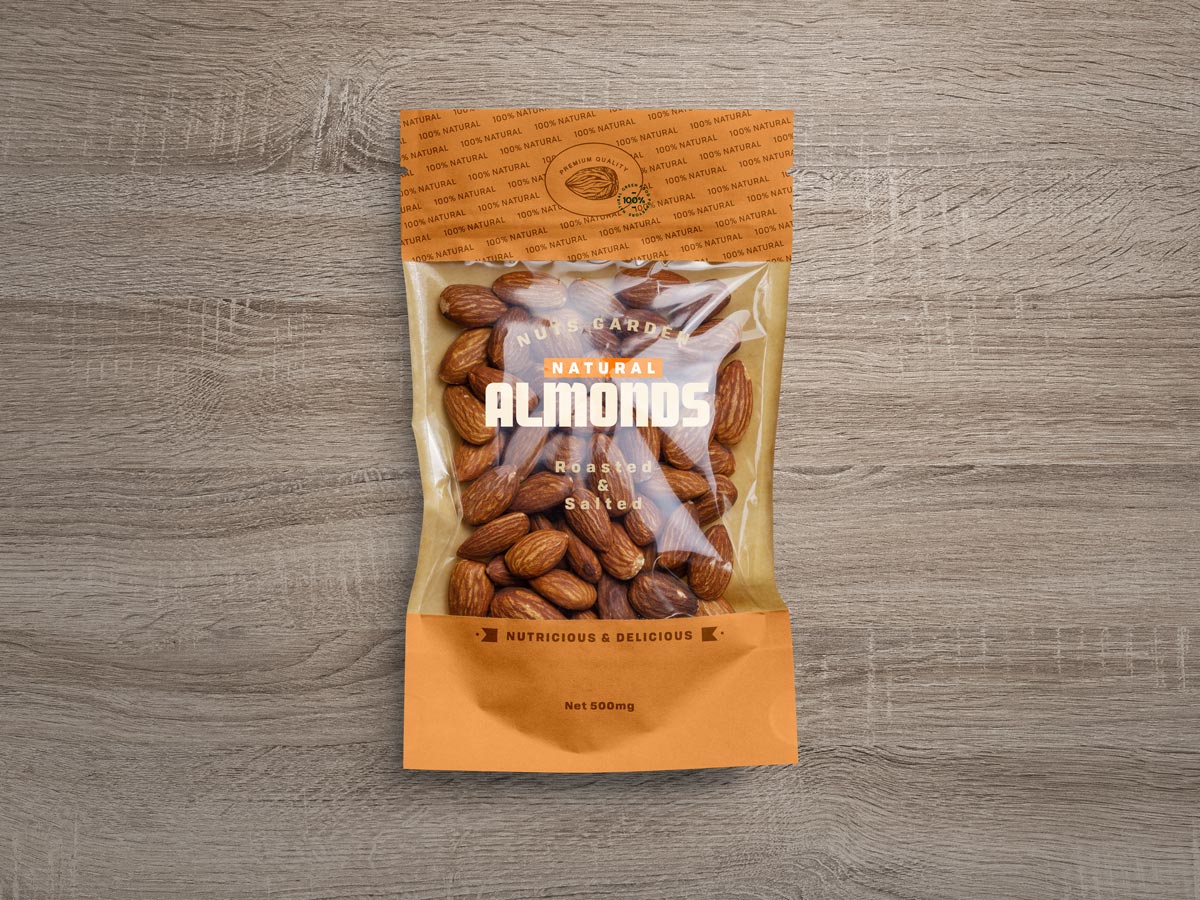 Available Format: Layered PSD with smart object insertion
License: Free for personal and commercial usage
Zip File Includes: Free Window Pouch Packaging Mockup PSD
Mock-up Resolution: 4000 x 3000 px

Note:
1. Free Mockup PSD is allowed to share online (A Must Linkback to designbolts.com)
2. Say thanks if you like or share/tweet with your friends. That means a lot to me.
3. And don't forget to follow or subscribe to receive for more high quality premium freebies & awesome articles only.
Download Window Pouch Mockup
Recommended: