Hi there everyone! We knew that you guys must be waiting for something as great as our logo designing tips and a free mock-up PSD file as well so, here we are with everything that you would need to know and work on for your upcoming design projects. But first things first; we will take this moment to thank you all for your constant support and for always making sure that you are sharing our content with your loved ones. It feels amazing to know that we have got super creative readers and artists like you here who know how to make the most of everything that is shared here.
As you all know that logo is one of the most crucial design elements that can make or break a business and keeping in mind that, it is very important to make sure that you have everything on point. Never take your logo designs for granted and never be like that person who wants to keep it changing after every year – because logos don't work like that. You have to be consistent with the tonality and the brand image that you wish to create otherwise your audiences won't be able to connect with you and would want to switch to a business that's more consistent with their corporate communication.
Although, there are many different ways to initiate the process of a logo design but the most effective one is where you do your thorough research first and then start creating the designs practically. In this part of our blog, we will share our tried and tested and of course, effective design tips and tricks that can help you create a bunch of successful logos and branding campaigns in no time. But you must also know that great things don't happen on their own, they happen when you have the attitude of a go getter and a passion to keep doing better.
For a logo design; you first need to understand your audiences. If you are a brand that has their outlets etc. across the globe, then you might need to keep it diverse so that anyone and everyone can know that you will be there for them to fulfill their respective needs. When we say get to know your audience, what we mean is that you should know about their age groups, genders, preferences when it comes to trying out or using the product that you are selling, their socio-economic status as well as their buying cycles. All the data that you will gather through your research will help you determine color tones, communication tonality, platforms to go live with the products like online shopping stores, physical stores, pop up stores etc.
Everything that you will design has to depict the brand – there are no ifs and buts for that. If your logo design cannot define your business, it won't work for you. Work around all the ways to see how it goes for your business without having to have a person who can explain what your business is, what products you have and what kind of services you offer. At this stage, you can be experimental and go for online / on-ground surveys to get the opinion of people who matter that is your existing or potential audience.
You can not and must not go with the first idea that come to your mind to design the logo. Think of as many things as you can and then decide what approach you want to go with. Also, for logo and branding design, you must take a couple of weeks before you share the creative thought process and final designs with your team lead, clients etc. Always, always, always remember that your logo will set the course of your branding so, it should be perfectly amazing. Also, while you are at it, it is your job to find out what the competition is doing. If you are coming up with an idea that is actually unique and you would be the first one to introduce the solution for a problem, then you are good to go but if there are other brands in the market of the same category as yours, then you will have to put forward nothing but something that is actually going to keep you ahead in the game.
Now that you have read the blog up till here; we would also like to mention it here that you must keep your logo simple – don't go for complicated designs, bright colors and fonts that are too hard to read otherwise your designed logos won't get read / recognized. That being said, we want to encourage you to use our free logo mockup PSD file to create as many versions of logos as you can in order to end up with the best version for your business(es). Be open to experimenting with modern techniques, trendy colors palettes and styles to create your logo and we can bet that you'll be able to create something super fun & exciting.
Free Close-up Logo Mockup PSD (For Colored Logos)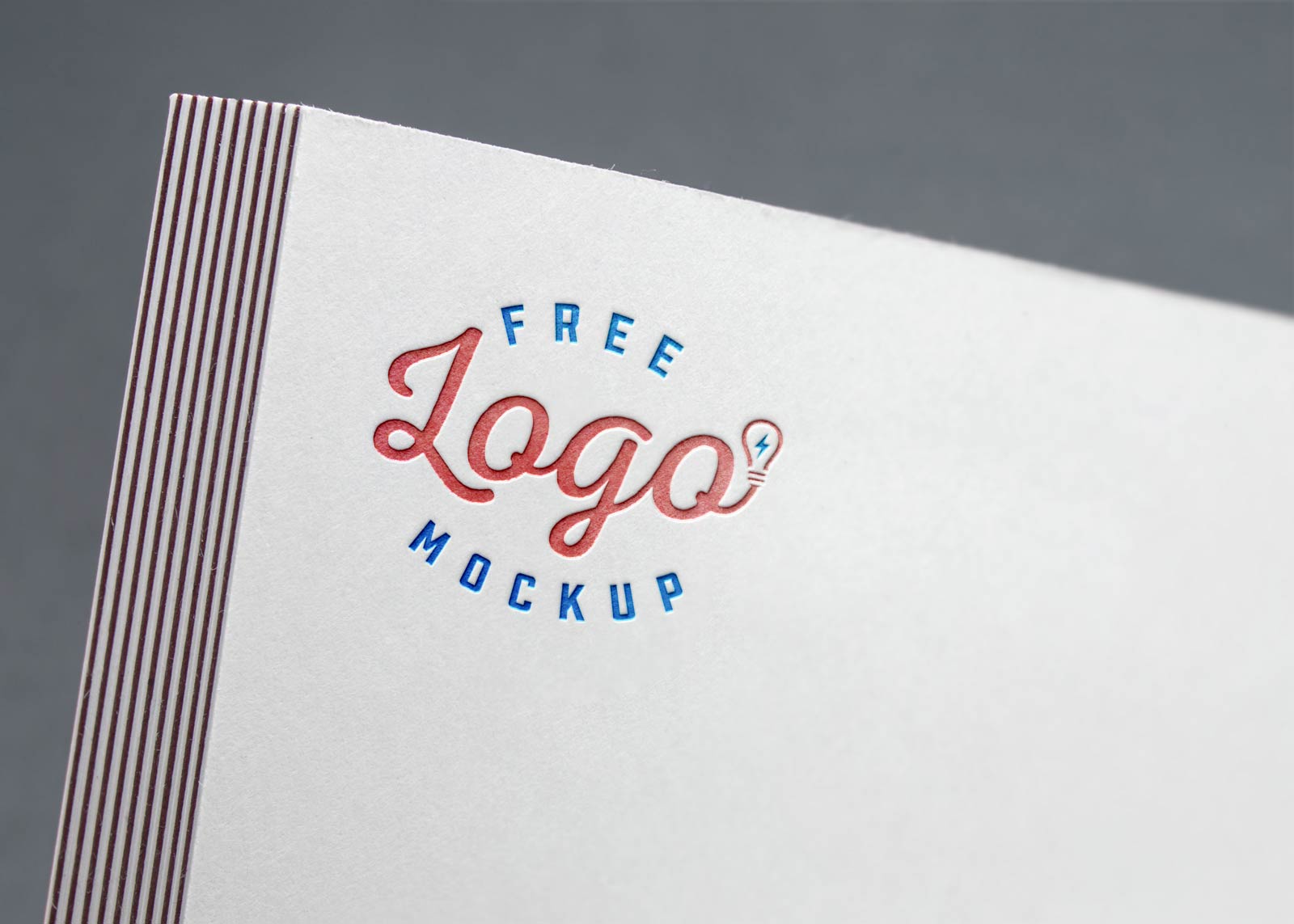 Available Format: Layered PSD with smart object insertion
License: Free for personal and commercial usage
WinRAR File Includes: Free Logo Mockup PSD
Mock-up Resolution: 3500 x 2500 px
Note:
1. Free Closeup Logo Mockup PSD is allowed to share online (A Must Linkback to designbolts.com)
2. Say thanks if you like or share/tweet with your friends. That means a lot to me.
3. And don't forget to subscribe to receive for more high quality premium freebies & awesome articles only.
Download Logo Mockup
More Free Logo Mockup PSD Files: