Hi there, hello there! Here is to hoping that your new year started well and that all are planning to achieve great things this year. One of the things that you must be doing throughout the year is to keep supporting us (no matter what!) and keep sharing our blogs and content ideas with the people you love, and work with. We are very excited for our today's blog and we can bet that you must be waiting for something like this too so get ready for all the tips & tricks that you guys will need to work on our free yet highly editable white iMac mockup PSD file.
As you all know how important mock-ups and their presentations are so, we worked on something that is more closer to reality and can also let you present a realistic approach in front of your team members and lead as well as your clients. Always remember that at times; it is a well designed mock-up presentation that can get you to the next step which could be anything like bagging the deal – from where you all will be able to execute the designs in their physical form. So, we would like to mention it here one more time that never underestimate the power of a well designed and explained mock-up presentation because it is the key to your project.
There are a couple of amazing things that you must know about the latest iMac in order to design or develop ideas into reality and we are going to talk about them in this section of our blog:
With its 5K Retina display that supports 5120 by 2880 resolution as well as one billion colors, 500 nits brightness and True Tone technology which is also configurable with nano-texture glass, iMac is one of the best screens and desktop computers to exist and we can bet that in this year as well, Apple will launch something more powerful for its customers throughout the world. Depending on the budget, you can get a processor of your choice in your iMac which is available in three different options that are:
1GHz priced at $1799
3GHz priced at $1999
8GHz priced at $2299
This does not end here because obviously with the variations in prices and processors; you also get to decide how much storage you will be getting for example; 256GB and 512GB which you can also enhance through a 1TB or 2TB SSD (for 3.3GHz) or through a 1TB, 2TB, 4TB, or 8TB SSD (for 3.8GHz). Then there is Wi-Fi connectivity as well as with Bluetooth so you can not only work without having to worry about connecting multiple wires or devices etc. but you can also design games, websites etc. that can work on a machine as powerful as iMac, you know.
Although there are built in apps on iMac and you can legit get things done in like minutes and we think that it goes with our fast paced life routines as well but there is more to it for example; you can work on newer and more innovative ideas in order to get things going. We are sure that you would know that there will always be something required from the tech based companies to introduce platforms, apps etc. that can make the work as well as personal lives easier and convenient for the masses so, you might want to design something that is not there, something that you have always wanted to work on an efficient machine using better technology and trust us when we say this: you have to take this as a sign to start working on something like that in this year. If you wish to discuss the ideas further, you can always get in touch with us and we will help you polish the ideas in a more effective and better way.
Using the mock-up PSD that we have created of the (white) iMac, you can utilize it for literally anything and everything that you would want to showcase like backgrounds and wallpapers, web applications, desktop games, project management apps and other things that you think would be super beneficial for the masses so use the mock-up PSD file however you would like to use it for your personal and commercial design & development tasks.
That is all, folks! We hope that you had a great time reading this blog and that you have already thought of all the ideas that you are ready to execute on our free white iMac mock-up PSD file. Before we conclude this blog, we would just like to say that do share your feedback with us in the comment section and while you are at it, feel free to share the blog with your friends and favorite colleagues as well and we will see you next time with one of your requested content or mock-up idea.
Free White iMac Mockup 2022 PSD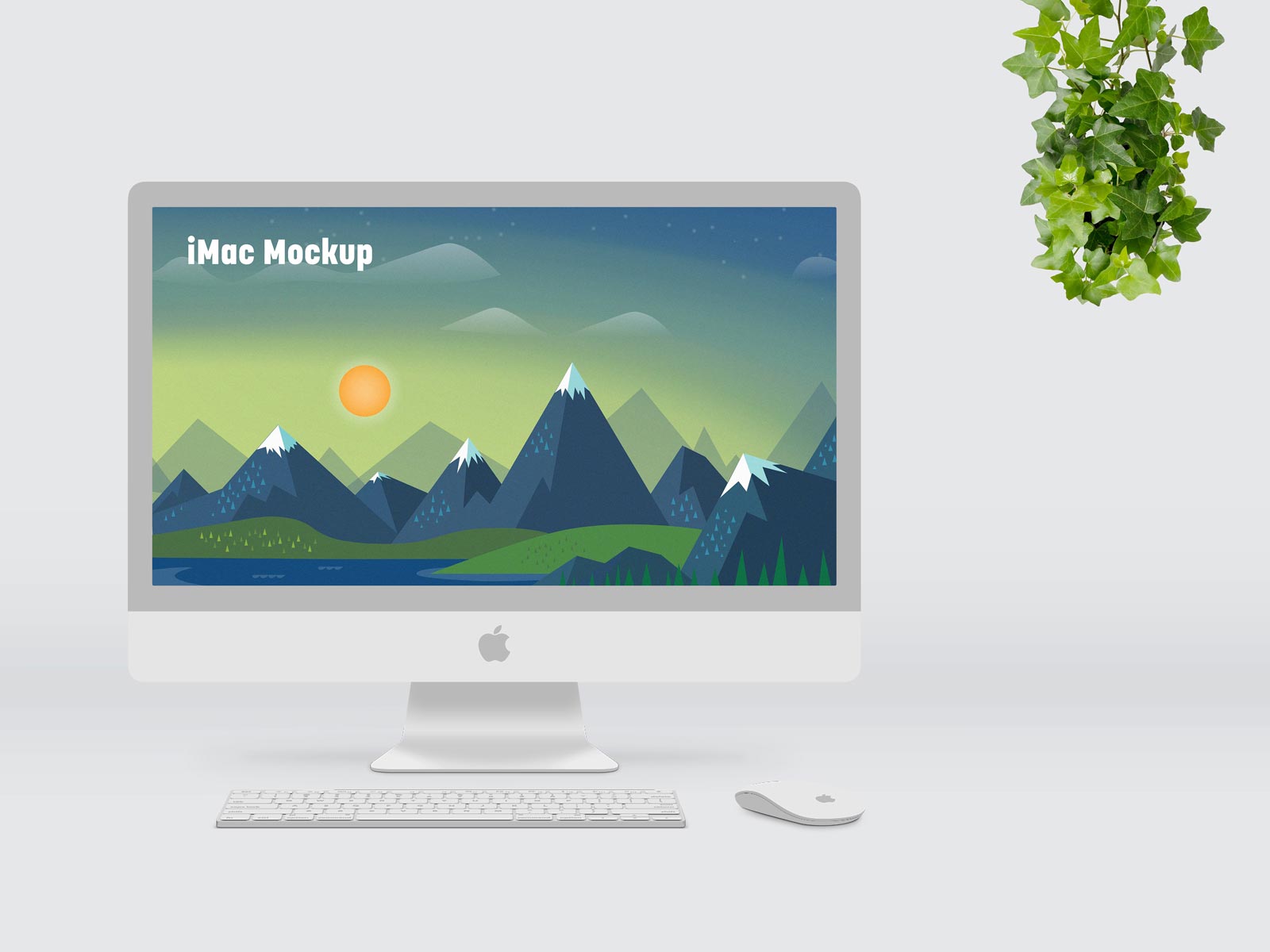 Available Format: Photoshop PSD
License: Free for personal and commercial usage
File Format: WinRAR
Mockup Resolution: 4000 x 3000 px
Note:
1. Free iMac Mockup is allowed to share online (A Must Linkback to this page)
2. Say thanks if you like or share/tweet with your friends. That means a lot to me.
3. And don't forget to follow or subscribe to receive more high quality premium freebies & awesome articles only.
Download iMac Mockup
More Awesome Free Website Mockups: