Hi there, everyone! We hope that you all are keeping safe and that our useful blogs, highly editable mock-up PSD files, and creative tips & tricks are also helping you with your personal and commercial design projects. For our today's blog, we have created this free paper shopping bag mock-up PSD file and we are going to share how you can create your own designs and more so, make sure that you read the blog till the end.
Before we start talking about the hard core design stuff and how you can creatively incorporate your ideas into making stunning paper shopping bags, we would like to ask you guys an interesting question: have you ever shopped from a place *only* because you wanted to get your hands on their shopping bags? We know we have and that is because those bags looked so good to us, that we had to make that move – also, it is not like we didn't (really) want to get something from them, but the paper shopping bag was too pretty to ignore. And that is how it should be, to be honest.
You must be wondering how that logic works but what we really mean to say is that your packaging and everything else that you have created such as shopping bags etc. needs to be so attractive that people cannot resist getting a thing or two from you. We also want to mention here that while you will be reading this, you might feel that it is something very hard to achieve and all but trust us when we say this; the moment you will work on your ideas and designs with the approach of hitting right there where it's supposed to hit, you will see great things happening for you and your business, etc.
Always remember that no matter how big or small your business scale is – if you are putting stuff that speaks to your customers effectively and that has the power to help them make a decision even if it is an impulsive one, you will notice that your business has reached a point where you needed it to be and that's what matters the most, right? So, in this part of our blog, we will share how you can create amazing and effective designs of paper shopping bags using our free mock-up PSD file.
Recommended: 50 High Quality Free Shopping Bag Mockups
First things first; you need to think of as many ideas as you can to keep the designs interactive for example; if you have the budget to create something that will help the customers stay in touch with your brand in one way or the other, you must go for it. Such ideas can cover games for the adults or the kids, creating origami art out of the paper shopping bag, you can also go for a material that can be used to plant something and so much more. But if you feel that you do not have that much of a budget; even then you can create something that will become the talk of the town such as: encouraging recycling through your communication, or by offering them discounts if they will bring that very paper bag back or also by allowing referral points and more.
We can tell that there are days when you do not feel like having a couple of creative ideas and we also know that deadlines wait for nobody – no matter what. In addition to that, we are also aware that almost everyone wants to work on stuff that no one else has worked on before and when you have that attitude, you must know that you are on the right track. Never forget that creativity cannot be forced so, it would be okay if your first brainstorming session on how to create impressive paper shopping bag designs does not go well.
We are saying that because there will be a day when you *will* have something more than just brilliant to work on so keep thinking, keep exploring, and keep experimenting and you will see that you have actually made something that you will be proud of in years to come. Never restrict yourself – think free and design and we can bet that you will be happy with your work by the end of the day.
That is all for today from our end, you guys! We hope that you had a great time reading this blog and that you will also utilize it as much as you can in order to create something fun for your personal business or for a client that you are working for. And if you do, feel free to share your creative and design journey with us and while you are at it, don't forget to share the blog with your favorite colleagues too.
We will see you guys next time with something super nice and fun to read very soon.
Free Floral Paper Shopping Bag Mockup PSD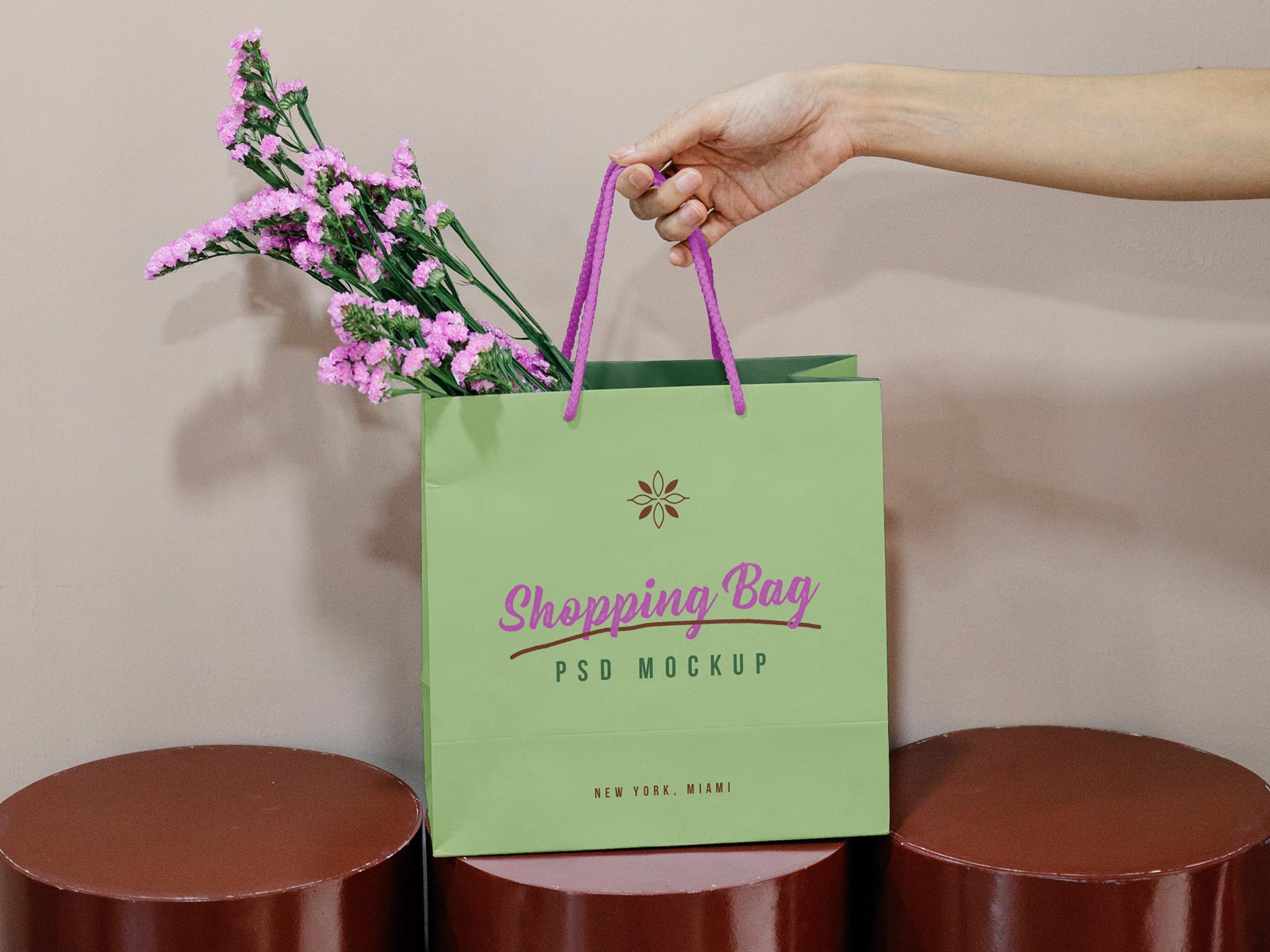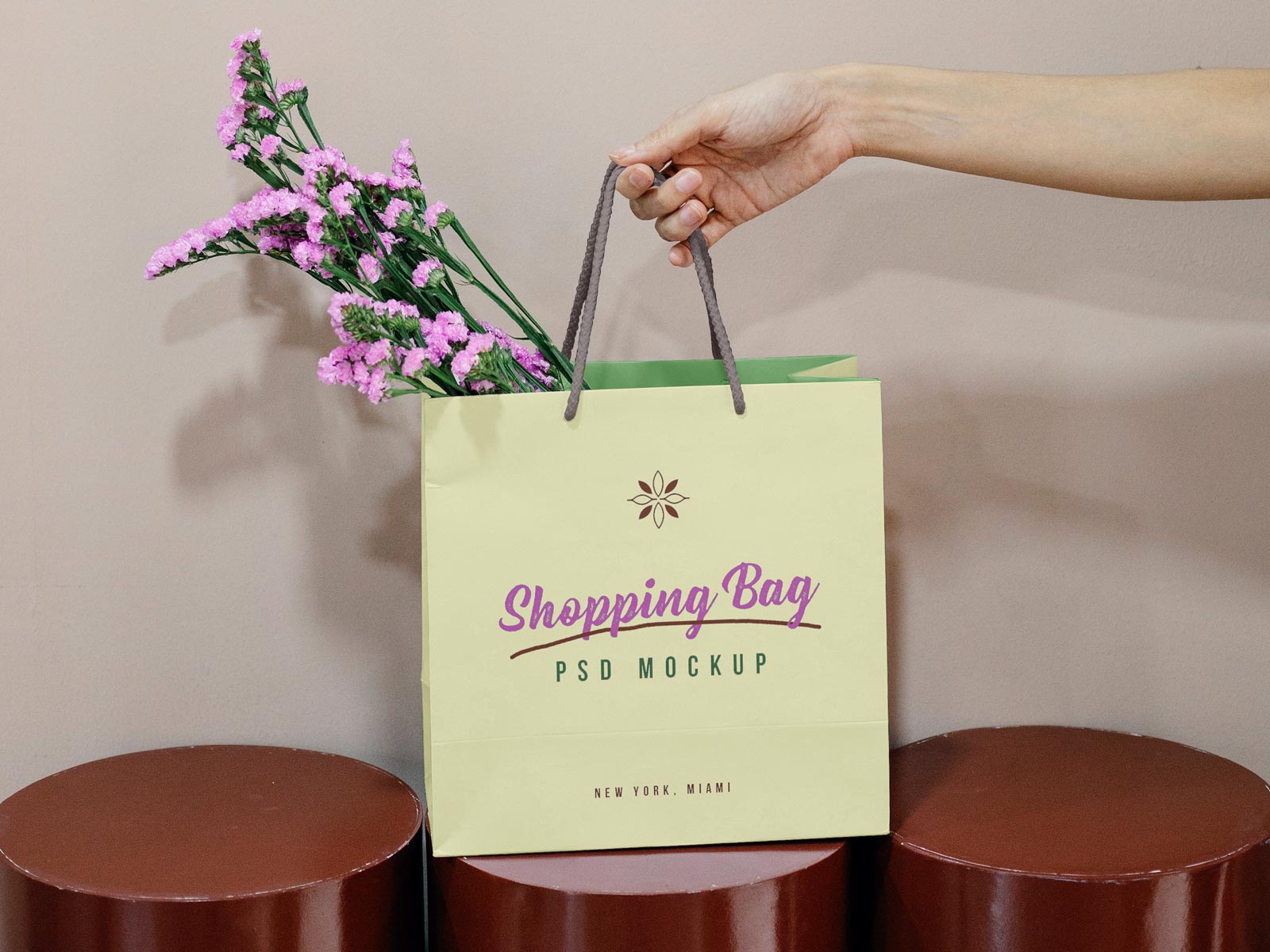 Available Format: Photoshop PSD
License: Free for personal and commercial usage
File Format: WinRAR
Mockup Resolution: 3000 x 2250 px
Note:
1. Free Shopping Bag Mockup is allowed to share online (A Must Linkback to this page)
2. Say thanks if you like or share/tweet with your friends. That means a lot to me.
3. And don't forget to follow or subscribe to receive more high quality premium freebies & awesome articles only.
Download Shopping Bag Mockup
More High-Quality Free Shopping Bag Mockup PSD Files