Hello there everyone! We hope that you guys had a fun time reading our previous blogs and that you cannot wait to know everything to start working on your super impressive ideas for the iPhone 14 Pro by carefully utilizing our free hand holding iPhone 14 Pro mock-up PSD file. But before we start sharing that, we would like to thank you guys for the love and support that you send our way and for also spreading our blogs, ideas and mock-up PSD files among your friends and colleagues, etc. We hope to see more of that in the future too!
As per the official website of Apple, iPhone 14 Pro is a magical new way to interact with iPhone and we all know how the company has always made sure to stun the customers with something brand new and unique every single time. And we can bet that it is so worth the prices which start from $999 and comes in 4 different finishes; Deep Purple, Gold, Silver and Space Black.
Also, we think we know this for a fact that almost everyone has their eyes on the Deep Purple one and we cannot say that it is wrong to feel that way.  It looks SO beautiful that it deserved to be purchased and protected – speaking of which, allow us to share how iPhone 14 Pro is loaded with groundbreaking safety features to literally save lives and although, we hope that no one ever has to use those features, we think that they are going to be a great addition to smartphones and other smart devices in general.
Okay so, iPhone 14 Pro is designed in a way that it will only offer durability, and frankly speaking, when you are spending money on something that comes from Apple, you do expect it to be a 10/10 and not something average, right? The Ceramic Shield of the iPhone 14 Pro is tougher than any glass that has even been used for smartphones. And it is water resistant, and also has Surgical-grade stainless steel to offer an excellently designed smartphone. Then there is Dynamic Island which just got introduced by Apple and is not just hardware and software but is also something in between – meaning that your current activity won't get paused when someone would call you, or when you will have to check an email or two. Sounds great, no?
With iOS 16, you can legit customize your lock screen too – be it the photo or the fonts and widgets, everything is quite literally in your hand and with an amazing collection of wallpapers and other high resolution imagery, we are sure that your audiences are going to fall in love with the creations that you will launch so that they can use them however they want. Always remember that the best way to make the most of an operating system upgrade is to bring more fun things to the table so that anyone and everyone can utilize them without regretting their decision of investing their money in any sense of the word.
A16 Bionic also known as the mastermind behind the iPhone 14 Pro is here to make everything so much faster, better and fancier that there are chances you might not want to take a break from the smartphone. It's not like we are already hooked to our phone but for iPhone 14 Pro, it would make a lot more sense, you know. 😉
Now that we have shared ample information on how great an iPhone 14 Pro is, we would like you all to sit down with yourself once again and think of all the amazing things that you can produce for this very smartphone. From apps and mobile websites to make the overall user experience, you guys can also explore more on customized covers, skins and other accessories including hard covers too so that people can take their phone and important cards wherever they go.
We would love to suggest that you guys should make the most of our free hand-holding iPhone 14 Pro mockup PSD file to up your game both in terms of your unique ideas as well as to aesthetically present them in front of your team, team leads and clients. And you will see how everyone not only gets the creative directions and process, but we can bet that your ideas will get the approval and appreciation that they deserve.
And that is all for today from our end, you guys! Do share your feedback with us in the comments section. While you are at it, feel free to let your graphic designer and developer friends and your favorite colleagues read the blog so that they can also produce a couple of exciting projects for their personal and commercial clients. We will see you guys next time with something more fun to read and work on until then keep experimenting with unique ideas to create awesome stuff.
Free Hand Holding Silhouette iPhone 14 Pro Mockup PSD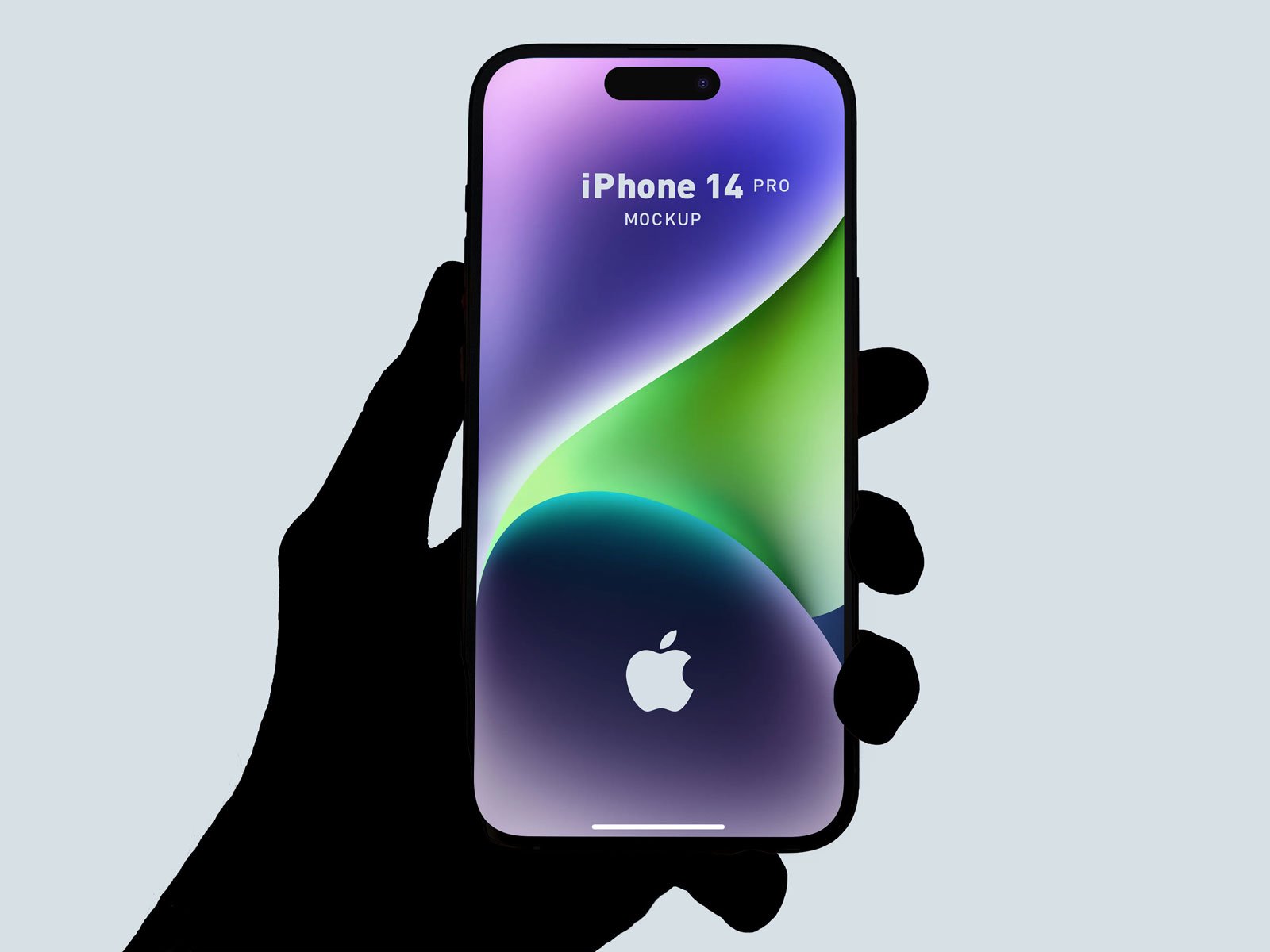 Available Format: Layered PSD with smart object insertion
License: Free for personal & commercial use
RAR File Includes: Free Apple iPhone 14 Pro
Mockup PSD Resolution: 4000 x 3000 px
Note:
1. Free iPhone 14 Pro Mockup PSD set is allowed for sharing online (A Must Linkback to this page)
2. Designbolts signature is placed as first layer kindly hide and use the mockup
3. Say thanks if you like or share/tweet with your friends
Download iPhone 14 Pro Mockup
Recommended: