Hi there everyone! We are back with yet another amazing blog of ours and we can bet that you all are going to love reading it too as it features a free yet highly editable wooden A-stand chalkboard menu mock-up PSD file that you can utilize for your personal and commercial design projects. But before we start sharing everything that you guys need to know in order to make the most beautiful wooden chalkboard menu designs, we would like to take a moment to thank you all for the love and support that you send our way and for also sharing our blogs with the people you love and care for. And we hope to see more of that happening in the future too.
For every eatery, the things that matter the most are the food items it is offering and how it is offering that and to make your eatery become one of the most preferred eateries in town, you have to ensure that you are not ignoring your menu design and how you are presenting it too. Since we have people following us here who happen to run their own businesses as well as the people who happen to assist business owners to grow whatever they are selling. Keeping in mind that information, we wanted to share something with you guys that is not just free and super easy to edit but you will also have a great time working on it too.
And, of course, with your creative ideas and design strategies, we can bet that you will be able to produce amazing designs in no time. So, allow us to share the tips and tricks that you can easily follow and help businesses grow in every sense of the word. Also, make sure that you guys have read the blog till the end to make creative and informed decisions.
First things first; finalize the design for your wooden A-stand chalkboard by evaluating all the branding aspects so that whatever you choose also reflects what your eatery is all about. You can go for a nice and sleek design with no carvings in it for a bakery or you can go for an intricate chalkboard menu design for a cafe that usually caters to the senior citizens who can sit and have a cigar or two while munching on one of your best sandwiches too. It is totally up to you to choose a detailed design or keep it subtle but still attractive.
Since your A-stand chalkboard will mostly be placed outside your shop, etc., you have to make sure that the materials you are going to go with are durable and won't go bad being under direct sunlight or even rain for that matter. In addition, you must also make sure that the concerned team members keep the A-stand chalkboard(s) neat and clean so that they can make a nice everlasting impression on your existing and potential customers.
That being said, in this part of our blog, we are going to be talking about how you can make the A-stand chalkboards exciting to read. Okay so, the first thing that you need to do is to get your hands on a bunch of colorful chalk that you can use from time to time to make announcements and also share the menu for the day, etc. Then you have to master the art of using the chalk on a chalkboard too so that you can deliver the message that you want to deliver. Oh, and there is no art to master here, just the fact that you are a little creative and know how to write using chalk and design a couple of things here and there to build a nice impact by intriguing your customers. And like everything else, always make sure that you proofread your chalkboard content and avoid any typos or spelling errors because, at times, we give our best and happen to make a tiny mistake that ends up in a meme.
That's all for today, everyone! We hope that you not only had a great time reading the blog but that you will also share it with your graphic designer friends, family members and students, etc. as well so that they can make the most of our free wooden A-stand chalkboard menu mock-up PSD file and create designs for their own businesses or the ones that they are associated with. Feel free to share your honest feedback with us in the comments section and while you are at it, we would also like you all to share your special requests with us so that we can start working on them and get back here super soon with our requested content and more.
Free Wooden A-Stand Chalkboard Menu Mockup PSD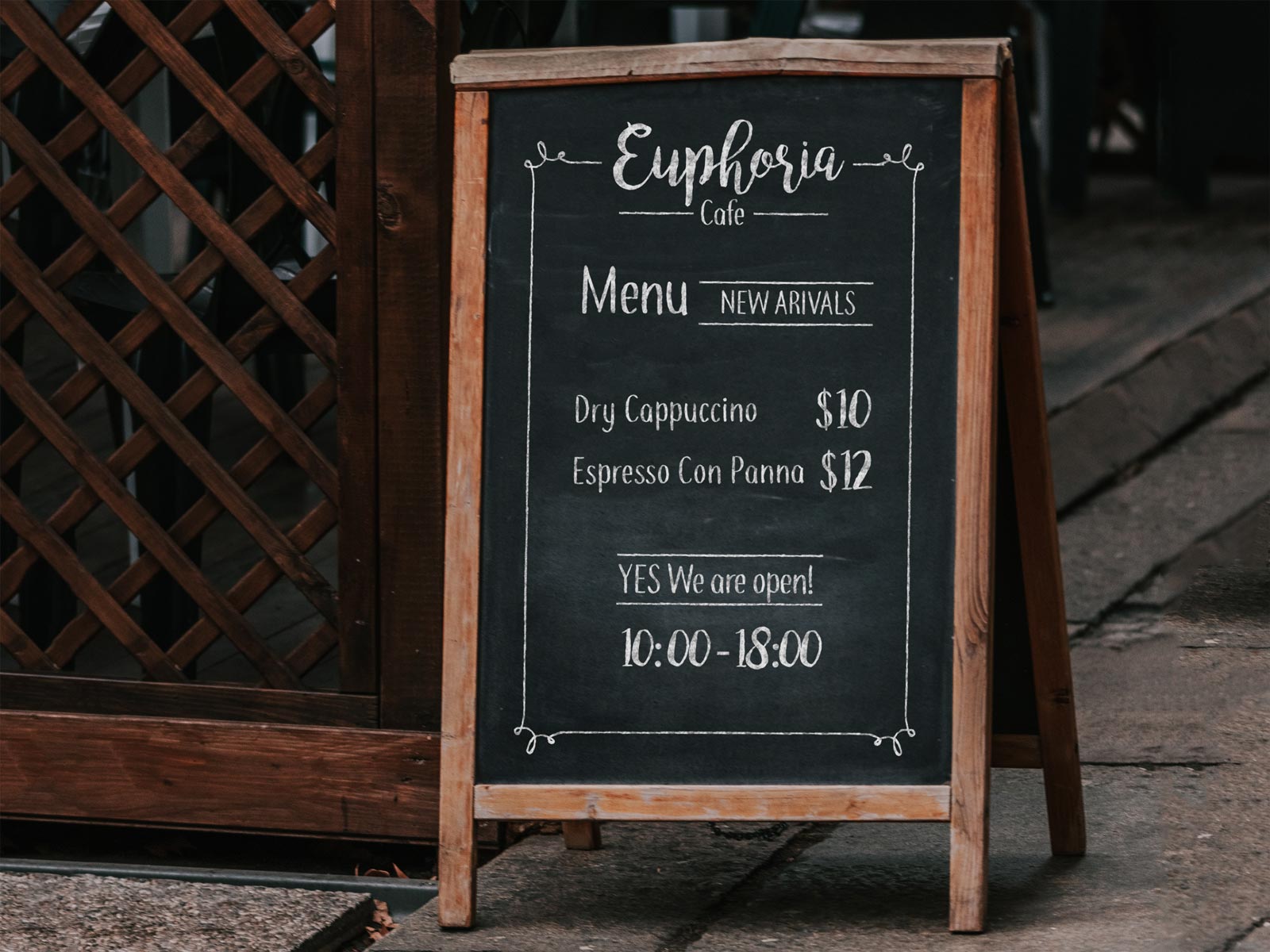 Available Format: Photoshop PSD
License: Free for personal and commercial usage
File Format: WinRAR
Mock-up Resolution: 3400 x 2550 px
Artwork Size: 1427 x 2129 px
Note:
1. Free A-Stand Mockup is allowed to share online (A Must Linkback to this page)
2. Say thanks if you like or share/tweet with your friends. That means a lot to me.
3. And don't forget to follow or subscribe to receive more high quality premium freebies & awesome articles only.
Download A-Stand Mockup
Recommended: