Hi there everyone! We hope that you all are having a really nice time reading our blogs and that you cannot wait to check out our free yet highly editable street wall poster mock-up PSD file today. We are also very excited to share everything that you guys need to know in order to make the perfect poster designs for your own business or for the ones that you are associated with but before doing that, we would like to take a moment to thank you all for your love and support and for always making sure that your family, friends and colleagues are also reading our blogs. And we hope to see more of that happening in the future too.
We are sure that you guys must have come across many posters in your student and professional lives that instantly grabbed your attention and convinced you to read them even if they were not something of your interest. Mostly posters are made to serve the purpose of news and announcements that are more on the casual or fun side of business or activities for that matter. For example; you see posters of plays and concerts on your school's notice board or while getting to the bus stations, you get to see a poster of your favorite singer coming to a place near you.
Now, we are not saying that posters should not be utilized by businesses, they should but what we want to say is that between your business and your communication, there has to be an element of relevance. For example; you would not want to put up a colorful poster for your law firm in one of the busiest places in town, right? Because that will give your target audience the impression that you are not really serious about what you are doing and we can bet that, that's not something you would want to happen to your business.
But, of course, if you run a business that sells clothes for kids, then you, most definitely have to go for posters to talk about the stuff that you have, the offers that your existing and potential customers can avail from your online stores or the new campaign that you are about to launch. All these things will not only lead your message to reach serious buyers but your indirect customers will also spread the message so, all in all, you will get to generate the revenue that you wish to generate.
In this part of our blog, we are going to be talking about all the things that you can follow to make impressive and effective poster designs in no time. Make sure that you guys read the blog till the end to make more creative decisions for your upcoming projects.
First things first; you have to pay attention to the headline of your posters as it is the part that will do the talking for you – meaning your headline has to be so on point, so attractive and meaningful that it not only grabs the attention of the readers within seconds but it also delivers the whole message right away without confusing the audiences. Pick easy-to-read fonts for your headlines but if you think the message requires artistic typefaces, then there is no harm in being creative, you know!?
Your next step is to make sure that you have mentioned all the details in the poster design if the poster is about an event (store launch, concert, auditions call, etc.) and while you are at it, you also need to mention what your audiences can expect from that certain event too. Also, mention the restrictions (if applicable) very clearly right there so that anyone and everyone can know what will be happening beforehand instead of getting into an embarrassing situation at the event.
Your color palettes will set the tone and mood for the poster designs so, make sure that you are going for relevant colors which will also create a harmonious design when you are done. Lastly, proofread the posters multiple times before you get in touch with your printer to get the posters printed.
That is all for today! We not only hope that you guys had a great time reading our today's blog but that you will also share it with your graphic designer friends, family members who run their own businesses, as well as with your favorite colleagues too so that they can get their hands on our free street wall poster mock-up PSD file right away and start making the perfect designs. We will see you guys super soon with your requested content and more fun things to read and work on, until then take good care of yourselves, and keep creating magical designs too!
Free Street Wall Poster Mockup PSD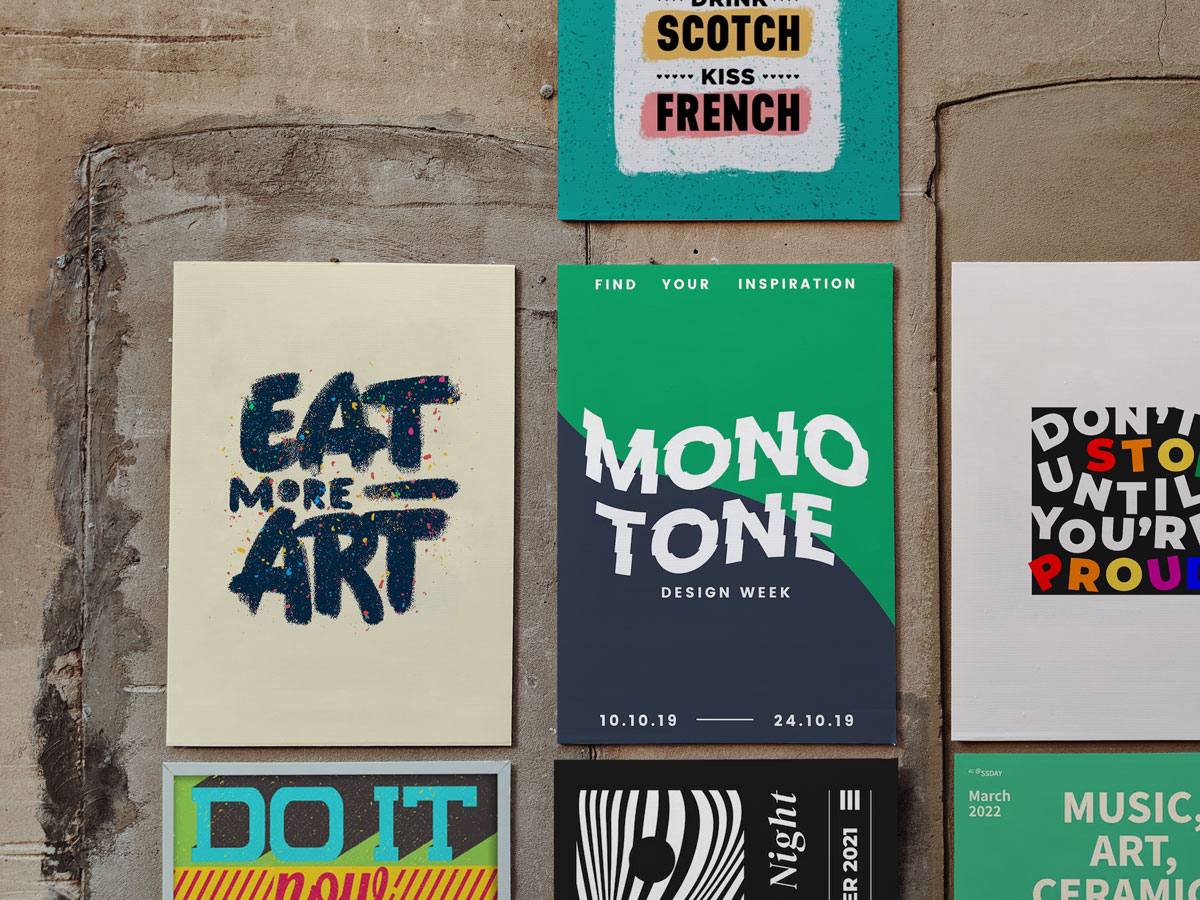 Available Format: Photoshop PSD
License: Free for personal and commercial usage
File Format: WinRAR
Mock-up Resolution: 4000 x 3000 px
Poster credit: 1, 2, 3, 4, 5, 6, 7
Note:
1. Free Poster Mockup is allowed to share online (A Must Linkback to this page)
2. Say thanks if you like or share/tweet with your friends. That means a lot to me.
3. And don't forget to follow or subscribe to receive more high-quality premium freebies & awesome articles only.
Download Poster Mockup
Recommended: